VietNamNet Bridge – Howard Limbert, the British Cave Research Association (BCRA) Expedition Leader in Vietnam and Technical Director and safety advisor for Oxalis Adventures, and Nguyen Chau A, general director of Oxalis Adventures, have just returned from Thailand's Tham Luang cave complex, where 12 members of the Wild Boars football team and their coach have been trapped since June 23.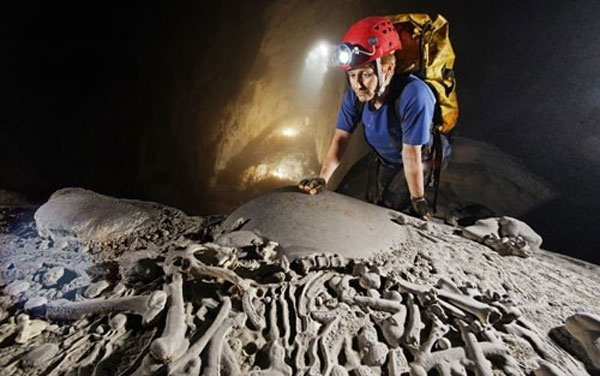 Howard Limbert, the British Cave Research Association BCRA Expediton Leader in Viet Nam and Technical Director and safety advisor for Oxalis Adventures. — VNS File Photo
With the rescue operations ongoing, Limbert shared his thoughts on the situation.
What have we learnt from the Thai rescue process?
Firstly we have seen what a major rescue this is and how the Thai authorities have dealt with this situation. To co-ordinate such a rescue needs experienced people in this field, which is difficult with limited experience. The navy and army are in charge with each looking after different areas of the rescue. The navy is in charge of the diving operation and the army search for another entrance in the mountains. Thousands of people are helping in this operation. The Thai authorities very sensibly have brought in the best cave divers in the world, who are people we know very well as the top British cave divers in the world. These are the people who found the children first and are doing the difficult diving. More British divers flew in July 5th with extra equipment to help the team. Without the British cave divers it may not have been possible to find the children in time. A number of British cave rescue experts have flown in to help the rescue coordination as the British have many years of experience in this field. 
If such a situation occurs in Vietnam, what kind of protocol do we have in place?
The first and most important point is that we don't run tours in the caves in the rainy season. During that time all tours stop and the training of guides and safety assistants and porters is done. This training covers medical issues and rescue protocols. This is run by the British caving team who have all many years of experience in cave rescue. Another important point is that we have rescue equipment and plans already in place if an accident does happen so we can have a fast response to any incident. This equipment is specialised and is kept in many locations where we run tours in the caves.  We have five sets of such equipment in place. We also have extremely thorough first aid kits for such problems as well as contacts of all doctors and hospitals. We always carry satellite phones so we can contact the relevant people. 
The caves we run tours in have been carefully thought out by the British cave experts and safety is the most important aspect of the tour planning. All technical equipment used is the best available and mainly imported with all correct specifications from Europe. The caves we use for tours have very little flooding risk in the seasons in which we run tours. Many of the caves have multiple entrances and are all very large. In the event of a flood, in many of the caves a different route can be done to avoid the increase in water levels.  At no time on our tours is safety compromised.
We are also fortunate that we have not only many experienced cavers in Oxalis from England, but we also have many contacts with the best rescuers in the world if we need help in any matter. All the divers who are helping the Thai rescue are good friends of our team in Vietnam and the best in the world in these situations. In Oxalis we try and minimise the risks, but still, as we run adventure tours there are some risks we are unable to totally control, such as slipping on rocks and maybe breaking a bone. Also we take many thousands of customers in the caves every year and our safety record is excellent.
We are always trying to improve and with training we will do this. We have many strict rules for safety and our equipment is top-class. It is important that other adventure tour companies have similar rules that are followed. There should be minimum standards that an adventure company should have to minimise the danger to customers. A number of accidents have occurred in Vietnam on adventure tours in recent years and this reflects badly on all adventure companies sadly, so it is important that standards for all adventure companies should be regulated in some way to stop standards slipping.
Training of all staff in safety is very important and at Oxalis we employ experts whose job is to run safety training and rescue procedures. This is a continuing process and all guides are regularly assessed on their safety. We are continually improving due to extensive training and strict rules which must be followed. The situation in Thailand would not happen in Vietnam with Oxalis as we would not allow any tours to be run when flooding is a possibility. 
Do you see any potential risk of flash floods that could trap people in the cave?
We have witnessed flooding in Hang Khe Ry in Phong Nha-Ke Bang National Park. We do not run tours into Hang Khe Ry Cave but it does sometimes cause some flooding in Son Doong which is downstream of this cave. The water from Hang Khe Ry is from the Laos border so it may not be raining in Vietnam but as this cave runs from the Laos border into Vietnam, rain in Laos can increase the water in Son Doong cave.
We always check the water level from the exit of Hang Khe Ry on every tour as we have to walk down past the river. If the water levels are high we always take a high-level path to the entrance to Son Doong, thus no danger. In very high water we always use the high-level bridges in Son Doong to cross the river inside the cave using safety equipment. This allows us to enter Son Doong cave safely in case the rivers are unusually high. 
As Son Doong is a huge cave in the season from January to August we have no problems even if the rivers rise 80m. Last July we took a Thai filming team and the rivers rose 80m and we had no problem or any danger. In this part of the season the rivers fall very quickly and after three hours the rivers fell down over 50m which allowed us to continue in the cave with no danger. In the rainy season the rivers will stay very high for much longer, thus we do not think it is sensible to run tours outside the January to end of August season. If these rules are followed we do not expect any flooding problems like what is happening in Thailand at the moment.
Should we have a rescue team in Vietnam?
At Oxalis we have a number of people with lots of experience in cave rescue. We have built up a large amount of specialised equipment for rescue if needed. Along with training of all our teams we feel we could manage all rescue situations. As there are now a number of other adventure companies with less experience it could be a good idea to pool our resources and use our experience and equipment to assist other companies in the event of an accident. We would obviously help out any body who requires assistance but we feel there should be some responsibility on all companies to not only follow strict safety rules but to financially support the purchase of specialised equipment that is needed in rescue from jungle or caves. Accidents do happen and we have to minimise these risks and have protocols in place to respond to any situation in a fast and efficient way.
Source: VNS