Large eye-catching panels, funny commercial son TV, colorful flyers and brochures are types of modern advertising you see every day. But people still reserve a special place in their hearts for one of the earliest forms of advertising: the distinctive call of the street vendor.
Pictures of street vendors and their transcribed calls are stored in Paris. 
Though street calling is less common now than it used to be, you can still hear it from time to time on the streets of Hanoi.
Early in the morning on the first day of anew lunar year, when most people are still sleeping, vendors in Hanoi's small alleys are calling: "Who wants salt?",their street calls echoing from alley to alley.
Street calling was common before the French colonization of Vietnam. 
Before there was modern communications technology, a vendor's own voice was his most effective means of advertising, according to journalist and cultural researcher Vu Ngoc Tien. 
Calling let people know the vendor was in their street and what she was selling. A vendor's call could express her personality.  
Many men might admire a female vendor just for her alluring street call. Tien told us "According to a Vietnamese legend, a female vendor selling alcohol often passed by a doctor's large house. Her call was so sweet that the doctor sent his servants to court her on his behalf. She lied and said that she had children already, but that didn't matter to the doctor. He asked the alcohol vendor to prepare to get married to a man of high social standing. It's an amusing story that illustrates how powerful a street call can be".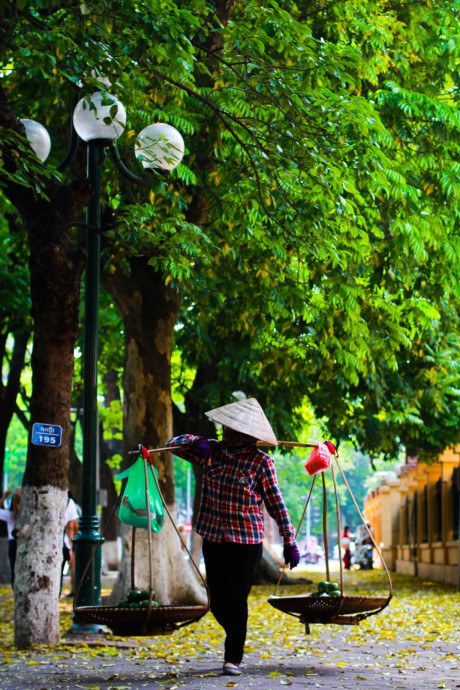 Street calls were beloved in the 1950s, when they evolved into "luc bat" poems, a verse form that begins with a six-syllable line and ends with an eight-syllable line. 
Street vendors were featured in paintings by To Ngoc Van, Tran Phenh, and other renowned painters of the first generation of the Indochina Fine Arts College. 
These artists produced pictures of vendors selling strawberries, rice cakes, ice cream, tofu, pottery, and spring rolls with descriptive captions and their calls transcribed on a music staff. 
Tien said he recognized some of the calls when he played them on a musical instrument.
Every evening, 72-year-old Nguyen Thi Lan puts on her bicycle a basket of bread and travels through small streets of Hanoi. She loves to make the street call by herself rather than recording and repeating it using a loud speaker. Lan said "I just simply sing "Who want bread?" I think that using my own voice carrying my sentiment is better than using a loud speaker. Buyers may have sympathy for my poor conditions so they will buy 2 though initially just intend to buy 1 loaf of bread. It makes me happy".
Street calls are invented and sung by the vendors themselves, and therefore reflect the culture of different regions. 
Nguyen Van Tinh, a Hanoi resident, said "Winters in the northern region are cold so people want something hot. Bread vendors often sing, "Who wants hot crispy bread?" 
In the south, people love sweet food. There the bread vendors ask, "Who wants rich buttery bread?" I'm thrilled to hear these bread calls at 5pm when I'm tired after a hard day's work".
Sometimes a call is not so much a "call" as just a signature sound. Tinh recalled "My friends and I, who were born in the 1980s, have great memories of street calls, which are often the topic of our chitchat. We played marbles in the shade of the trees on crazily hot summer afternoons. 
When we heard "pep pep", the signature sound of the ice cream vendors, the game broke up and we ran back home to ask for money to buy ice cream. An ice cream in those days was only VND500. Some of us had to share an ice cream but we were too happy for words".
The food was great but the excitement of hearing the signature sound of great food made it seem even greater. 
Student Vi Hoang Giang shared this story "When I was small, I used to live with my grandparents. In the afternoon, some other kids and I played together in a small alley until 4pm when the tofu vendor came around. When we heard her call, we stopped the game, collected our money, and waited until she reached us. When she opened her container, how great it was to see the white fragrant tofu. She scooped thin layers of tofu into a small bowl full of sugar water. I'm nostalgic for that sweetness. I still buy tofu from street vendors, but it doesn't have the same feeling it used to, because I don't hear the street calls any more. I think the street calls brightened my mood, banished my tiredness, and made me feel a genuine excitement. I can still remember that feeling".
Street calls are now considered an outdated advertising method. But lecturer Nguyen Cong Dung, head of the media and marketing department of Vietnam's National Economics University, said "I think street calls are still relevant in today's society. The core purpose of advertising is to attract customers. Vendors deliver their message using their own voice and feelings. It's simple, but it makes buyers feel a very close connection. In my opinion, street calls can be even more effective than most modern advertising".
VOV5