VietNamNet Bridge – Seven years ago,  Megumi Kawada, a Japanese-English freelance translator from Kyoto, followed her heart to Ha Noi.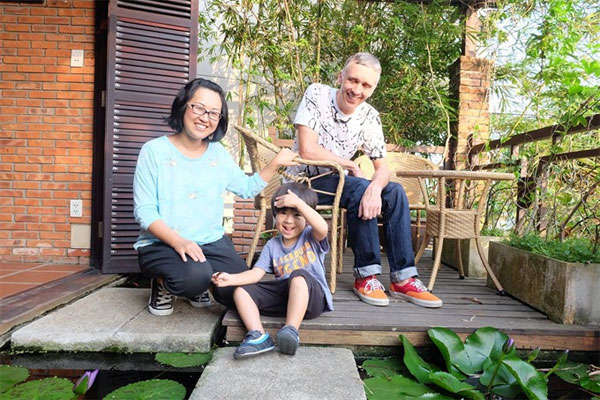 Health and happiness: Megumi and her family.
While living in London, she had met and fallen in love with Matthew Wythe, a graphic designer who had been living in Viet Nam since 1999. She decided to join him and has been there ever since.
"Matt was working in Hoi An, and I decided to settle in Hoi An with him. I kept working as a freelance Japanese-English translator, while Matt earned a living from graphic designer," she told Viet Nam News in an interview.
But in 2012, tragedy struck. Matt fell seriously ill while she was pregnant.
"I wrestled with serious troubles while Matt did his best to fight his illness. I flew back to Japan alone to have the baby," she said.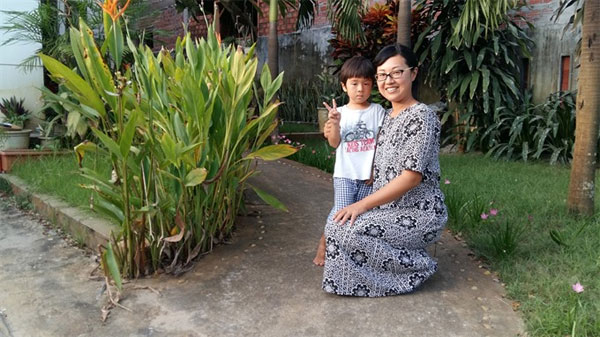 The little things: Megumi and her four-year-old son Moto Kawada. -- VNS Photo Cong Thanh
She came back Hoi An with her baby and resumed working, while her husband was in prolonged therapy.
"I have felt very strong since then. I feel like there is nothing to be afraid of after overcoming the hardship, but also this experience gave me the idea of living a healthy life and enjoying every moment because you never know what might happen tomorrow," she said.
It was then that Megumi came up with the idea of producing eco-friendly kitchen/cleaning/laundry soap from recycled oil, which protects her skin.
"My hands were damaged by chemical-based cleaning soap and washing-up liquid, so I learnt to make natural handmade organic soap from cooking oil and local ingredients such as vegetable oils, shea butter, herbs and pure essential oils," she said.
The 37-year-old said the organic production does not use preservatives or palm oil, and it's healthy and environment friendly. She produces 500 soaps, body creams and lipsticks every month.
She said her products are available at resorts and hotels in Hoi An for tourists, and at Japanese shop in Da Nang.
Megumi is not in it for the money. She sees her work as a mission she must share with others, for example teachers and students at local primary schools.
"I want to raise awareness among the young generation (kids from primary school) to the importance of healthy and environmentally friendly production, as well as food safety. It's really important for them to grow up with healthy ideas," she said.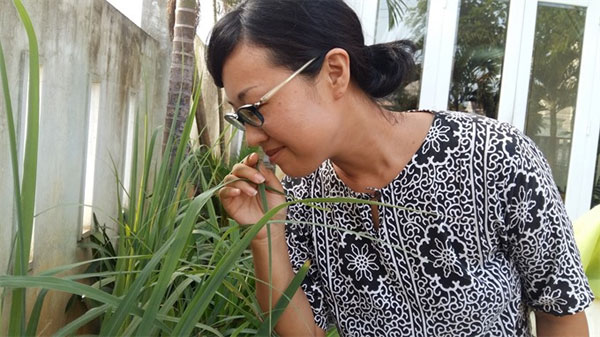 Green thumb: Megumi Kawada checks her lemon grass at home in Hoi An City. Herbs are used for her organic production. -- VNS Photo Cong Thanh
She has also conducted training courses for local residents, foreign tourists and expats living in Hoi An, teaching them natural soap production in a 90-minute session at an organic restaurant, U-Cafe.
"Trainees can learn from my experience and they can make organic soaps themselves at home and in their community. Even the packaging must use environment-friendly material," she said.
Megumi herself no longer uses chemical cosmetic products since her production began in 2013.
Ha My, an assistant of Megumi's, said the organic production is a good example for local residents.
"They (local people) will come to prefer organic products to chemical-based daily substances. Thus, the environment would be less polluted by harmful cleaning products," My said, adding that organic products would also promote tourism in Hoi An.
Megumi said she even buys farm produce from an organic vegetable farm in Cam Thanh Village for healthy and safe meals.
However, Megumi admits she's not a good cook. Her favourite Vietnamese food is spring rolls, and her family dines out at Japanese restaurants in Hoi An or cook Japanese food at home.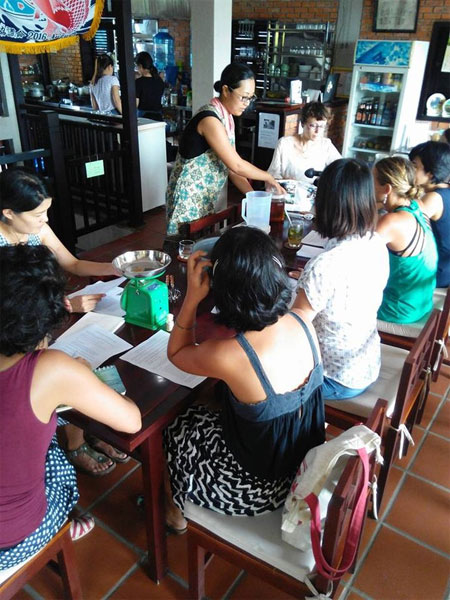 Spreading the suds: Megumi demontrates organic soap production for trainees at U-Cafe -- an organic and eco-site -- in Hoi An. -- Photo Megumi
Having lived in Hoi An for seven years, Megumi, her husband and their four-year old son, Mito Kawada, have joined local celebrations of the lunar New Year as well as annual Japanese-Vietnamese Culture Festival in Hoi An.
"It is a nice time for all the family to spend time together. I like the way people still follow traditions and buy new things or decorate the house with new flowers," she said.
"Although I have seen rapid development over the past years, I still think Hoi An is an attractive place to live with lush surroundings and natural resources. Many locals are still not aware of unsafe food and chemical products. People in the countryside are living organic lives naturally by growing vegetables and domestic animals themselves. I would like people to know that this is the healthiest lifestyle for all of us."
"With the economic development, people try to cope with work-life balance and they seek longer-life/cheaper products sold in supermarkets. This produces more and more waste harmful to both our life and the earth."
She said she would continue sharing her knowledge with locals to and try to get them to live simply by using or making their own natural products from local ingredients. "I especially hope to promote this idea to local businesses in Hoi An so that they can be role models for sustainable development in the future," she said.
VNS