VietNamNet Bridge – "Funny", "friendly" and "very handsome" are the first words that many people in Viet Nam, especially girls, say when they talk about Saleem Hammad after meeting him in real life or seeing him on television.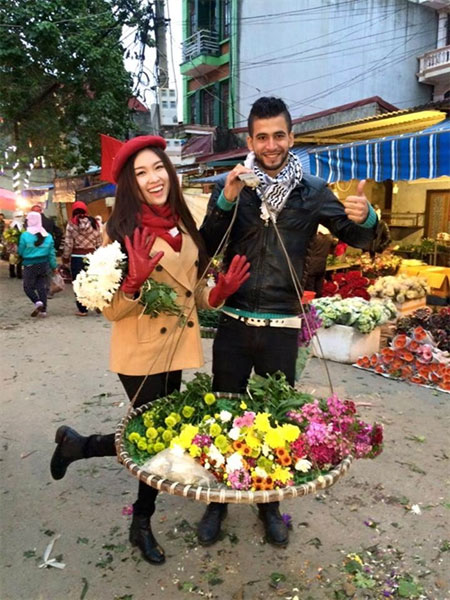 At home: Saleem Hammad said that Viet Nam has become his second homeland. — Photo courtesy of Saleem Hammad
Many people living in Viet Nam are familiar with the face and voice of Saleem Hammad who has been acting MC for several television shows featuring the culture, tourism and gastronomy of Viet Nam.
Many are amazed to hear Saleem Hammad speak Vietnamese fluently, and in particular read the texts he writes in excellent Vietnamese. Not many know that he only started learning Vietnamese five years ago when he first came here to study at Ha Noi University.
He graduated from university in June this year. Overcoming all his difficulties in learning the Vietnamese language, he won first prize in a Vietnamese language speaking contest that was organised for the first time last year by Ha Noi University's Vietnamese language department where he studied.
"I was very lucky and proud to be one of the first students from Palestine to study in Viet Nam and followed the path of the Ambassador of Palestine, Saadi Salama, who studied Vietnamese in Viet Nam in 1981," he said.
Early days in Viet Nam
He came to study in Viet Nam with a scholarship he won thanks to his outstanding scholarly results at the Al-Istiqlal University (the Palestinian Academy of Security Studies).
"Viet Nam was a strange country for me at that time. After my family knew that I would have an opportunity to study here, everybody encouraged me. They told me that it was a country where its inhabitants worked very hard and they were very courageous. They had won against invaders to bring independence to their country. It is also the dream of the people of Palestine," he said.
When he first came here, he met with many difficulties, as he didn't speak any Vietnamese. Living far from his family at a young age was not always easy for him at the beginning.
"But I never thought of leaving Viet Nam and going back to my homeland because of those difficulties. I didn't want to give up so easily… The word "give up" is not in my dictionary. I love the Vietnamese proverb: "Van su khoi dau nan" (All things begin with difficulties). This is very correct. We should not become discouraged because of difficulties," he said.
Like other foreigners, the language barrier was the biggest difficulty when living in a foreign country.
"I still remember the first word that I learned after my first day in Viet Nam, it's the word "duong" (sugar)," he recalls.
"I wanted to make tea and the people from Palestine often put a lot of sugar into their tea. But in my room there was no sugar, so I went out to buy some. I asked the seller: "Can I have some sugar?" But she didn't understand English.
Sugar… sweet… drink tea… sugar, sugar, I repeated, but she still didn't understand.
I then went back to my room, looked up the word sugar in the dictionary and found it was "duong" in Vietnamese. I then returned to see the seller and said, "Hey you, duong". I pronounced the word, but not correctly as I didn't know how to pronounce the correct tone. She didn't understand… Luckily a Vietnamese student helped me pronounce the word until I could say it correctly… Then I went back to my room feeling very happy, because I had learned a new word. But then I realized that I had already forgotten to buy sugar," he recalls.
Learning Vietnamese
The most efficient way to learn Vietnamese for Saleem is to practice every day.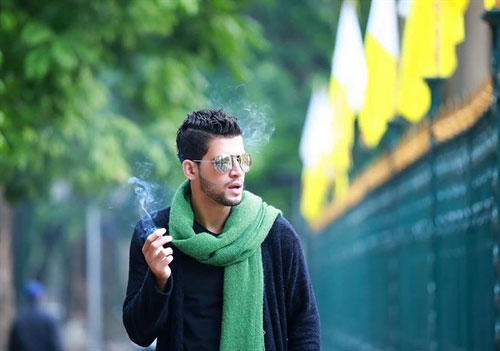 Familiar face: Saleem Hammad has achieved fame in Viet Nam by working as an MC on several Viet Nam TV cultural shows, and also as a model.— Photo courtesy of Saleem Hammad
"The more I travel and meet people, the more I can learn. There is a Vietnamese proverb: Di mot ngay dang, hoc mot sang khon (Travelling forms a young man). This proverb is very correct for my situation."
His friendliness has helped him a lot in learning Vietnamese from the contact he has with local people that he finds very "open, friendly and sentimental." And more importantly, he has improved his Vietnamese through extra jobs, which also help him earn some money and help him become more confident. Besides working as an MC for TV culture shows, he also works as a model, and teaches Vietnamese and English to foreigners.
"Taking part in TV cultural shows is a great opportunity for me to explore this beautiful S-shaped country, enjoy its natural beauty, and love Viet Nam more and more. I have been travelling throughout Viet Nam, meeting people from different ethnic groups," he said.
"I have also been able to enjoy traditional dishes from different regions of Viet Nam. I like many dishes that I eat everyday. I prefer pho (rice noodle soup). I cooked pho for my family when I was back in Palestine. I also cooked banh chung, the traditional cake that Vietnamese people eat on occasion of the Lunar New Year. I can find all the ingredients in Viet Nam. I make banh chung, but instead of making it with pork meat, I use lamb."
A bridge between two countries
"When I tell Vietnamese people that I come from an Arabic country, many think of sandy deserts and camels. And Arab people when they think of Viet Nam think of mountains and President Ho Chi Minh."
"When I returned to Palestine, I told my friends that Viet Nam is not only mountains but a real paradise. I also showed them some documentary films about Viet Nam that I took part in as MC. They were very surprised to see the natural landscapes," he said.
He hopes that he and other people from Palestine in Viet Nam will become bridges to preserve and develop the good relations between the two countries.
"Viet Nam has become my second homeland. My love for Viet Nam is like my love for Palestine."
"If I have a dream, I wish that Palestine in the near future could also gain independence, peace and liberty like Viet Nam," he said.
VNS
Bach Lien