A techno DJ, research scientist and banker are just three of the contestants vying for this year's Great British Bake Off crown.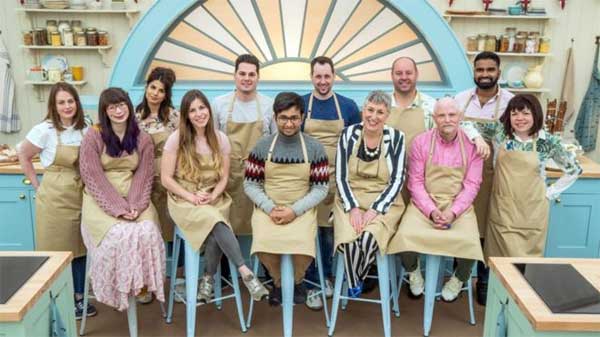 This year's Bake Off Contestants -- Photo: CHANNEL 4
The series returns to Channel 4 on 28 August for a second year after moving from the BBC.
The presenters and judges remain the same as last year, with Noel Fielding and Sandi Toksvig back for another year of puns.
Paul Hollywood and Prue Leith will also be on hand to judge the best bakes.
Meet the contestants

Blood courier Jon, 47, is a father of four from Newport in Wales. He likes to bake after a long day at work and says he will be trying lots of experimental techniques in the Bake Off tent.
Kim-Joy, 27, was born in Belgium, but now lives in Leeds and works as a mental health specialist. She has an English father and Malaysian-Chinese mother and says this is reflected in her baking.
Rahul, a 30-year-old research scientist was born in India and moved to the UK seven years ago on a university scholarship. He says he has an East-meets-West style of baking.
Banker Antony, 30, also grew up in India and learned to bake there with his father. He now lives in London and describes himself as a "Bollywood baker".

Karen, 60, works as an in-store sampling assistant and got into baking when she owned a house in France. The West Yorkshire-based baker says her daughters encouraged her to go on the show.
Project manager Ruby, 29, grew up in India and lives in London. She often makes sweet treats like cakes and pastries for her friends and family.
Luke, 30, is both a civil servant and house and techno DJ hailing from Sheffield. He says he has baked since he was 10 so will be bringing some experience to the Bake Off tent.
Manon, 26, is a software project manager who hopes to bring her French heritage to her bakes, and flavours from her worldwide travels. She says Bake Off was one of the first shows she watched when she moved to the UK.

Full-time parent Briony from Bristol is also one of this year's contestants and the 33-year-old says she has learnt all her techniques from YouTube tutorials.
Countryside recreation officer Imelda, 33, from County Tyrone in Northern Ireland is also part of the line-up and was taught to cook and bake by her mother.
Terry, 56, from the West Midlands is a retired air steward who will be bringing products from his own microbrewery and allotment to the competition in the hope of them giving him a winning edge.
Dan, 36, from London is a full-time parent and says he is taking part in the show to get a bit of time to himself after looking after his children for the last six years.

The new series of The Great British Bake Off, hosted by Noel Fielding and Sandi Toksvig, will begin on Channel 4 on August 28 at 8pm.

Source: BBC