More than 500 hikers who were stranded on a mountain on the Indonesian island of Lombok after an earthquake have been safely evacuated.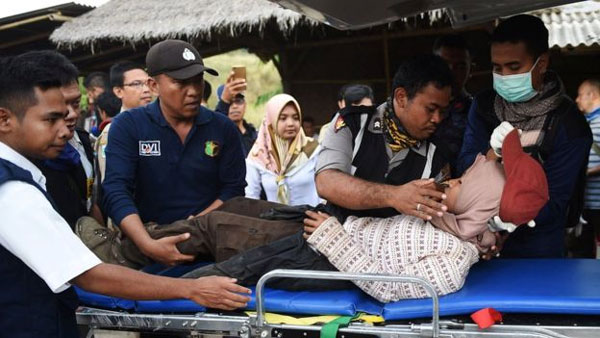 Some hikers needed medical treatment -- Photo: REUTERS
The 6.4 magnitude quake on Sunday triggered landslides around Mount Rinjani, cutting off escape routes.
Most of the hikers and guides were able to walk down after a safe route was found for them but some were flown out by helicopter.
At least 16 people were killed in the quake and more than 330 were injured.
Rescue workers are still waiting to bring down the body of an Indonesian hiker who was killed by falling rocks. A Malaysian tourist also died.
The volcano, which rises 3,726m (12,224ft) above sea level and is the second-highest one in Indonesia, is a favourite among sightseers.
Indonesia is prone to earthquakes because it lies on the Ring of Fire - a horse-shoe-shaped string of volcanoes, earthquake sites and tectonic plates that circles virtually the entire Pacific rim.
Disaster agency spokesman Sutopo Purwo Nugroho told AFP that 543 people had arrived back at the foot of the mountain by Monday night.
I Gusti Lanang Wiswananda, a spokesman for Mataram search and rescue agency, told AFP that they were all "tired but in good condition".
Hundreds of people in Lombok have been left homeless and are staying in temporary camps amid continuing aftershocks.
Source: BBC