Magic Leap has unveiled the first version of its augmented reality system to be made public.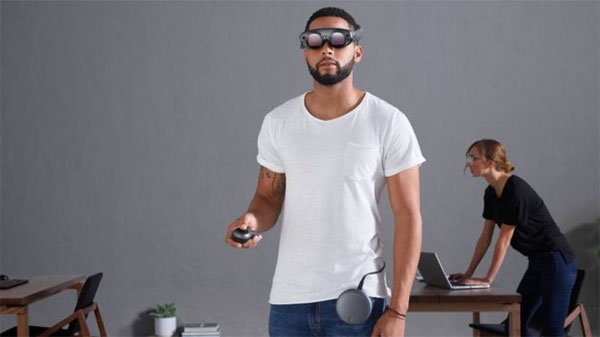 Magic Leap has been unable to fit the necessary computing power into the headset alone -- Photo: MAGIC LEAP
The Magic Leap One Creator Edition is designed to project light directly into users' eyes to trick their brains into perceiving virtual objects as part of their surrounding environment.
It consists of a large pair of goggles that wrap around the head, a body-worn computer and a wireless controller.
The firm has raised close to $1.9bn (£1.4bn) from investors.
The Florida-based company's biggest backers include Google, the Chinese tech giant Alibaba and the Singaporean sovereign wealth fund Temasek.
Despite teasing its technology for several years via YouTube videos and demonstrations to selected members of the press and analysts, it had kept close guard over what form its product would take.
Some critics had doubted the computing power required to create "lightfield" objects in real-time could be shrunk down to a small enough size to make it practical in the near-term.
That had fuelled speculation that it might never deliver on its promise.
Magic Leap suggests its approach is more comfortable to use for extended periods of time than other attempts to create mixed reality. The product unveiled is promised for release in 2018 and is being pitched, at this point, to developers and other "creatives".
The company has yet to show off a promised "next generation" user interface and has said it reserves the right to change the design of its kit before it is delivered.
It will compete for attention against Microsoft's Hololens headset, which similarly has yet to be given a launch date for the general public.
Rolling Stone magazine was given a demo of the Magic Leap One Creator Edition ahead of the reveal.
It said the graphics produced only partially covered the user's view - a similar issue faced by Hololens.
"I couldn't' measure it, so I did the next best thing: I spent a few minutes holding out first a credit card in front of my face and then my hands to try to be able to describe how big that invisible frame is," wrote reporter Rony Abovitz.
"The credit card was much too small. I ended up with this: The viewing space is about the size of a VHS tape held in front of you with your arms half extended. It's much larger than the HoloLens, but it's still there."
He added that Magic Leap has suggested developers fade the edges of their images to help tackle the problem.
Source: BBC