Icy conditions are expected to cause further disruption to road and rail travel in parts of the UK, following another night of sub-zero temperatures.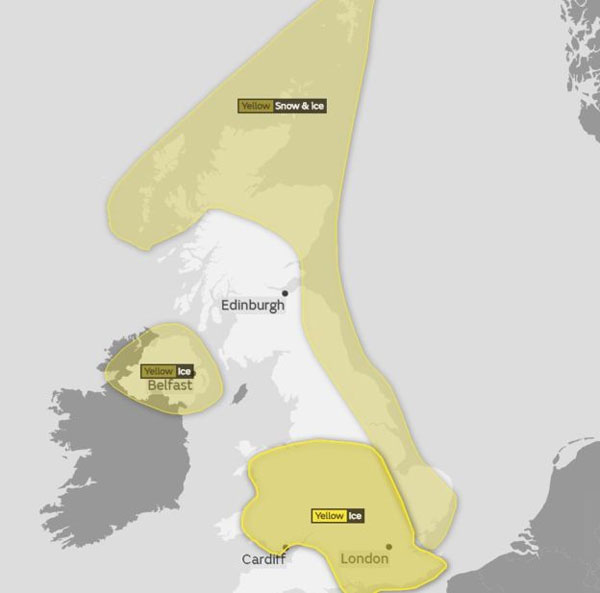 The Met Office's yellow weather warning for snow and ice on Tuesday -- Photo: MET OFFICE
The Met Office has extended yellow warnings for snow and ice until 11:00 GMT and the AA warned driving could be "hazardous".
Hundreds of schools are to stay closed for a second successive day.
Temperatures were forecast to hit -15C (5F) on Monday night, making it the coldest night of the year.
The Met Office's warning covers Wales, parts of Scotland, Northern Ireland and much of England - including the Midlands, Yorkshire and Humber, London, the South East, East, South West and North West.
It said: "There will probably be icy stretches on untreated roads, pavements and cycle paths with some injuries possible from slips and falls.
"Some roads and railways are likely to be affected with some journey times taking longer."
AA president Edmund King said: "We expect Tuesday to be extremely busy as temperatures plummet overnight, causing even more hazardous conditions on already wet and slippery roads."
It had its busiest day of the year on Monday, with around 25,000 calls from motorists.
More than 350 schools in the West Midlands and about 180 schools in Wales have said they will shut.
On Monday, more than 1,000 schools were closed - about 600 of which were in Wales.
The deep freeze also left thousands without power.
National Rail is telling travellers to check with train operators before heading out following a day of delays.
Chiltern Railways, Arriva Trains Wales, Cross Country, East Midlands Trains, Great Western Railway, Thameslink, Virgin Trains and the West Midlands rail network were all affected.
Eurotunnel said services were running with delays due to "extreme weather conditions", after passengers departing from Calais faced waits of five hours on Monday night.
A low of -11.6C (11F) was recorded on Sunday night in Chillingham Barns, Northumberland, although Saturday was the coldest night of the year so far, reaching -12.4C.
Forecasters said temperatures will slowly warm during Tuesday but freezing fog patches are expected to linger in areas.
Heathrow Airport in London is telling passengers not to travel to the airport if their flight is cancelled, after crews and aircraft were left out of position by the weather.
Meanwhile, services have resumed at the Port of Calais, which closed for a few hours on Monday afternoon.
Source: BBC