The 2019 Japan Cherry Blossom Festival will come to Lý Thái Tổ Park beside Hoan Kiem Lake in Hà Nội on March 29-31.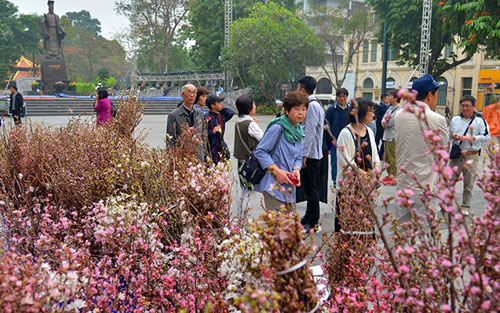 The festival should coincide with the blooming of Japanese cherry blossoms, and will feature various activities to introduce Japanese culture and enhance ties between the two countries.
Visitors will enjoy Yosakoi (a unique style of street dance performed by large teams), Japanese cuisine, Shogi (Japanese chess) and Kendama (literally translated as sword and ball, it is a traditional toy with a ball on a string).
Vietnamese arts will also be part of the festival including ca trù (ceremonial singing) and hát xẩm (blind buskers' music).
Conferences on promoting investment and tourism as well as exchange programmes on education and health care will take place with the participation of 300 delegates from the Việt Nam Chamber of Commerce and Industry (VCCI), the Japan External Trade Organisation (JETRO), the Japan National Tourism Organisation (JNTO) and related agencies.
The organising board will select a goodwill ambassador for the first time to enhance the Việt Nam–Japan friendship.
She should have knowledge of and interest in Japan and fluent Japanese speaking ability, according to the Hà Nội City People's Committee. Vietnamese women who are over 18 years old can apply for the selection.
The ambassador will join in future cultural activities to enhance the international friendship.
This year's festival will be organised by the Hà Nội City People's Committee and the Hà Nội Department of Culture and Sports in co-ordination with the Japanese Embassy in Việt Nam and Japan's Wanokai International Culture Association. — VNS