VietNamNet Bridge – A collection of 62 paintings will be displayed at an exhibition of Vietnamese traditional folk art at Da Nang's Fine Arts Museum from Thursday until February 25.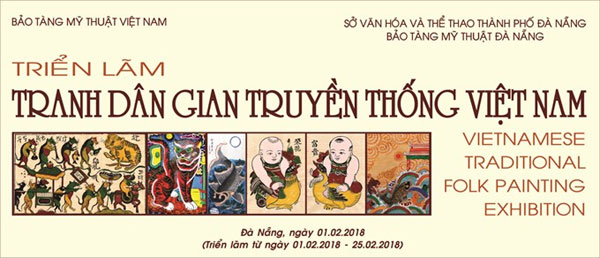 Get ready: Banner for an exhibition of Vietnamese traditional folk painting in Da Nang. — Photo courtesy Da Nang Fine Arts Museum
The exhibition, the first of its kind held in Da Nang, aims to introduce paintings from the traditional painting villages, including Dong Ho in Bac Ninh Province; Hang Trong and Kim Hoang in Hanoi; Vu Di in Vinh Phuc and Doc Loi in Nghe An Province.
Painting villages have survived in Vietnam for centuries, despite often warning popularity.
The exhibition organisers will allow visitors to watch and be guided by artists attending the show.
Visitors can explore the skills and techniques used by artists to produce the colourful art forms.
The exhibition will open at 4pm at 78 Le Duan Street in Da Nang on Thursday.
Children can explore the art from 3pm to 5pm on February 3 and 4.
The exhibition also celebrates Tet, the Lunar New Year.
Source: VNS