VietNamNet Bridge – A two-day workshop on reality-based sound with sound wizard Ernst Karel will be organized at VUI Studio, 3C Tong Duy Tan Street, Hanoi on November 6, 8 (10am-6pm).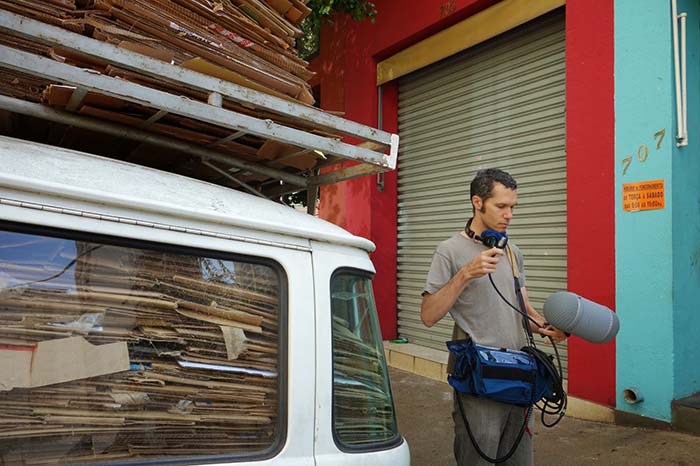 This two-day workshop will focus on an approach to documentary audio through the practice of location recording and composing with location recordings. 
This approach to working with sound does not privilege the human voice, and considers the process of recording as part of engaging in an encounter with a social situation or lived environment through all of one's senses. And through this encounter, audio recordings arise. 
Once audio recordings have arisen, we engage with them anew in the process of listening back and editing.
In the workshop attendants will listen to and discuss relevant audio pieces, as well as ideas about audio as a way of exploring 'place'. 
They will then get started right away by choosing a site or network of sites, where participants will engage in the acts of listening and recording. 
Individually, participants will listen back to their recordings, and make selections to present to the rest of the group. 
At this point, the emphasis shifts from the original site of engagement with sound, to the new space of an encounter with audio in the studio. 
As a group they will listen to, discuss, and work on issues of editing and composition both collectively and individually, using a multitrack editing environment (Reaper).
This workshop is part of the symposium 'Space, Time and the Visceral in Southeast Asian Cinemas', organized by the Southeast Asian Cinemas Research network, in collaboration with Hanoi DocLab; sponsored by the Arts & Humanities Research Council.
This workshop is aimed at artists, students, musicians, and others with an interest in location recording and nonfiction audio. Enrollment is limited to a maximum of 12 participants. 
Participants will ideally provide their own stereo recording equipment and headphones; a few extra recorders will also be available for use. A portable computer with multitrack audio editing software is useful but not required.
The workshop will be in English. Entrance fees are VND600,000 and VND400,000 for Doclab students.
Ernst Karel makes electroacoustic music and experimental nonfiction sound works for multichannel installation and performance. His recent projects are edited/composed using unprocessed location recordings; in performance he sometimes combines these with analog electronics to create pieces which move between the abstract and the documentary. 
His recent sound projections have been presented at Sonic Acts, Amsterdam; Oboro, Montreal; EMPAC, Troy NY; Arsenal, Berlin; and the 2014 Whitney Biennial. Sound installations in collaboration with Helen Mirra have been exhibited at Culturgest, Lisbon; KW Institute for Contemporary Art, Berlin; Audiorama, Stockholm; MIT List Visual Arts Center, Cambridge; and in the 2012 Sao Paulo Biennial. Video with multichannel sound collaborations include Ah humanity! (2015, with Lucien Castaing-Taylor and Véréna Paravel) and Single Stream (2014, with Toby Lee and Pawel Wojtasik). Other projects include the long-running electroacoustic duo EKG, and the location recording/performance collective the New England Phonographers Union. 
Recent nonfiction films on which he has done sound work include The Iron Ministry, Manakamana, and Leviathan, all produced in the Sensory Ethnography Lab at Harvard University, where as a Lecturer in Anthropology, he teaches a class in sonic ethnography.
PV