VietNamNet Bridge – Up to 200 artists from the USA, European and Vietnam will offer a musical extravaganza consisting of 12 programs ranging from opera, chamber music, and symphonies to contemporary dance, all to be held at the HCM City Opera House, No. 7 Lam Son Square, District 1, HCM City, from August 19 to 27.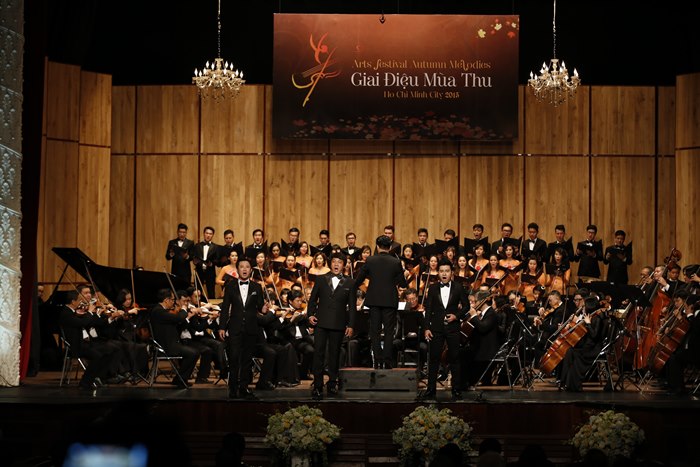 Opera lovers in HCM City will be entertained by the first enactment of Johann Strauss II's notable operetta Die Fledermaus (The Bat) directed by David Herman, conducted by Askan Siegfried Geisler and orchestrated by Tran Nhat Minh, with special vocal coaching by linguistic and vocal trainers from Germany. Die Fledermaus will be performedon August 19 and 20.
Through a journey from the bedroom to ballroom and eventually behind bars, Johann Strauss has created a richly colorful operetta filled with courtship trickeries, confusion and trivialities of old-aged aristocrats. The procession of deceits will carry the audiences to the highs and lowsof emotions, demonstrating his striking observation of urbanites' lives.
Starting in HCM City, the Outdoor Brass Concert "Fanfare" on the morning of August 19 at the front of the HCM City Opera House will be the kick-off for Autumn Melodies 2017. This is a special gift to music lovers living in the city.
Japan is the first country appearing in Autumn Melodies 2017 Feast. On August 22, Sakura Kitakyushu String Orchestra will deliver a highly traditional list of works with Japanese Four Seasons by composer Masaaki Hayakawa, Triptique by Yasushi Akutagawa and a traditional medley composed of four folk tunes.
Askan Geisler
The following afternoon and evening will transport the audiences to Russia as represented by Young Talents (at 5PM, August 23); French Chamber Music Night (8PM, August 23) and Young Vietnamese Talents Concert (5PM, August 24). The prince of instruments, guitar, will have His majesty's space in a Classical Guitar Concert by Saigon Guitar Quartet with invited performer Vo Thuy Ngoc Tuyen (HCM City), Pongpat Pongradit (Thailand) and Anton Isselhardt (Germany).
However, the premium offerings in chamber music of the Arts Festival 2017 will be 8 Seasons (August 24) and Gala Night Journey Through Europe: People and Landscapes (August 25), demonstrated by outstanding talents from Vietnam Academy of Music and the International Chamber Players, empowered by the virtuosity of violinist Bui Cong Duy and Chuong Vu who will offer their finest skills in solo performances.
Gone through Love, performed on August 26 and choreographed by Nguyen Phuc Hung and Nguyen Phuc Hai, will unveil various angles about love, with participation of young ballet dancers Tran Hoang Uyen, Nguyen Thu Trang, Phan Tieu Ly, Sung A Lung, Phan Thai Binh and Nguyen Minh Tam.
Bui Cong Duy
On the same evening, the HCM City Ballet Symphony Orchestra (HBSO) will introduce the latest compositions Symphony Suite "Reminiscence" by Nguyen Manh Duy Linh and "Spring Prayers", a Suite for choir and orchestra by Vu Viet Anh.
There will hardly be a better finale than music by the greats Brahms, Smetena and Tchaikovsky, delivered by the remarkable soloist Urich Horn (Germany), Hoan Tuan Cuong (Germany) and conducted by Le Phi Phi returning from Macedonia, happening on the evening of August 29.
With a 20 year long experience performing internationally with numerous orchestras and ensembles such as Berlin Philharmonic, Ulrich Horn is unquestionably a Festival player of the highest caliber.
Shortly before, on the morning of August 29, the Outdoor Brass Concert "Fanfare" will have their 2nd performance at the Opera House as a farewell to the audience.
Debuting in August 2005, Autumn Melodies showcases the finest of Vietnam's talents who have studied and gained achievements in the country and beyond in academic arts. Now held biannually, with unprecedented excellence and artistic value, Autumn Melodies Art Festival has become a staple of the city's entertainment life.
Tickets are available at the HBSO Box Office: No.7 Lam Son Square, District 1, HCM City (basement)
Tel: 028 3823 7295, 090 360 4539
Booking online: ticketbox.vn
Website: hbso.org.vn
T. Van