VietNamNet Bridge - 40 individual reptiles including pythons, snakes, lizards, porcupines, squirrels ... are displayed at a coffee shop for people who love animals. Customers can drink coffee and play with them.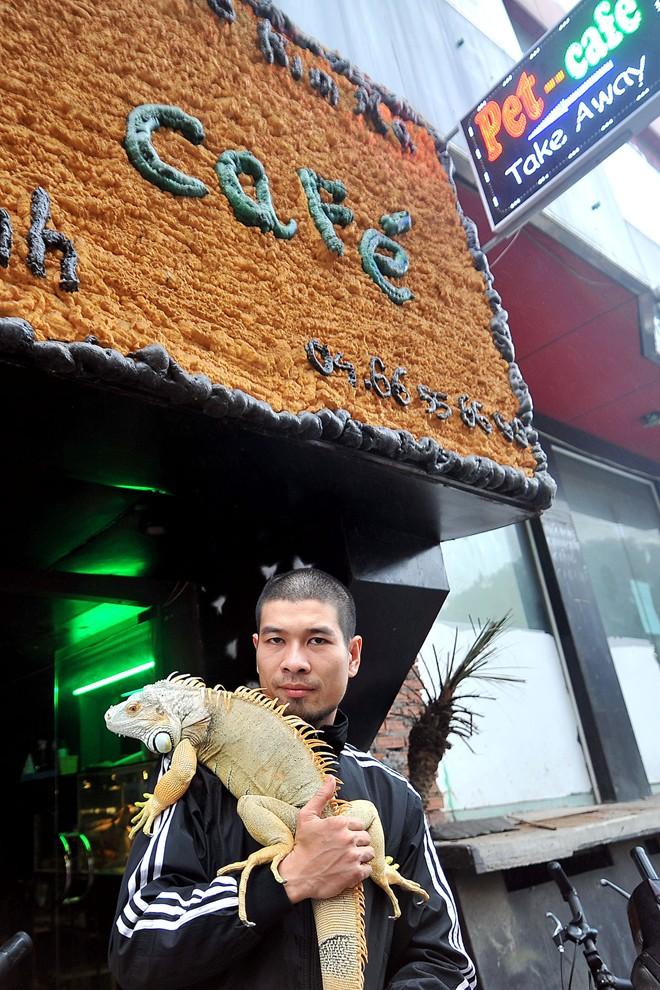 Pet Cafe is a cafe with many reptiles in Hanoi. It is located on Ngoc Khanh Street, Ba Dinh District. The owner is Mr. Nguyen Minh Nghia (photo).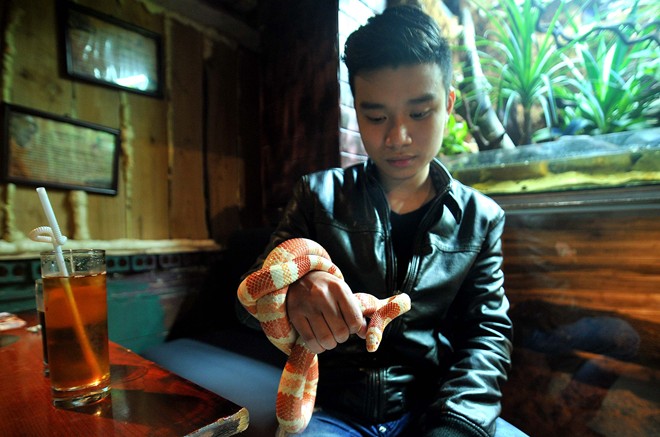 It is also considered as the headquarters of the Club for people who love animals and nature, with over 3,000 members. In the picture: A customer with a 3.5-year-old snake. This snake is native to northeastern Mexico.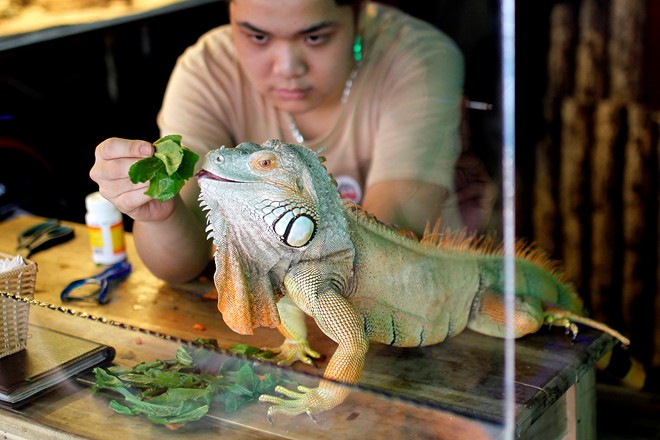 The café owner - Mr. Nghia is an animal enthusiast, especially reptiles. He began breeding reptiles over eight years ago, with a salamander as the first.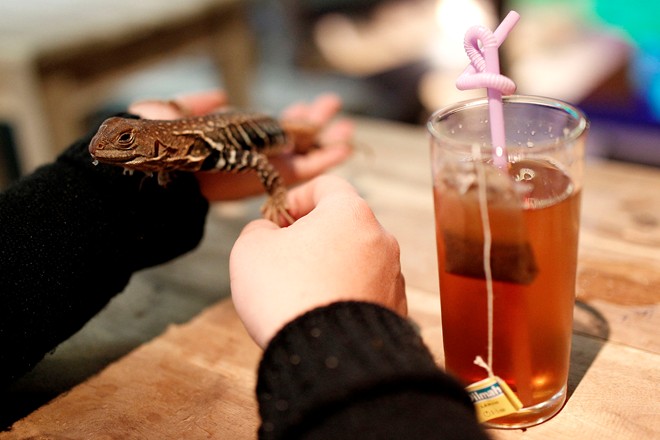 A green snake.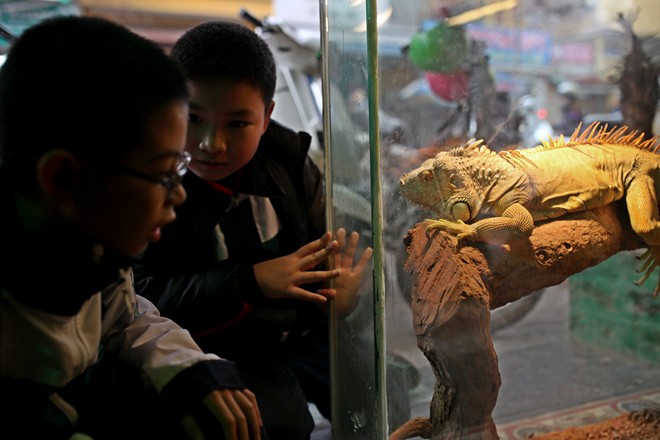 Most of the reptiles in Nghia's café were raised from a very young age so it took him a lot of time and effort to nurture and tame them.
Every day, in addition to feeding, bathing, taking them to exposure to the sun, the breeder has to take the time to communicate and play with them. A pair of snakes play on the sofa in the cafe.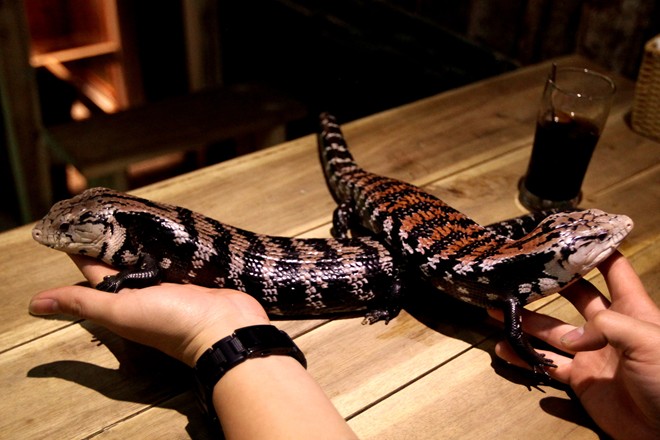 Upon entering the coffee shop, many people are surprised and even somewhat afraid to see these reptiles but they will quickly get familiar to them.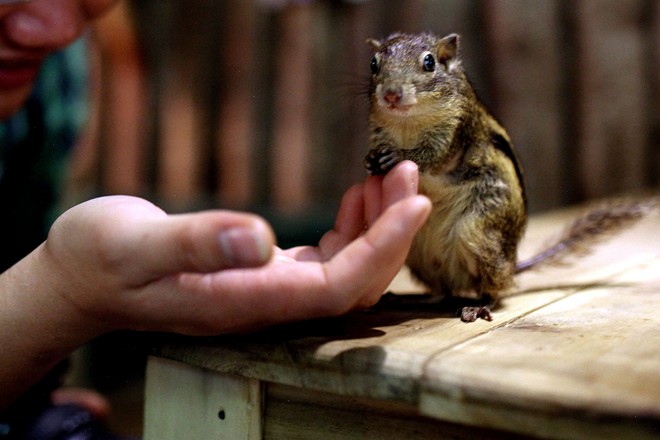 The animals in the coffee shop are also quickly accustomed to strangers. This squirrel is not reluctant to take food from the hands of a new visitor.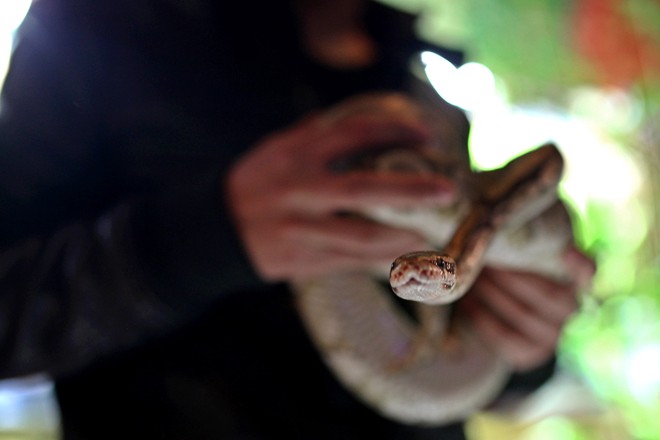 This ball python is 3 years old and he is very gentle.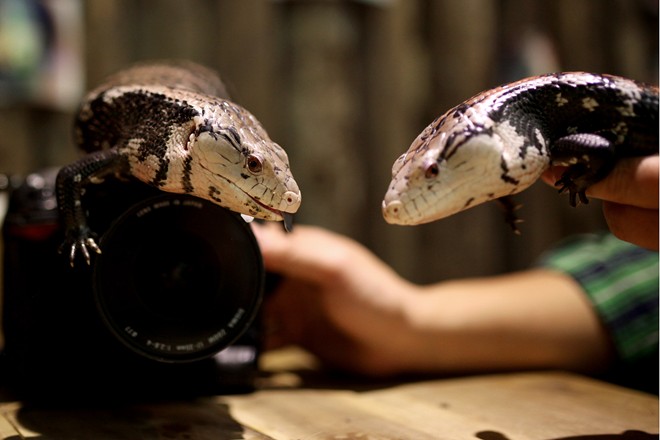 The reptiles in this coffee shop are on the list of pets in the world. The shop owner said it took him from 6-8 months to tame a reptile.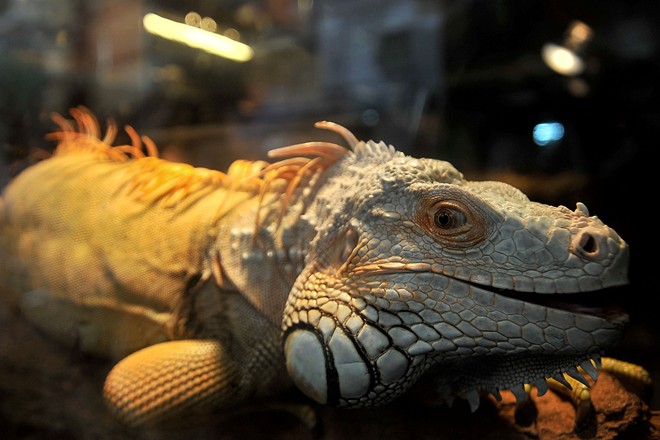 A salamander from South America named Iguanas - 6 years old.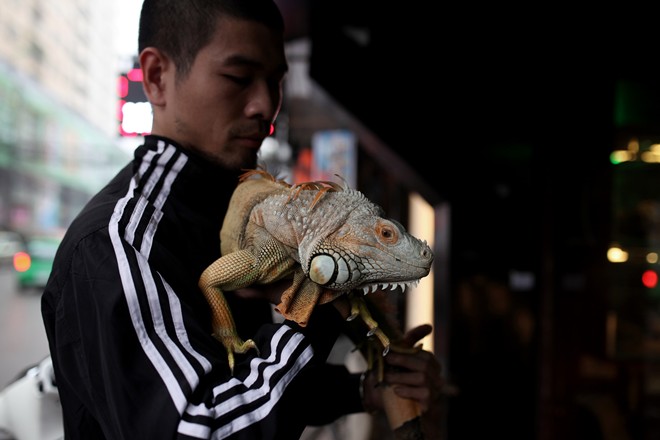 It took Nghia a lot of effort to tame the Iguana.
In the collection of Nghia there are little pet princupines.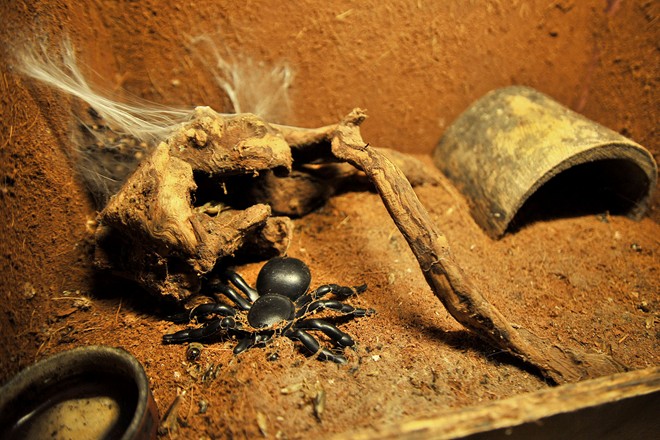 Nghia said, because reptiles are cold-blooded animals, the environmental conditions for them must be "natural."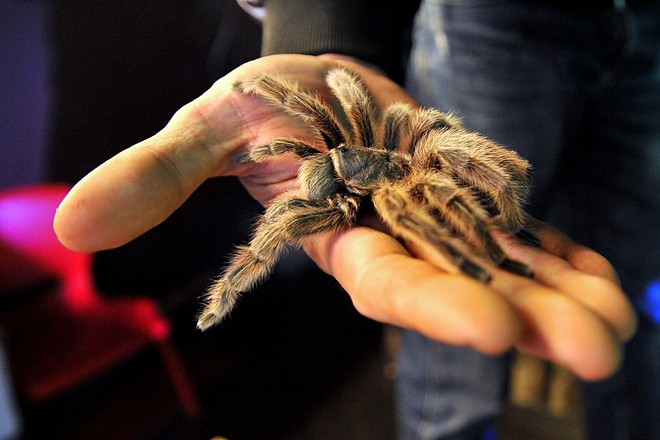 Food is not a problem but the conditions of light, temperature and humidity are not simple, Nghia said.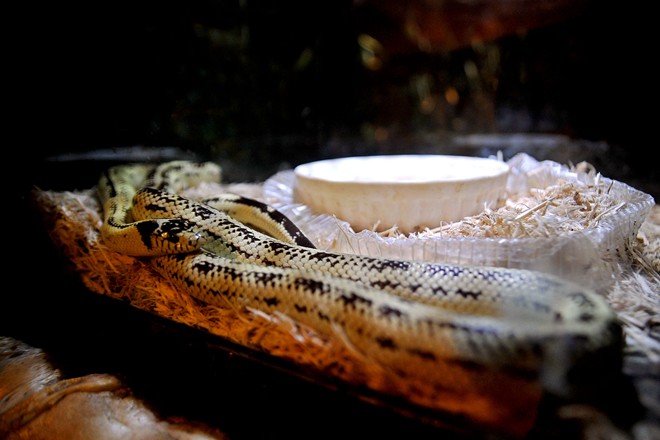 Cages in the shops are installed with different lamps with different characteristics. The area of snakes has UVB lamps to provide vitamin and calcium. UVA and Power Sun lamps are for lizards and salamanders.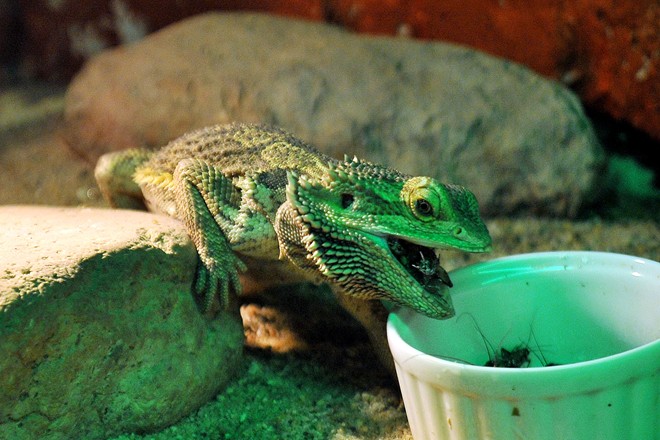 Food for salamanders is vegetables and fruits. Food for pythons, snakes and lizards may be rats, chickens, crickets, but the food for small snakes is imported.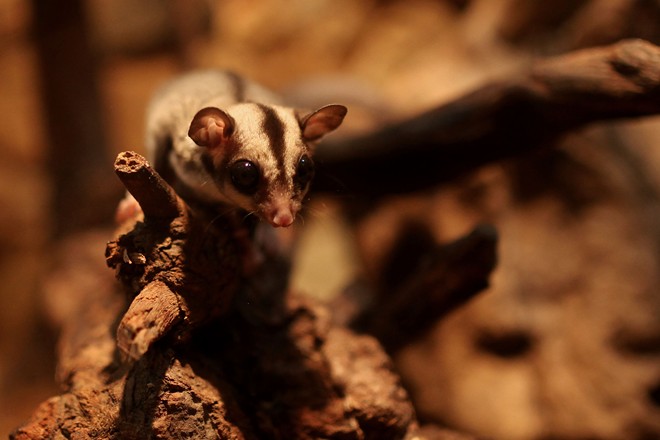 Some pet food shops have opened in Hanoi so it is easier and less expensive to breed these reptiles than before. Also, because they live indoor, they must be supplied with vitamins and calcium powder.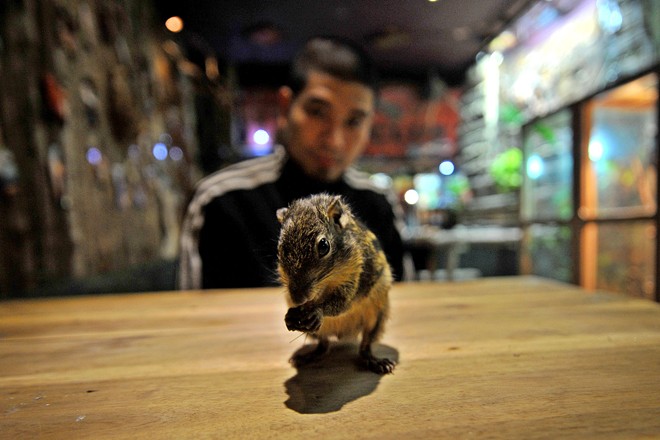 It cost Nghia about VND6-7 million ($300-350) for animal feed. A small squirrel.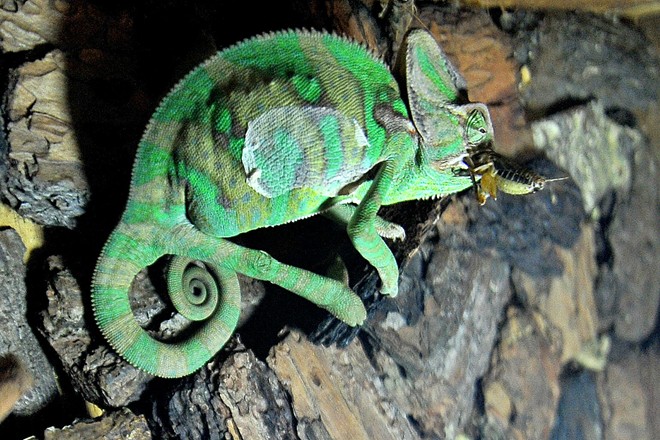 Nearby, a chameleon named Chameleon is eating a cricket.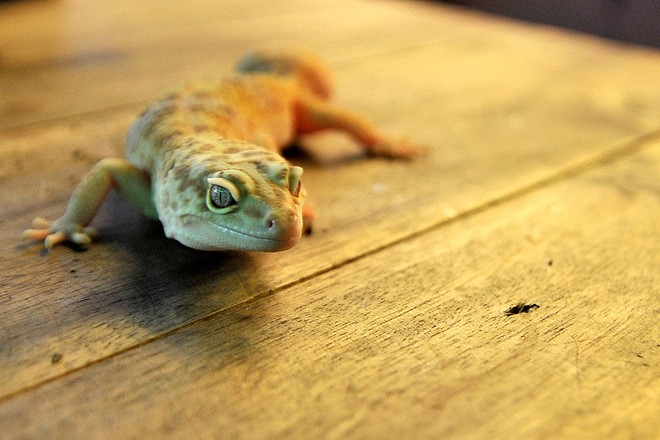 This South American lizard is "walking" on the coffee table.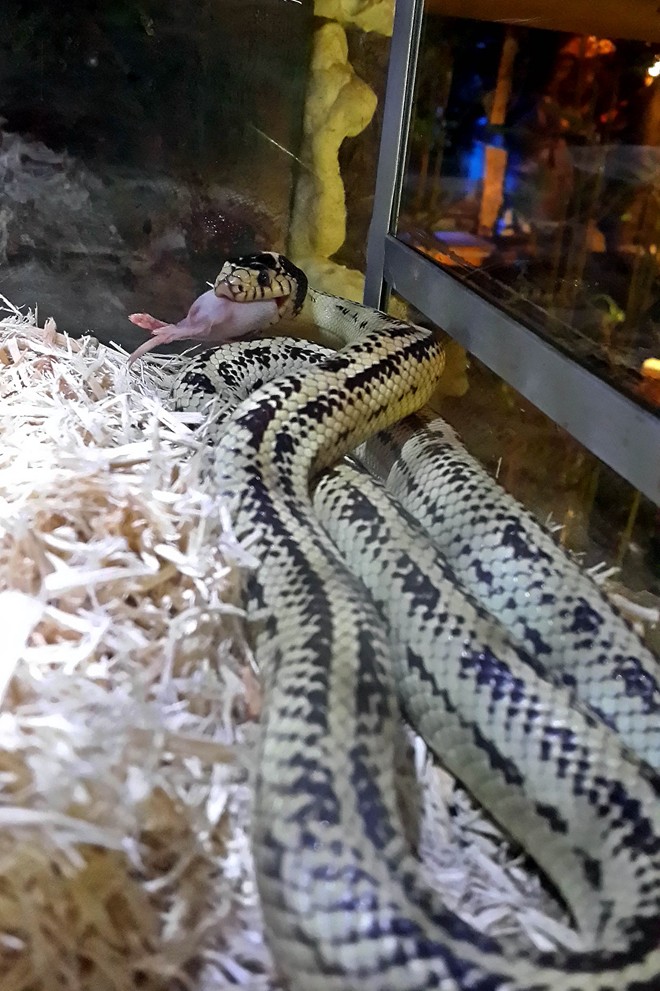 Food for small snakes are white baby mice.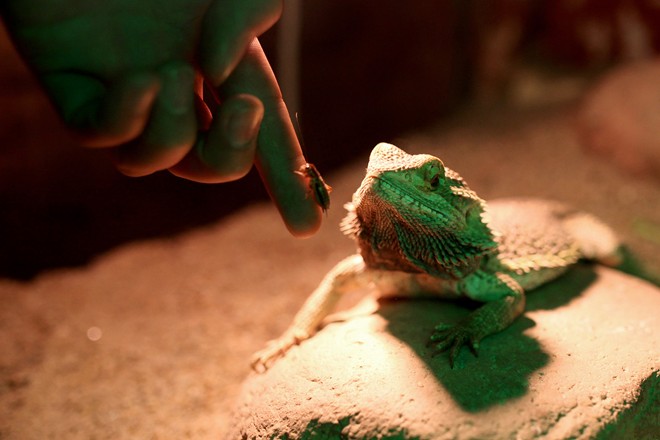 Food of lizards is mice, chicken or crickets.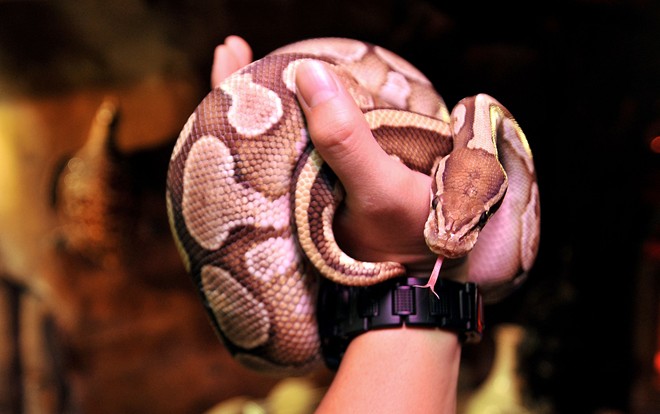 Customers can play with the pythons and snakes comfortably without fear of being bitten.
Zing