Hanoi authorities are ready to relocate about 14,000 residents facing the threat of flooding in the outlying district of Chuong My, an official said.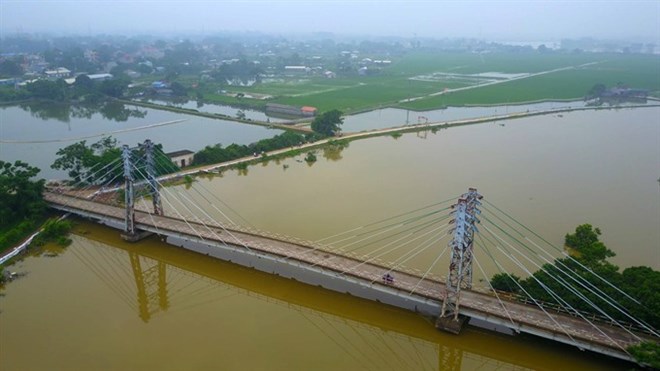 The water level reached 7.5 metres on the stretch of the Bui River in Hanoi's outer district of Chuong My, the highest level ever recorded.
Chairman of the Hanoi People's Committee Nguyen Duc Chung said on July 30 during an inspection on flood prevention work in the district that the authorities must prepare for the worst-case scenario.
He said that the city authorities would provide 10,000 sand bags and request relevant agencies strengthen the embankment to prevent water from the Bui River flowing in.
Chung also asked the district authorities to call on residents residing near Bui River's Dyke to quickly relocate their belongings to higher places.
Regarding concern over clean water, the city authority has asked a number of enterprises to provide 5,000 big water bottles for local residents who are in need.
The municipal People's Committee chairman also directed relevant agencies to be on duty around the clock to tackle all possible incidents, ensuring the safety of the dyke.
According to a report from the People's Committee of Chuong My district, in recent days, due to the heavy rain, the water level at Bui and Tich Rivers has continued to swell. On July 30, the water level at Bui reached its peak of 7.52m, about 1m higher than the third warning level – an alarming level that caused widespread flooding in downstream areas; many construction, transportation and irrigation works suffered heavy damage.
Chu Phu My, Director of the Hanoi Agriculture and Rural Development department, said the water level at the Bui River was down to 7.42m on July 31.
The department remained to monitor the Huu Bui and Huu Tich dykes and embankments belonging to the communes of Quoc Oai and Thach That districts. If the water continues to rise, the department will submit a plan on the water discharge to the municipal People's Committee so that the inner city will not be inundated as well as to ensure the safety of local people and their property.
After the water recedes, the department will focus on calculating the damage and conducting repair work, My said.
Regarding the communes which were inundated, he said that steering committee for natural disaster prevention and control would work with relevant agencies to perform relief work, providing necessary support so that people could restore production and return to normal lives.
Dinh Manh Hung, Chairman of the Chuong My district People's Committee, said nearly 1,300ha of rice, 260ha of vegetables and 555ha of aqua-culture were damaged by floods. As many as 3,300 metres of roads and 9,400 canals were badly affected. The floods also destroyed 33 bridges and resulted in the death of 339 cattle.
As of July 30 night, two children have drowned and 2,349 households have been submerged under flood waters. Some villages like Yen Trinh and Thuan Luong of Hoang Van Thu were isolated.
To cope with the situation, the district People's Committee has taken drastic measures to ensure the safety of state and local residents' property.
Accordingly, the district's Military Command was asked to coordinate with armed forces units in the localities to conduct rescues in case of emergency. Relevant agencies were directed to collaborate with communes and local authorities in preparing necessary equipment and forces and closely monitor the water level at rivers and reservoirs to support the evacuation of people in accordance with the set plan.
In response to the calls from local authorities, hundreds of people have used thousands of sand bags and bamboo poles to reinforce the eroded embankment.
Luu Huu Nhan, a resident from Thanh Binh commune whose home is 100m from Bui Dyke, said that as soon as they were informed of the rising water level, hundreds of local residents arrived at the scene to join the repair work.
"Never before have people taken an active role like this year. Over 500 people were mobilised just on July 29 night to protect the dyke," Hung said, adding that people were the most important factor in flood control work.
Hanoi residents wade through flood waters
Heavy rainfall that lasted for few hours on July 31 evening flooded several streets and caused traffic jam in several streets in Hanoi.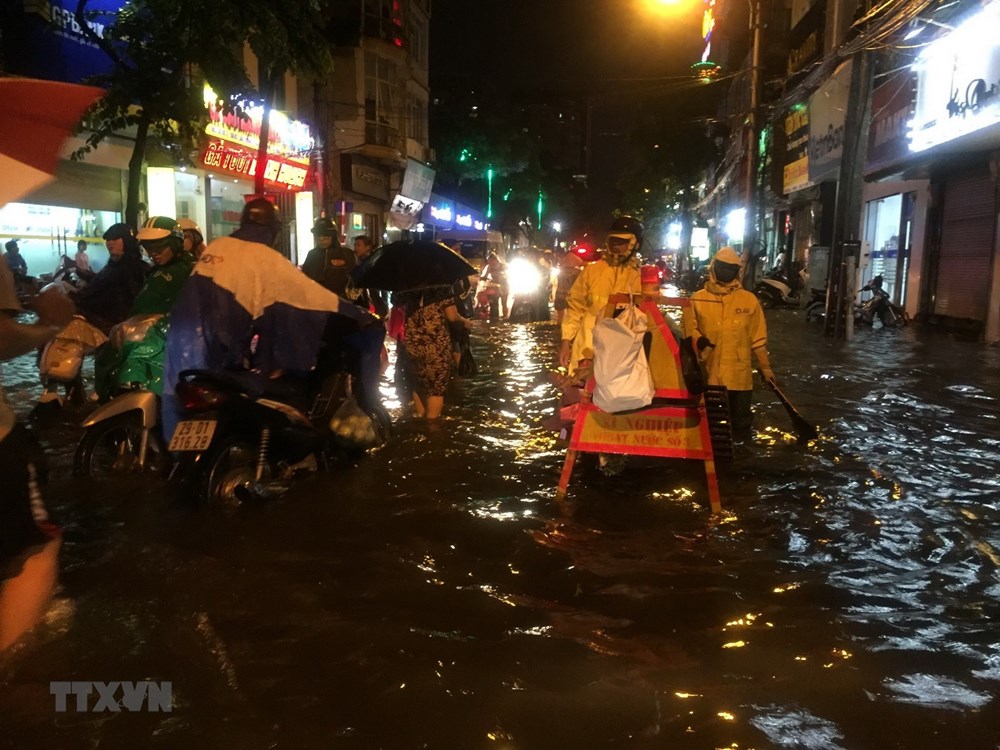 Lac Trung street in Hai Ba Trung district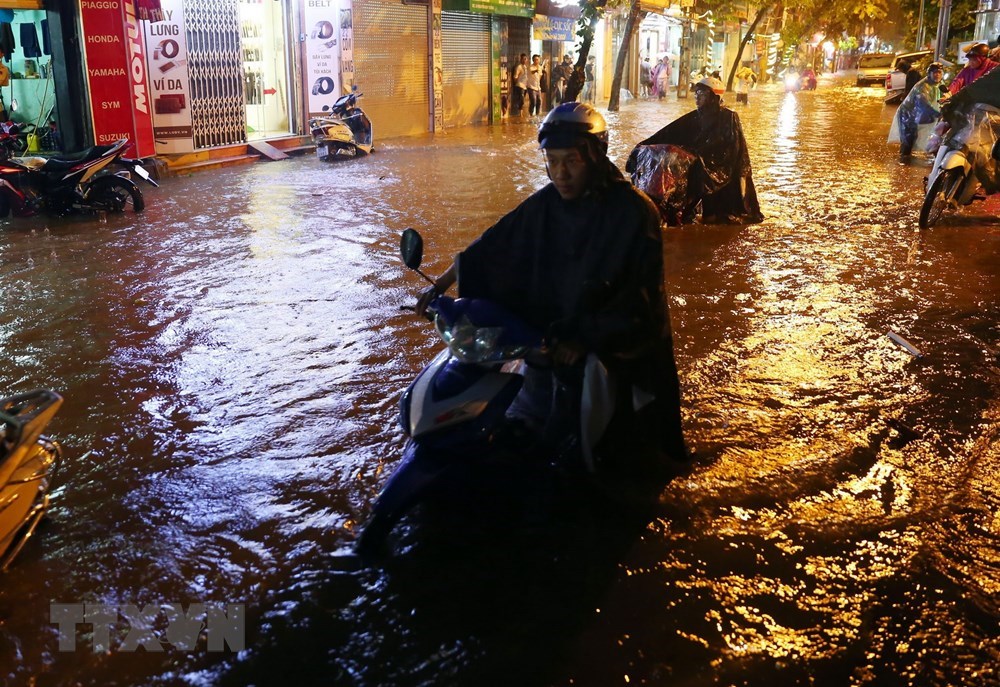 Nguyen Huy Tuong street in Thanh Xuan district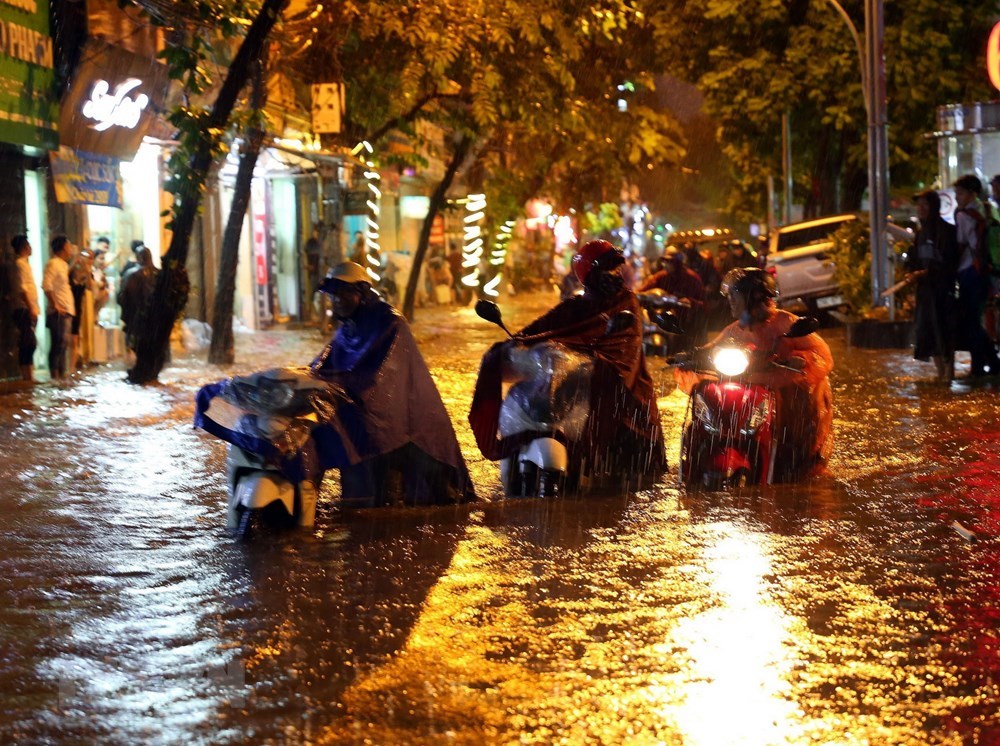 Nguyen Huy Tuong street in Thanh Xuan district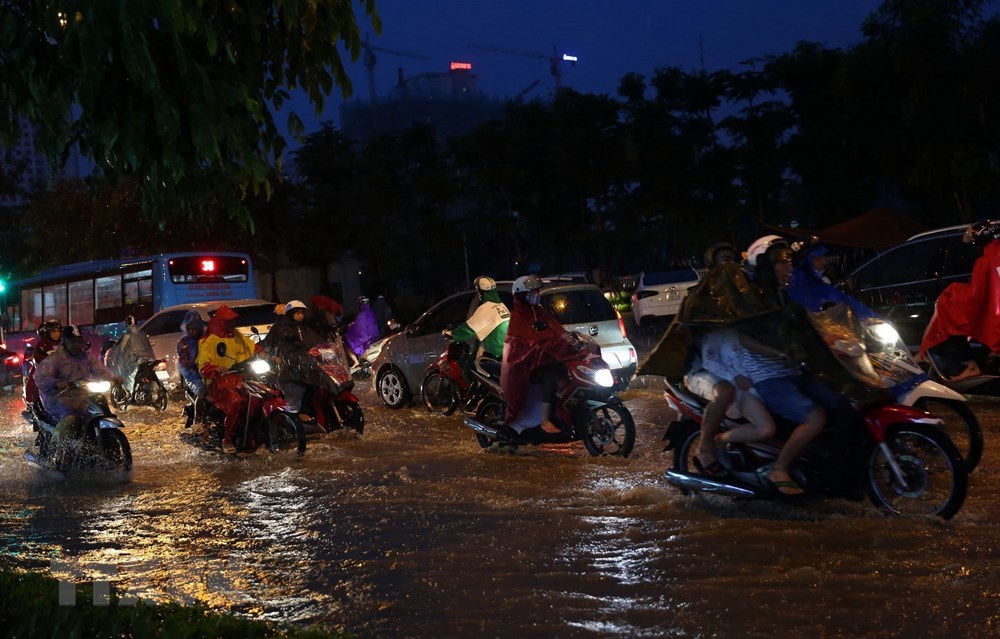 Hoang Minh Giam street in Cau Giay district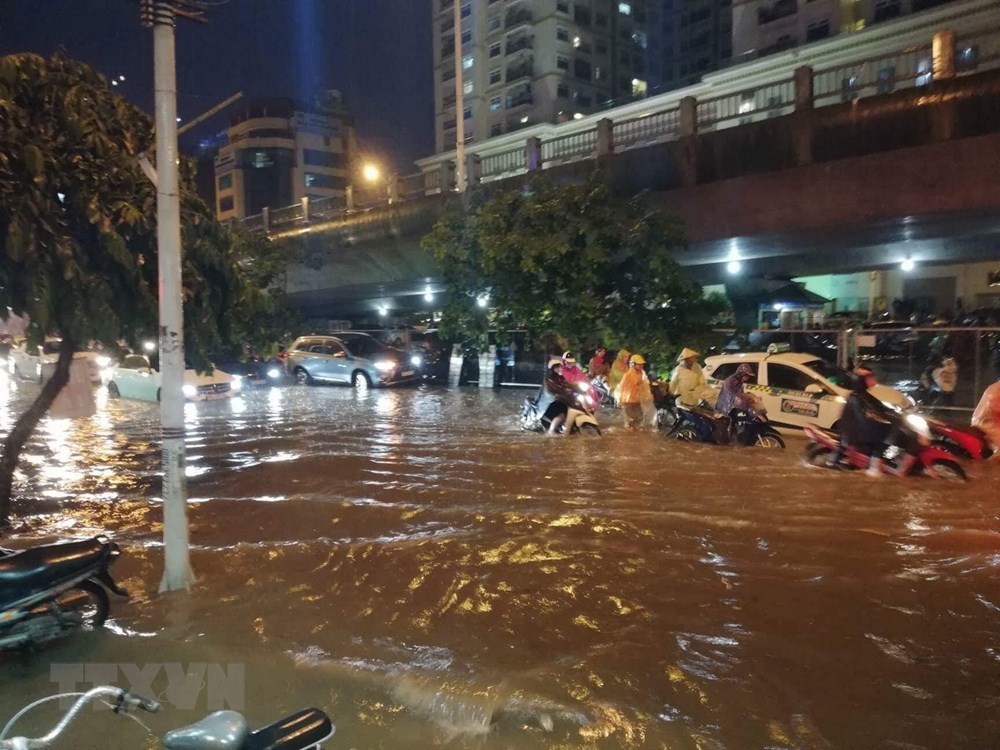 Minh Khai street in Hai Ba Trung district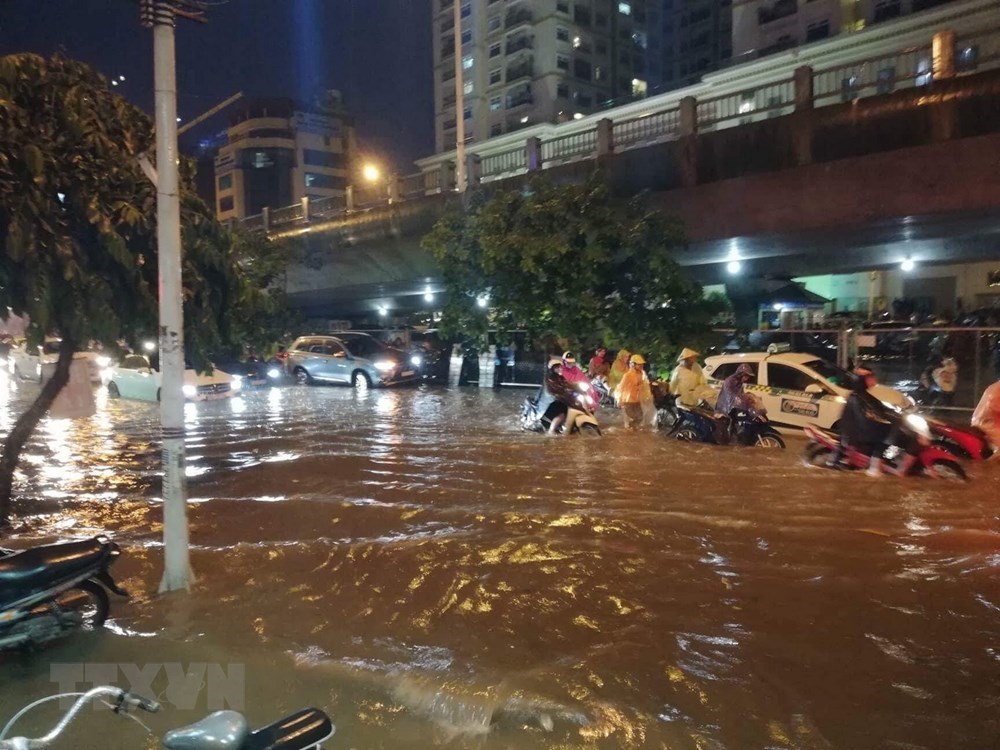 Meanwhile, in Hanoi's outskirts district of Chuong My, flood waters have entered 2,349 households in ten towns and communes, and isolated Yen Trinh and Thuan Luong villages in Hoang Van Thu commune.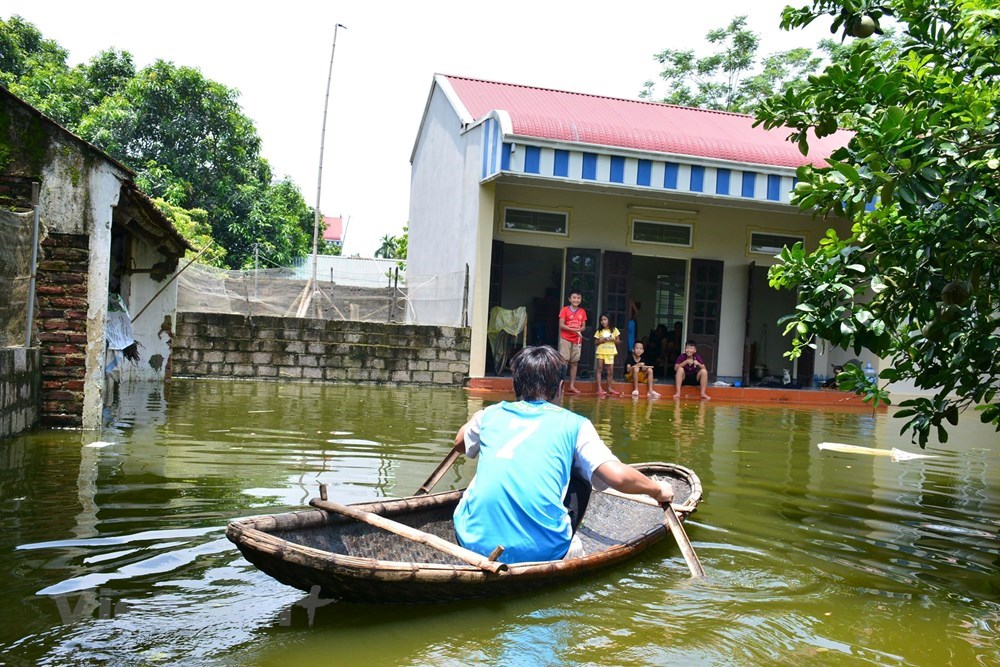 A local man rowing in his house's yard.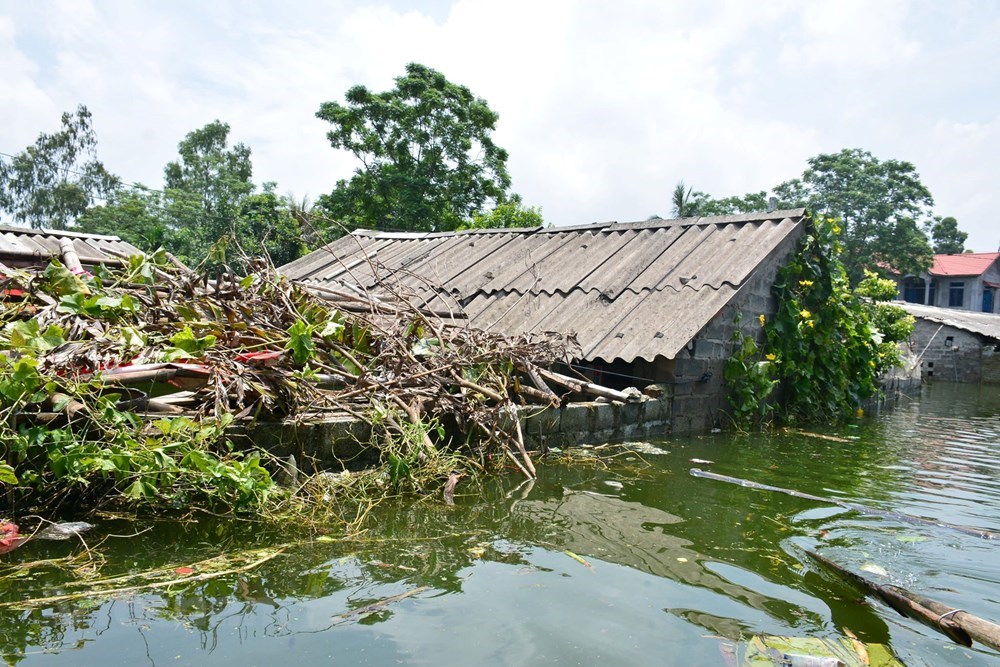 Flood waters have reached house roofs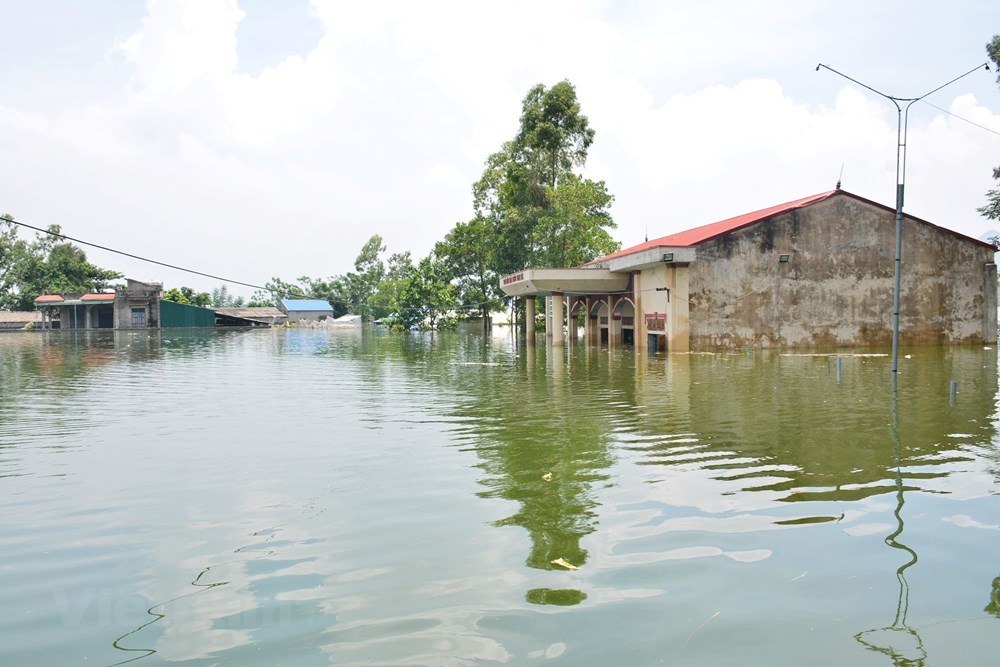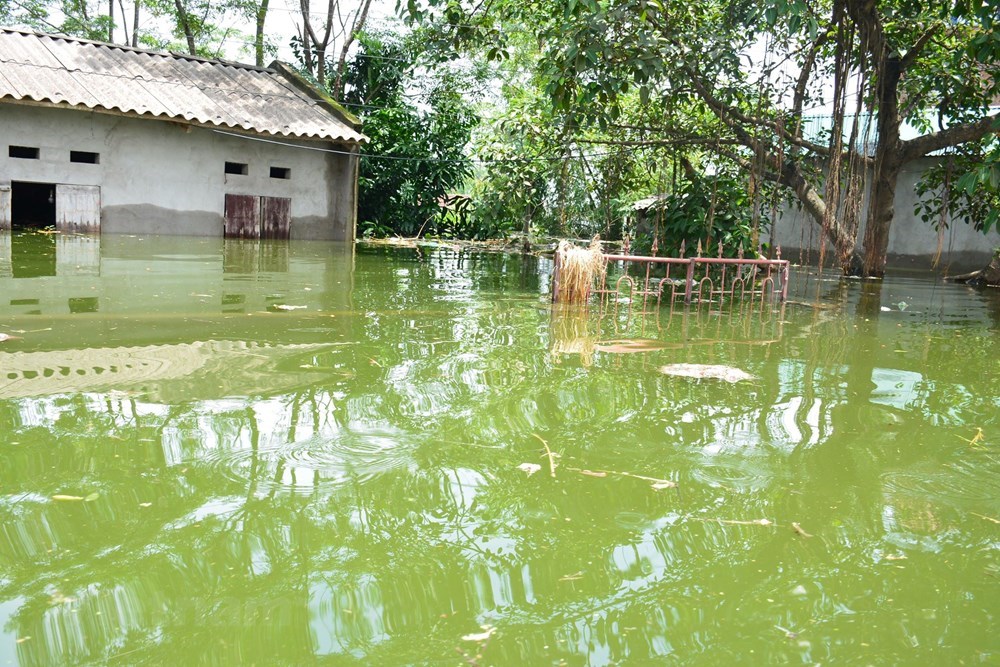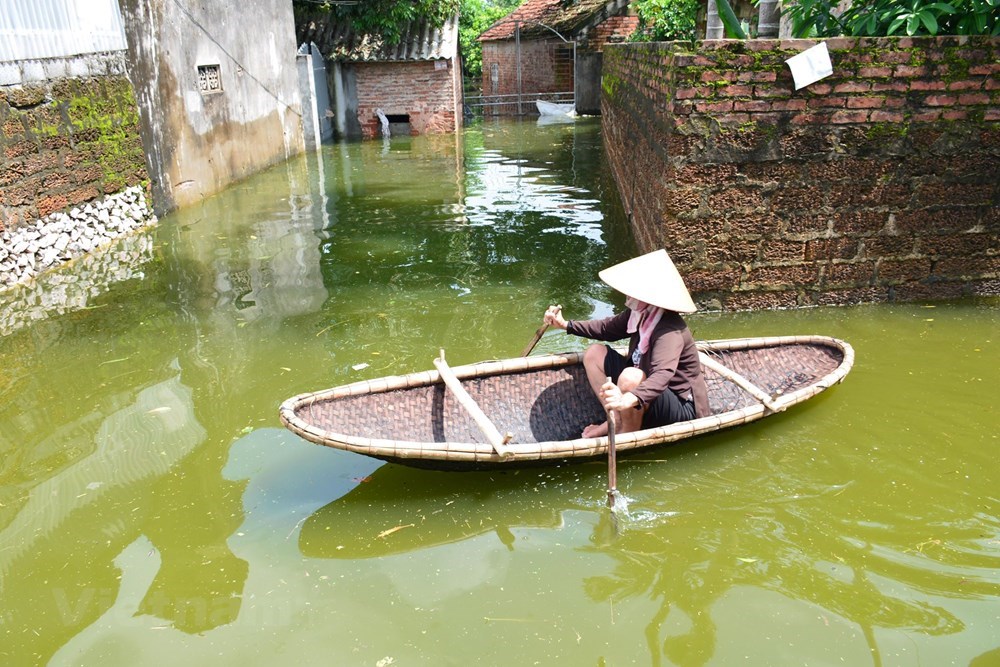 VNA