VietNamNet Bridge - In addition to the Ho Chi Minh Mausoleum, Ba Dinh Square is home to many historic buildings and tourist sites as the Presidential Palace, the Ho Chi Minh house-on-stilts, One Pillar Pagoda ...
Not only limited by the streets of Hoang Van Thu, Hung Vuong, Doc Lap, Ba Dinh Square also extends to all directions with some roads as Bac Son, Dien Bien Phu ...
The Ho Chi Minh Mausoleum is the center work of the square. Every day, thousands of tourists queue to enter the Mausoleum of President Ho Chi Minh. The Mausoleum opens from 7h30-10h30 every day except for Monday  and Friday. In winter and weekends, the time may change.
The Presidential Palace was built in 1902. It is a typical building of neoclassical style, with strict rules of symmetry, emphasizing two blocks on either sides and classic details.
Albert Sarraut School is now the Party Central Agency, built in 1919. This work is a combination of many buildings  and  the main block faces the square, with classic style.
Located south, near the Mausoleum, Ho Chi Minh Museum was built over 20 years (from 1970 to 1990). This work brings a modern style with large patches, shapes, strong lines. Admission for international visitors is VND15,000, free for local visitors.
The Memorial of heroic martyrs who sacrificed for the country is at the end of the Bac Son road. It was completed in 1994.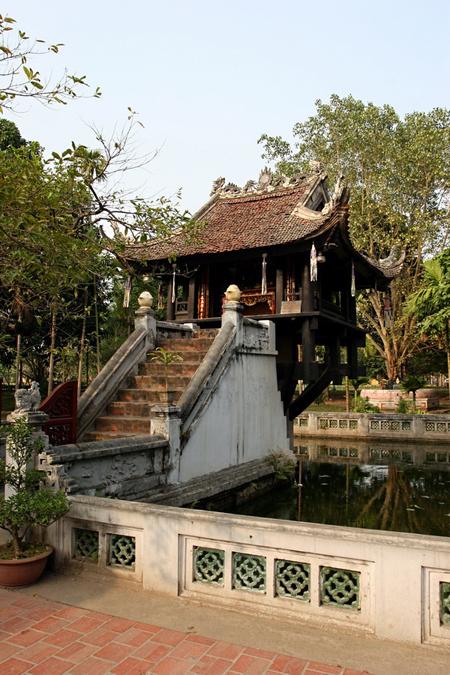 One Pillar Pagoda, a unique ancient architecture located in Ba Dinh Square  area, next to the Mausoleum of President Ho Chi Minh. It was built in 1049 and has undergone repairs and restorations. In 1954, before withdrawing from Hanoi, the French army destroyed the temple. The temple was restored again in 1955. 
The house on stilts and fish pond on the President Ho Chi Minh relic site, located within the Presidential Palace.
Parliament House is the latest work in the architectural complex on Ba Dinh Square. It was inaugurated in late 2014, on the grounds of the old Ba Dinh Hall, next to the archaeological site of Thang Long Imperial Citadel.  The work was designed by German architects. This is a special large-scale building, combining a modern and traditional style.
Photo: VNE

Mai Lan