VietNamNet Bridge – The hot season is approaching, but instead of going to the beach to cool off, what about heading to the mountains? We've got just the place in mind: Pac Rang Hamlet in northern Cao Bang Province, about 320km from Ha Noi.
Traditional weaves: A Nung woman dries pieces of indigo cloth under the sun. Brocade making is another traditional craft practiced in the halmlet.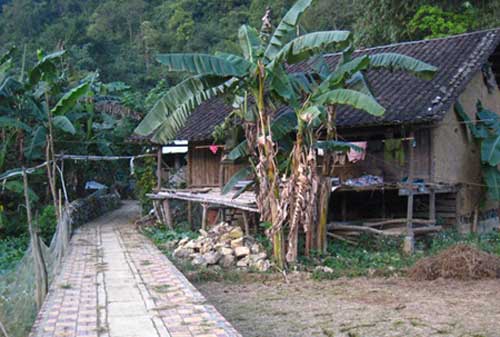 Humble beauty: Paths crossing Pac Rang hamlet are paved with bricks or concrete.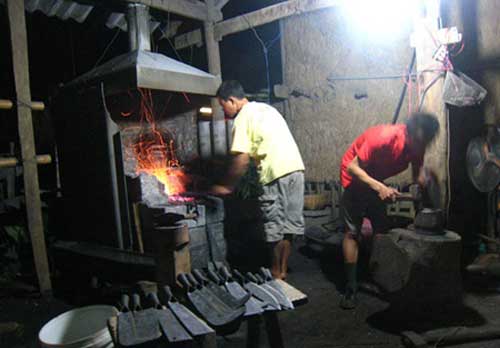 Hard at work: Forging has been the craft of the Nung ethnic people in Pac Rang for hundreds of years. Knowing how to forge before marrying age is an important rite of passage for boys in the village.
Unknown to most foreign travelers, the hamlet is famous among Vietnamese for its beautiful scenery.
A 35km motorbike ride along weaving and sloping National Highway 3 from the centre of Cao Bang City takes us to a smooth asphalt road with green and yellow fields on either side.
Soon the sounds of hammer blows signal us to stop. As in some other hamlets in Phuc Sen Commune, forging has been the craft of the Nung ethnic people in Pac Rang for hundreds of years. Their knives, scissors and farm tools are famous in the region and neighbouring provinces for their durability and sharpness.
"If a local man does not know how to forge at marriage age, he is not considered a real man," head of Pac Rang hamlet Long Van Hai tells us. "To learn the forging craft, however, one should be healthy and have good vision and hearing because the craft requires all the senses. Professional forgers test the quality of finished products by moving them on a nail. The one that moves smoothly is a good one."
Brocade making is another traditional craft practiced in the hamlet.
"We do the whole process from cotton growing, thread spinning and weaving to indigo drying and embroidering. A fine dress or suit requires at last one month to complete, but the products can last for 10 years," says Hai's wife, Trieu Thi Dan.
Going around the hamlet under the shades of indigo cloth hanging to dry under the sun, we are amazed to see that Pac Rang is clean and unpolluted. Paths crossing the hamlet are paved with bricks or concrete; drainage and waste are properly treated and disposed of. We are particularly keen to see that domestic animals are no longer living underneath the floor of stilt houses, which is still a common practice in some areas.
"The Nung people used to live in the stilt houses and use the ground floor for storing farming tools and household animals, which was extremely unhygienic," says deputy head of the provincial culture department Nhan Thi Minh Thi. "It is not easy to break them of the habit. We did, finally. It's such a miracle."
Thi is referring to the Greater Mekong Subregion Sustainable Tourism Development Project, from which Pac Rang benefited. The Asian Development Bank-funded project supported the development of Pac Rang Hamlet into an ecological destination and traditional craft village while protecting natural and cultural heritage and developing community tourism in order to help reduce poverty.
Pac Rang is home to 51 households with more than 400 people. Hai's is one of five families provided with new, modern bathrooms and other facilities to serve travelers.
"We provided each family with four sets of blankets, bedspreads, pillows and mattresses and instructed them in basic hospitality skills," says Thi.
It turns out that we're the first tourists to "test" the services. Hai takes us around the rice fields in front of the house, roofed with yin-yang tiles.
"The owner of the upper field is responsible for strengthening the lower part of his or her field, and so is the owner of the lower field. That way, we can retain land and water for rice, maize and bean plants, and so on," says a farmer named Chien.
The local residents often climb mountains seeking rocks of different sizes. Then they pile them up, using earth or cement to fill any holes.
"Such stone walls are completely solid and stand firm against the test of time. Even buffalo and cows cannot make them collapse," adds Chien.
Pac Rang is located on National Highway 3 leading to the Ta Lung International border gate, close to Ban Gioc waterfall, Nguom Ngao Cave tourism site and Thang Hen Lake as well as many surreal mountain landscapes.
Source: VNS