VietNamNet Bridge - The below ancient villages have an ancient and romantic beauty and they have become the destinations of many tourists.
1. The ancient village of Duong Lam, Hanoi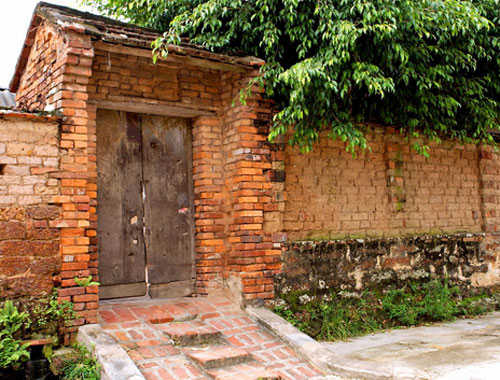 The old houses were built mainly by laterite.
Located along the Red River, Duong Lam village is very old with mossy tiled roofs and unique laterite walls, old wells and communal houses, taking visitors back to the beautiful past of Northern villages.
Only 50 km away from Hanoi, but you will be amazed at the old, quiet space of an ancient village that still preserves the colors of time.
When you walk through the village gate, the busy modern life is left behind. Duong Lam is considered the oldest village in northern Vietnam. There are still 900 traditional houses dating back from the 16th century in the village.
The village has closed structure with a main road, from which branches reach all corners in the village.
Surrounding the village is a system of ponds, creating romantic scenery. On sunny days, the pond system is the air conditioning of the village.
2. The ancient village of Phuoc Tich, Thua Thien Hue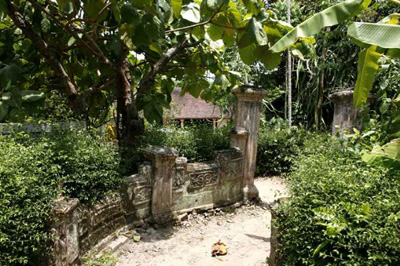 Located in the basin of O Lau River, on the boundary between the two provinces of Thua Thien - Hue and Quang Tri, central Vietnam, more than 40 km from Hue City, the ancient village of Phuoc Tich is a living museum of Vietnamese rural culture, which has been preserved for hundreds of years.
The village is a complex of ancient "nha ruong". Nha ruong are hand-made traditional wooden houses with 48 columns for the cult of the ancestors and Buddha. Each nha ruong is built with many beams (ruong) and pillars (cot), and its name derives from this very characteristic. But the most distinctive feature is that all beams and pillars are joined by mortise and tenon, not nails. Roofed with brick tiles, nha ruong has all beams and pillars made of precious and solid wood, such as lim (iron wood), gu (sindora) or thong xanh (teranthera pine). The whole house stands on big pillars placed on a round or square stone base. All nha ruong houses have a front garden.
There are more than 100 nha ruong in the village, including 37 houses of over 100 years, and intact temples. There are 12 extremely rare nha ruong, of 150-200 years old, with sophisticated carved columns and horizontal lacquered boards.
Visitors will see a quiet space, flooded by the green color of ancient trees. It is very clean everywhere, from the road to the gardens, alleys to temples. Visitors will also see ancient pottery items or experience as "potters" in the village.
3. Long Tuyen ancient village, Can Tho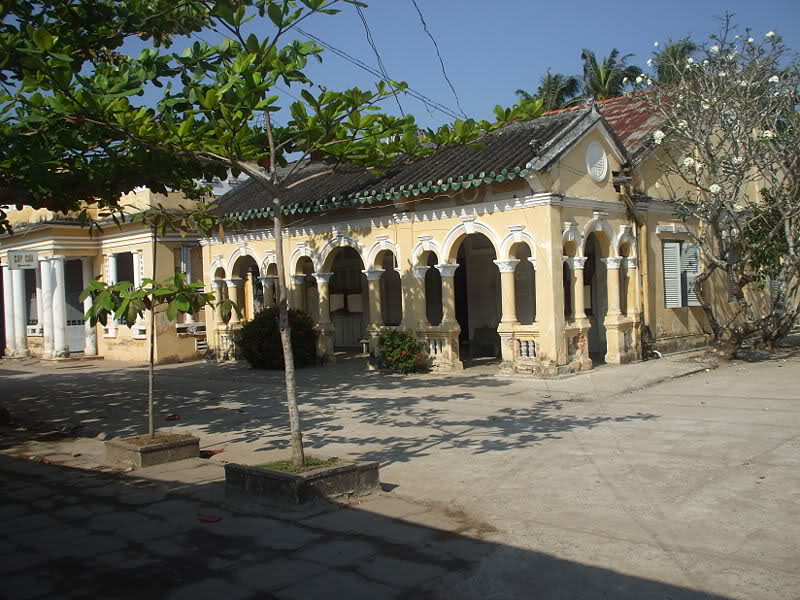 Long Tuyen is an ancient village in the Mekong Delta City of Can Tho. The village is a destination that attracts many tourists in Vietnam travel not only because of its beautifully natural scenery, but also the cultural relics that remains after hundreds of years.
The architecture and culture in Long Tuyen is very unique because it is the combination of various cultures from Western to Eastern, including Chinese, French, American, Cham and Japanese. This place also possesses six of 18 national relics in Can Tho, including famous locations such as Binh Thuy Temple, Nam Nha Pagoda or Binh Thuy Old House. Moreover, the Ky Yen Festival takes place here.
It can be said that Long Tuyen village is a rare destination that contains various typical characteristics of the culture in this region, and for sure it is a pity if you don't add this destination to your travel.
4. Tuy Loan ancient village, Da Nang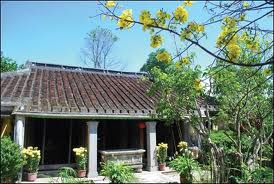 About 15km southwest of Da Nang, Tuy Loan village is located in Hoa Phong Commune, Hoa Vang District.  It boasts beautiful scenery and the unique characteristics of a Vietnamese rural village.
The village dates back over 500 years to the time when Emperor Le Thanh Tong issued a royal proclamation to extend the country's territory.  A stele erected at the worshipping house of the village's five families reveals that their five predecessors with the last names of Dang, Lam, Nguyen, Tran and Le together founded this village.
Despite many ups and downs over the past 5 centuries, local residents are proud of the village's many old houses, its history and its beautiful setting with its many interesting features that include an old banyan tree, a boat station, a communal house and others.  Villagers also take pride in their specialty of My Quang (Quang rice noodles) plus their rice paper making.
The village communal house was built in 1889 under the reign of Emperor Thanh Thai.  Despite the passing of so many centuries, the house still retains its inherent majesty.  It covers an area of over 110m2 and has brick walls and a pantile roof.  It is decorated with two dragons flanking a moon, and flying dragons encrusted with shards of pottery.  It has four rows of jack tree wood pillars, each having six pillars between 2.5 and 4.5m high.  The structure of the rafters is patterned after "Chong ruong - Gia thu".  
The pillars against the walls are carved with stylized floral designs and their bases are decorated with pumpkin shapes.  At the two sides, the roof beams are decorated with a dragon's head, and the tie beams of floating clouds, daisies and peonies reflect their artistic value.  At present, the house preserves 20 honors dating from Emperor Minh Mang's reign to Emperor Khai Dinh's.
The communal house was recognized as a historical and cultural relic in 1999 by the Ministry of Culture and Information.
To pray for peace and prosperity through the year, a traditional festival is held annually from the 9th to the 10th day of the 1st lunar month at the village communal house.  The two-day event features various solemn traditional festive activities, including an incense offering ceremony in commemoration of national heroes and ancestors, and the floating of flower garlands and colored lanterns on the Tuy Loan river.  In addition, locals and visitors have the opportunity to enjoy folk games and traditional competitions such as "bai choi" (singing while acting as playing cards), grilling "banh trang" (soft rice paper), cooking "banh chung" (square glutinous rice cakes), tug of war, climbing banana trees, catching eels, and interesting boat races.
The Tuy Loan ancient village is a really peaceful destination for those who want to get far away from the hustle and bustle of city life as well as to relax and temporarily forget the pressures of daily life.  Visitors will be fascinated by the village's scenic rustic natural beauty along with its festivals filled with music, food and fun.
5. The ancient village of Phong Nam, Da Nang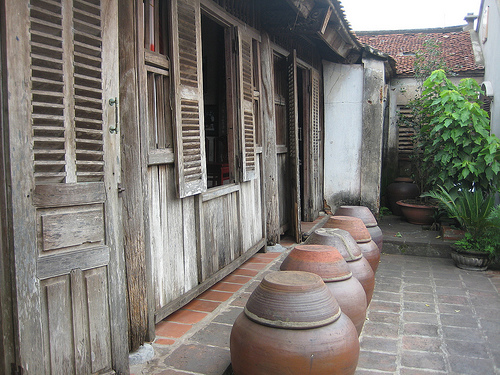 Situated in Hoa Vang District's Hoa Chau Commune, around 10km southwest of Da Nang, the Phong Nam ancient village has about 700 years of history and retains many of the features of a traditional Vietnamese village.  Despite its long history, Phong Nam still boasts unique characteristics with many interesting features, including lush green paddy fields, beautiful bamboo, and pathways between the simple houses, plus the lifestyles of local farmers.   
In the past, Phong Nam was a part of the former Phong Le village, which made it well known over hundreds of years.  Phong Le village was founded in the Cham period.  Many valuable artifacts from the Cham culture have been found there and they are now on display at the Da Nang Museum of Cham Sculpture.
The former Phong Le village originally consisted of two parts: one was Phong Nam, which now belongs to Hoa Vang District, and the other was Phong Bac, which now belongs to Cam Le District.  Although they are only separated by the Cau Do (Red Bridge) River, Phong Nam still retains the old world air of peace and tranquility of an ancient village, whilst Phong Bac has the characteristics of modern urbanization and the bustle of city life.
Phong Nam has numerous examples of old architecture such as pagodas, temples, communal houses, ancient houses, holy places and houses of worship.  Amongst them, a communal house to worship Emperor Yan- Shen Nong, who invented farming in the mythology of ancient China, still retains its ancient charm.  This is where the Muc Dong Festival is held annually on 27 and 28 November, an event which honors the children who tend the buffalos and when prayers are said for good weather and a bumper crop.  Apart from a procession of buffalo boys and girls along with representatives of the village's clans who carry palanquins, whips, flags and farming tools, the festival also features many games such as a blindfolded-man catching ducks and tug-of-war.    
The Muc Dong Festival was initially celebrated every 3 years, then every 6 years, and more recently, only once in 12 years.  The event was revived in 2010 after a gap of 74 years.
Visitors to the Phong Nam village can enjoy peace, the soothing sounds of nature, and the refreshing scent from young rice leaves as well as have an opportunity to listen to the sounds of the splashing waters of the village's romantic river.  Any time spent in this village is sure to leave you with unforgettable memories and the desire to come back for more.
Source: Da Nang newspaper/VNE