VietNamNet Bridge – The Vuong Chi Sinh Palace or Vuong's Palace is located in a valley in Xa Phin Commune, Dong Van District, Ha Giang Province.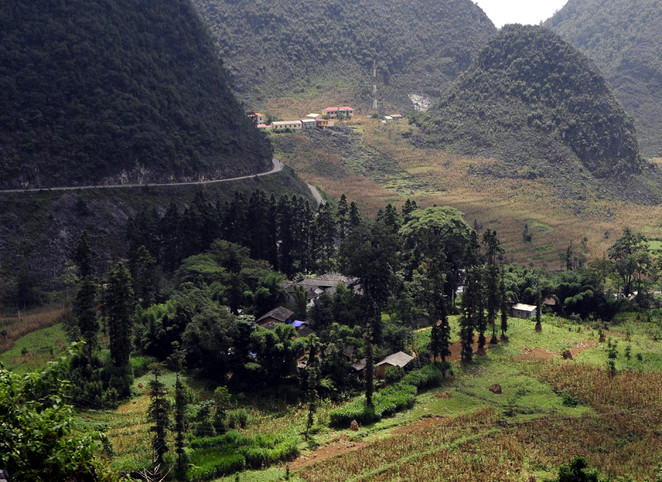 The palace is located on the valley that was carefully selected according to feng shui. This is a national monument, recognized by the Ministry of Culture, Sports and Tourism in 1993.
Vuong's Palace is home to Vuong Duc Chinh and his son Vuong Chi Sinh. Vuong Duc Chinh was a mandarin under Nguyen Dynasty. He worked for Hoang Tu Binh, a land lord in the area. Vuong Chinh Duc succeeded Tu Hoang Binh when Binh were old.
Vuong Chinh Duc became rich from dealing goods, especially opium. Sa Phin is the middle point of opium from the Golden Triangle region of Myanmar Yunnan China to Indochina. Duc also set up his own army unit of loyal Hmong people and equipped them with weapons.
And, like the other land lords in the history of Viet Nam, he built his palace, a mansion of his own as a way to enjoy his wealth and assert power.
When embarking on building a mansion for his clan, Duc invited a geomancy reader from China to survey the region and throughout the valley Sa Phin. The geomancy man chose this area, because the terrain here emerged as a turtle shell, which represents long life and wealth
Over a long time of wars, many of the architecture works around were completely dissolved, but the King is still there, not a piece of bombs, bullets which fell into. There are opinions that the palace is located between the small valley, surrounded by a rocky mountain with sheer cliffs. Bullets were either stopped by this side or otherwise missed to the other side of the valley.
After selecting a piece of land like that, Vuong Chinh Duc spent 8 years and about 150,000 coins of silver. Most construction workers were from China and the most skillful craftsmen of Hmong. The wooden parts were sophisticatedly engraved which represented his wealth and prosperity.
Through the lines of ancient Sa Moc trees which stand pensively in front of the main gate, The palace were built with 4 horizontal and 6 vertical rows, 2 stories and 64 rooms. Over a long period of time, the building has partly been spoiled but still remains in its original figure.
At the back of the building are two horizontal rows on the two sides, linked together by doors. To protect his mansion, Vuong Chinh Duc also built stone walls with holes and post for his men to guard all day and night.
There were also a food store, underground room to keep opium, weapons and materials of living. Especially, the semicircular swimming bath is chiseled from a giant block of stone which was for the King to have his bath with goat milk. That's why how difficult the road was that the King still had 555 cigarettes available.
There have been many stories mysterious even fabulous relating to Vuong family, for example, the walls are inserted gold inside...
But there is one truth about this family, when the Japanese came to Vietnam to overthrow the French, the secret guerilla of Vuong Chinh Duc and Vuong Chi Sinh helped Vietnam communists drive the French off in Ha Giang area.
After the success of the August Revolution, President Ho Chi Minh invited Vang Chi Sinh to take part in the first parliament.
Some photos of the Vuong's Palace:
Source: VNE/vietnamspirittravel