VietNamNet Bridge - One of the tourist sites that you should not miss in Nha Trang is the stone church located at the height of 12 m in the city center.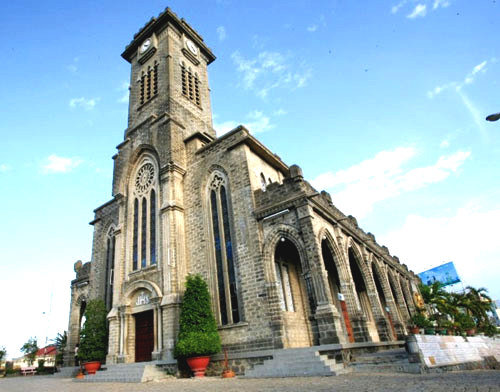 The stone church is located in the heart of the city, it is easy to find and always open to visitors. Photo: Baokhanhhoa.
Every year, the coastal city of Nha Trang attracts many tourists. In addition to the famous sights such as the long coast with beautiful white sand beaches, the famous islands such as Hon Tre and Hon Tam with enough beach games, Vinpearland resort, Vung Ro Bay, Cam Ranh long beach ... Nha Trang also has a lot of cultural and historical relics located right in the city heart.
Located at a height of 12 m high in the heart of the city, the stone church is an attraction to many visitors, film-makers and photographers at home and abroad. The official name of the church is the King Cathedral, but local people often call it the stone church, Nha Trang church, Nui (Mountain) church or Nga Sau church. The church is one of the unique architectures of the French style in Nha Trang.
Aiming to spread the Catholic lifestyle in Nha Trang, priest Louis Vallet (1869 - 1945) built this church. After he died, the priest was buried at the foothills of the church.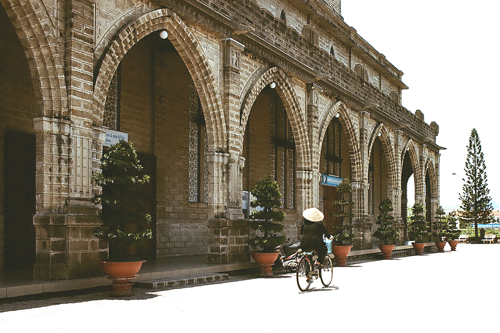 The church with Western architecture is a favorite destination for taking wedding photos of young couples in Nha Trang. Photo: Alice.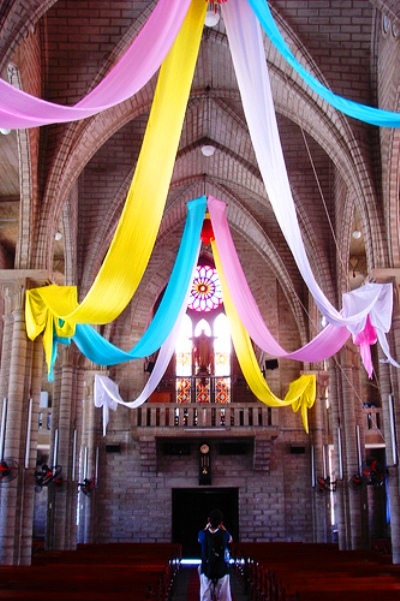 Inside the church.
On September 3, 1928, the construction of the stone church began on a small mountain named Bong. The name of Nui (Mountain) church comes from here. To create space on the mountain, people used about 500 mine cases.
The church was built entirely with the western catholic church architecture. Its design is similar to the famous church in Sa Pa and some other churches in Vietnam. A high bell tower in the middle with three bells inside is the characteristic of Western catholic churches.
The church's beautiful space is favored by photographers and cameraman. Young couples also choose this place to take wedding photos. The church opens to visitors every day, from 8am and it still maintains sermons in the morning and afternoon.
Pha Le