VietNamNet Bridge – Vietnam's tourism will be promoted on social networks, smart phones and the Internet, according to the national tourism promotion program for the 2013-2020 period recently approved by the Prime Minister.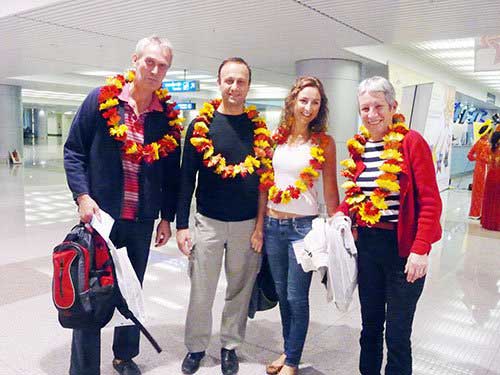 International tourists pose for a photo at an airport in Vietnam.
Besides, electronic publications, promotion portals, tourism transactions and a database serving promotions on the Internet will be developed.
Electronic marketing is the newest among several activities the tourism authority will carry out in the coming years to introduce major tourist destinations, boost the number of tourists, and increase tourists' length of stay and spending.
When talking to the Daily earlier, Nguyen Van Tuan, head of the Vietnam National Administration of Tourism (VNAT), mentioned the benefits of this advertising channel. He said that promoting tourism via the Internet and on social networks was a solution which should be prioritized when running a new tourism development campaign.
VNAT is in need of experts who can make use of advantages of new technology, especially the Internet and social networks such as Facebook and Twitter to promote tourism.
However, the national tourism promotion program does not include the opening of representative offices abroad.
In addition, towards 2020 Vietnam will continue conducting promotion activities such as advertisements on international TV channels, familiarization trips for foreign media agencies, attending international travel expos and organizing promotion programs overseas which have been carried out in the past.
There will be more overseas tourism promotion programs, with three or four programs in major markets including Northeast Asia, Southeast Asia and the Pacific, North America, Western Europe and Eastern Europe in 2020. Meanwhile, Vietnam will organize at least one program a year in potential markets like South Asia and the Middle East.
According to VNAT, there were over 5.49 million international tourists coming to Vietnam in the January-September period, up 9.9% year-on-year, while the number of domestic tourists increased by 11% to 31 million. Besides, tourism revenues in the period increased by 23.5% to VND152.8 trillion.
Vietnam looks to attract 7-7.5 million international tourists and have 36-37 million domestic tourists in 2015.
Source: SGT