VietNamNet Bridge – Back in 2017, Hanoians, especially teenagers, were crazy about the new menu at Huyen Vi Café in the centre of Hanoi's Old Quarter, 5B Dinh Liet Street.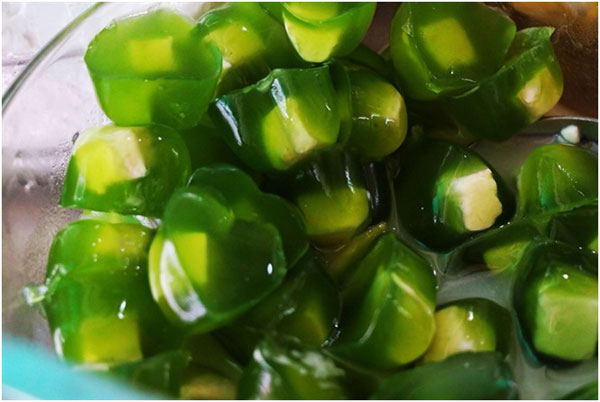 Green stuff: Jelly with coconut inside is one of the main ingredients of the food.
The spot was already famous for its many delicious kinds of yogurt. But there was one new yogurt that has been a top choice for customers – yogurt with jelly and pandan leaves, which look like gladiola leaves. They're narrow, long and pointed at the tip. When attached to their stems, they resemble giant green feather dusters.
With over 12,000 online orders on Foody.vn – a popular community where people can search, rate and comment on places to eat in Vietnam – for 'Yogurt with pandan jelly and black pearl', over 1,000 orders for 'Yogurt with pandan jelly, black pearl and mixed fruits' and over 2,000 orders for 'Yogurt with pandan jelly, black pearl, mixed fruits and cheese', as well as hundreds of visit per day, there was definitely something about this tasty kind of yogurt.
"It was very good because of the pandan jelly which had a unique taste for us, the smell was really fragrant, sweet and it felt so fresh when putting one big cube of jelly and letting it melt on the tongue. With the combination of yogurt, pandan jelly, black pearl and mixed fruits which are crunchy and juicy, and a very affordable price from VND20,000 to 30,000, we were really satisfied," Nguyen Trung Thanh said when he and his friends tried this new yogurt for the first time.
"I heard about this new yogurt on social media and decided to try it. Now I'm officially a fan of Huyen Vi's new pandan jelly yogurt. Although I had to wait in a very long queue, I still eat it at least once a day as my house is nearby. Trust me, it's really worth it," Hoang Lan Anh said about her daily snack having routine. 
Within five to 10 minutes, there are probably 40 cups of pandan yogurt served to customers at peak times. 
According to To Van Thinh – co-owner with his wife, this is a trademark yogurt which is common at Huyen Vi Café and the shop has been selling it for two years. After becoming a hot trend in Hanoi, its reputation spread to many other restaurants in 2016.
"In fact, Huyen Vi Cafe was there more than ten years ago, and luckily, we owned the location right in the Old Quarter, so our shop quickly got a stable number of customers. But then, since my wife was a cook, she thought of a new recipe relate to pandan leaf and started to test it. Then, after compliments from every family member as it was very pleasant to eat, we decided to put the yogurt with pandan on the menu of the shop. I couldn't imagine people would love it so much," To Van Thinh added.
For Nguyen Thanh Huyen – the 'inventor' of this delicious yogurt, it is not just a new recipe, but also a pride of her own.
"Besides selecting clean, organic and fresh ingredients like fruit, cheese and jelly, the process of making pandan jelly is really meticulous. To ensure food safety, I have to do it myself from selecting the leaves to cooking the jelly and cutting it into shape. Thus, customers will always be safe and there will be no worries when eating at my shop," Huyen spoke about the importance of food safety to the shop's reputation.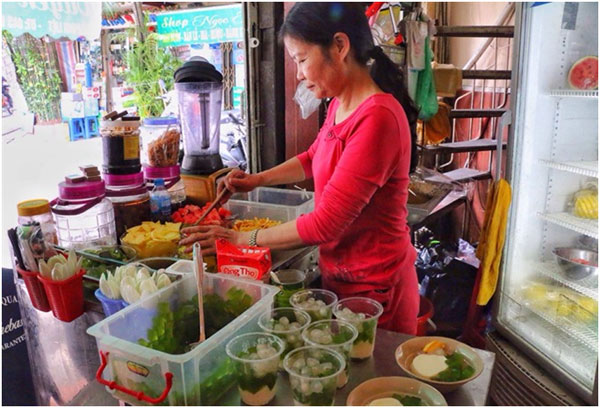 Ready to eat: The products on sale.
"Although we are happy with this situation, but times change, and so do customers' tastes. So we have to always renew the menu. We added cheese to pandan jelly and there are more black pearls and mixed fruit compared to last time," she added.
Not many people know that pandan leaf can also be a delicious ingredient and a great medicine. Nikkie Garcia, a nutritionist, confirms that pandan leaves can be a good treatment for hypertension, weak nerves, joint pain and rheumatism.
"It also helps you become happier as it's effective with weak hair. Pandans can also be a solution to those lacking appetite. Boiling two pandan leaves and drinking them before eating can help you increase your appetite," said Garcia.
The diversity of a nation's cuisine isn't always based on how many different foods there are, it's also how you use your creativity to make new dishes and recipes using the same ingredients or methods.
With rice flour, Vietnamese can make many delicious foods such as flat noodle (pho), rice noodle (bun), rice cake, and many others. And with pandan, people have plenty of cooking methods, from sweet soup to cake, from sticky rice to sticky rice ice cream, and from soya bean curd to the amazing cubes of pandan jelly.
Cuisine is always developing, slowly, slightly, maybe by an awesome cook, or just by adding a small cube of jelly to open a whole new era, just like the 'Yogurt with jelly and pandan leaves' by Huyen. 
By Hoang Ho
Source: VNS