VietNamNet Bridge – My brother had invited me to the Wooden House Restaurant on my last trip to Da Lat, and I was looking forward to having an outdoor dinner there as I was flying out to the hill town from HCM City recently.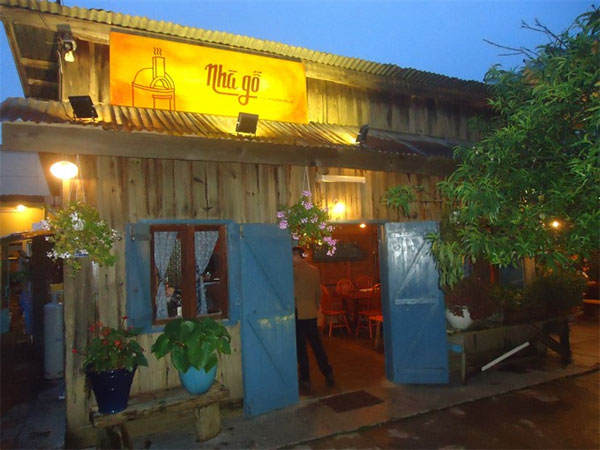 The restaurant is simple and charming. Photos by SunnyRose
But come dinner day the weather took a hand: the first rains of the season arrived that evening and lasted hours.
The restaurant was almost full, but we had a table reserved for us near a brick oven with a tall chimney. The seats were made of pine wood and smelt pleasantly.
As we were pondering our order, a waitress came over and said, "Help yourself to free, fresh organic herbs growing in our garden." 
I needed no second invitation.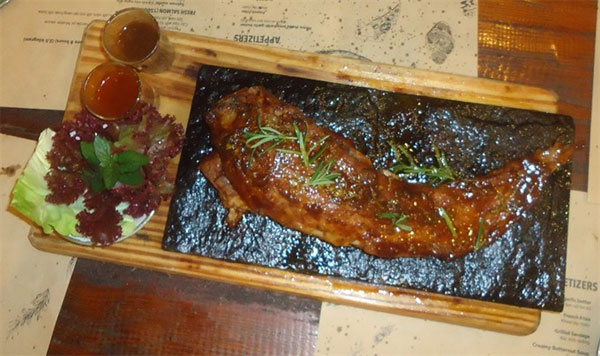 Low-fat smoked pork rib BBQ.
While waiting for the food to be served, the waiters served small slices of bread with garlic and butter. It was nice to eat together with our herbs, especially since we were rather hungry.
Suddenly, there was a loud sizzling sound that came nearer and nearer. It was from a smoking piece of meat on a wooden tray brought by a waiter. It was our smoked pork rib BBQ (VND250, 000).
It looked nice with two colourful spice bowls and was kept warm with a hot stone. 
The meat was soft and had the flavours of two delicious sauces, one a slightly sour tomato sauce and the other from pepper, my favourite spice.
Reassuringly for health-conscious patrons, the chef seemed to have eliminated fat from the meat. 
The pork ribs were marinated for 24 hours and barbecued for eight hours over wood from dried coffee stems, and so were soft and juicy.  
Cutting the ribs I saw a layer of burnt brown meat and a layer of fat with cartilage. It was perfect with just enough lipid and the soft, crunchy cartilage.
A glass of red wine (VND420,000 per bottle) enhanced the dish.
Our second dish was Norwegian salmon served with asparagus, cumin, carrot salad, and passion fruit sauce (VND290, 000).
The fish looked and tasted very fresh.
Pizza with 7 cheeses (VND170, 000) was cooked in the brick oven using coffee wood, which infused the smell of coffee into the pizza. It tasted especially delicious when we ate it with honey.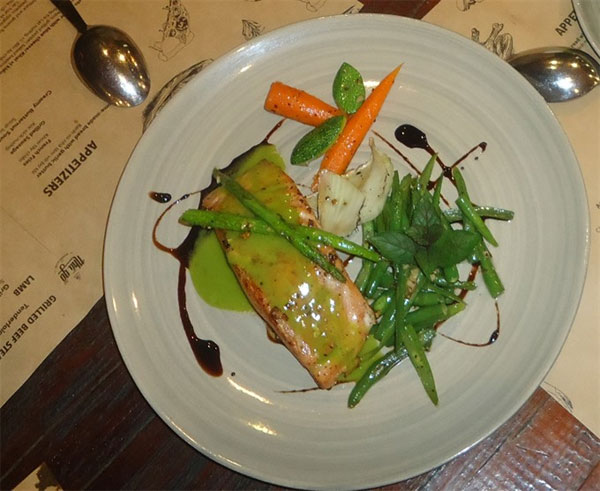 Norwegian salmon served with asparagus, cumin, carrot salad, and passion fruit sauce. 
Sated, I looked around at my fellow diners and spotted a foreign couple who turned out to be friendly. The husband was American and the wife Canadian.
The wife told us: "We love this restaurant. This is the second time we are having dinner here. Each time was perfect. The smoked meat and stone-baked pizzas are delicious. You should try."
We were full and relaxed. I was already looking forward to my next visit to Wooden House. Its lovely ambience and beautiful surroundings had that effect on me. 
Vo Le Hong
Source: VNS