There is a farming museum at the center of Thanh Thuy Chanh village, 8km southeast of Hue City. The museum reproduces daily activities of Thanh Toan, the other name of Thanh Thuy Chanh village, via displayed farming and fishing tools.
The village currently has 3,000 households that mainly earn a living from wet rice cultivation. At leisure time, villagers also do other jobs – sewing conical hats and forging farming tools.
A farming museum was built at the village's center in 2014 to introduce the history, culture, tools, fishing, and daily life of villagers. There are about 200 objects and 100 photos displayed by topics.
Nguyen Thi Kiem, a narrator of Thanh Toan travel community, said, "Such manual tools were used in the past to husk or grind rice, plough or rake the soil. The tools were closely linked with the locals who have kept them carefully and then donated them to the museum."
Thanh Toan village's scenery and the locals' daily life are told through stone grinder, porcelain bowls and plates, earthen pots, bamboo bed, bamboo cradle, bamboo frame to hold loads at the end of a carrying pole, rice carts, fishing nets,or fishing baskets.
Kiem added that the characteristics of Hue are also demonstrated through local sayings. The saying "Frogs in March, chickens in August" for example, is illustrated with the tools to catch frogs in the fields and raise fowls at home.
Kiem said, "The saying 'Having rice with fish like mom by the child' is an example. It tells us the love of a mother to her children."
The village's cultural characters like weddings, Bai Choi singing or boat racing are exhibited.
At the other corners are the stories about fishing activities where visitors get a chance to learn how to fish in the indigenous way. The museum offers a section where local people perform folk melodies like the chanty for rice husking, rice grinding, and lullabies.
Nguyen Mau Hoa, Deputy Chairman of Thuy Thanh Commune People's Committee, said, "What we want to say is that although farming tools seem lifeless, the stories told by local farmers have honored the values of the exhibits. There might be language differences between visitors and villagers, viewers can still know how the tools were used. The way and the voice of the locals will inspire the soul for the displayed objects."
Thanh Toan farming museum is one of attractive destinations in Hue, welcoming more than 100 domestic and foreign visitors each day.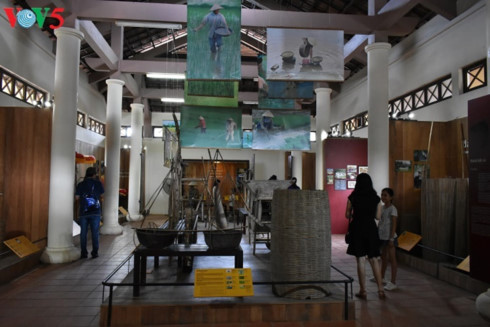 Thanh Toan farming museum tells the stories of the daily activities of Thanh Toan villagers.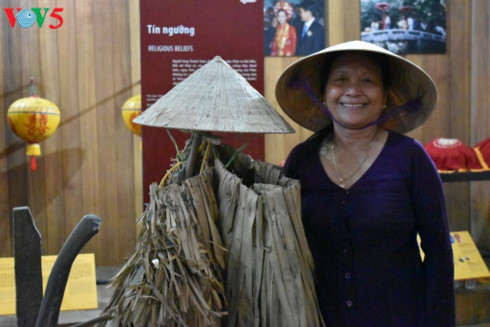 Nguyen Thi Kiem, a narrator of Thanh Toan travel community.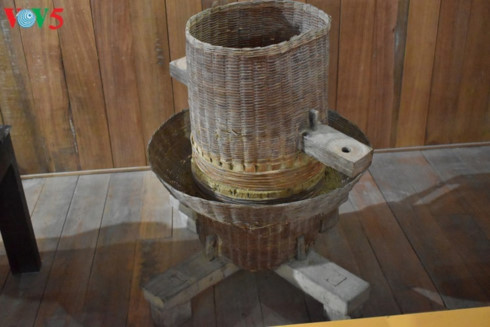 Rice grinder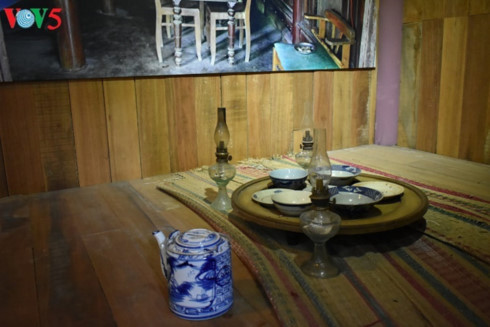 A meal of a farmer's family.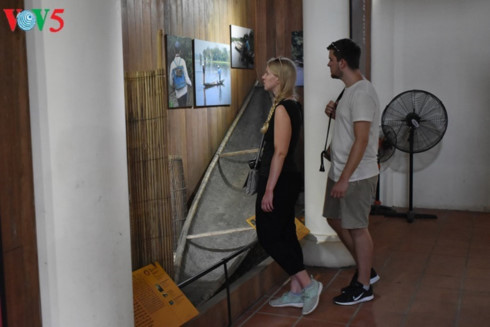 Visitors look at household utensils of Vietnamese farmers in the past. 
VOV5