Lung Khuy cave is a tourist attraction in the Dong Van Karst Plateau with its primitive stalactites and stalagmites. The cave is associated with a legendary tale about a Mong ethnic couple.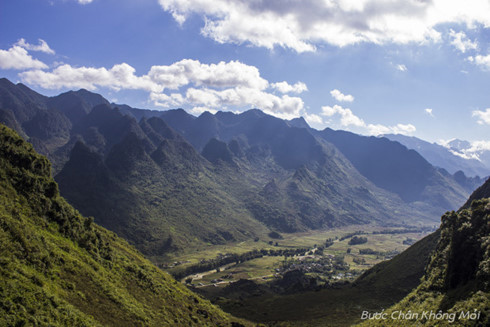 Lung Khuy cave, about 3 km from the center of Quan Ba district, Ha Giang province, sits on a mountain side. There's a path leading to the cave.
The 1.5 meter high and 1 meter wide gate of the cave has kept its inside intact for centuries. Though it's millions of years old, the cave has recently become a tourist destination.
Nguyen Ngoc Hai visited the cave for the first time. He said, "I used to work in Quan Ba for five years, but I did not know about the cave. Recently, I was told about it and I took my family here."
Unlike other caves, stalactites and stalagmites in Lung Khuy are densely covered, pillars after pillars, overlapped, and zigzagged, blocking the cave.  The beauty of the stalactites and stalagmites amaze visitors.
Pham Hung, a visitor, said, "I'm so impressed with the untouched beauty of the cave. I have visited many before, but they are not as primitive as Lung Khuy. The Cave Management Board has made efforts to keep it intact."
The cave shares its name with the Lung Khuy village of the Mong at the foot of a mountain.
The cave is closely associated with a legend about a magical well in a love between a beautiful Mong girl and a dragon genie, who came down to earth to bring humans rain and water through a magic well. Lung Khuy means Dragon in Rocks.
Nguyen Ngoc Hai, another visitor, said, "When talking about the cave, the locals often recall the legendary love story between a genie and a local girl. The cave is the magnificent shelter for the couple."
The Mong locals still worship the magic well today. During New Year days, they come to get water from the well to worship their ancestors to pray for good weather, health, and fertility.
VOV5