Hue city, which has long been known as the only place in Vietnam that has royal dishes, is striving to become the capital of gastronomy in Vietnam.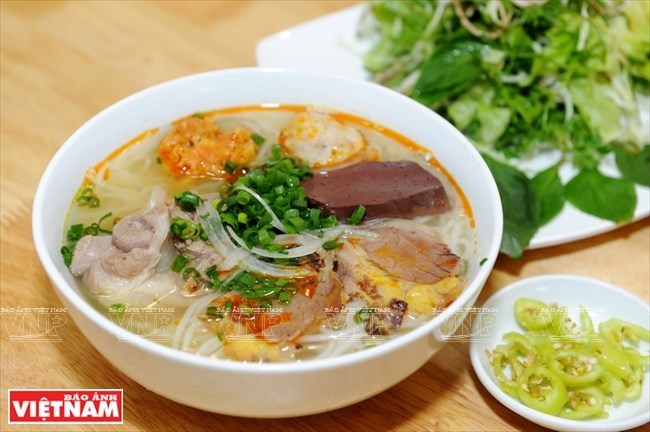 Bun bo Hue is a popular dish across the country
Authorities of the central province of Thua Thien – Hue have projected to invest more than 12.4 billion VND (542,500 USD), including 3.7 billion VND from the State budget and the remaining from organisations and individuals, to build a brand name for Hue dishes in 2018-2020.
The move is significant as many Hue dishes, which are now available in the market, are inauthentic because they are not prepared in a proper way and with wrong ingredients, causing the false tastes.
More than 1,000 Hue-style dishes are being preserved at present. Hue is best known for elegant royal cuisine, which was served to kings under the Nguyen dynasty (1802-1945).
One distinctive quality of Hue food is the harmonisation of yin and yang in each dish. For example, molluscs are always cooked with chilli, pepper, lemongrass and grapefruit leaves, "hot" spices that balance the "cool" features of the water-based creatures.
Various snack-like items, such as 'banh beo' (rice cake with grilled shrimp), 'banh nam' (flat steamed rice dumpling), 'banh bot loc' (dumplings with shrimp), and 'banh canh' (cake soup), to name but a few, are a major part of the Hue cuisine. 
Visitors can find these items at Hue restaurants in Hanoi and Ho Chi Minh City. 'Bun bo Hue' (spicy beef noodle soup), a local breakfast dish, is also popular around the country.
Some Hue dishes have been listed as the country's best foods by Vietnam's Record Book such as bun bo (beef noodles), com hen (rice with mussels), banh beo (rice cake with grilled shrimp), banh bot loc (dumplings with shrimp), banh khoai (fried rice crepes), ruoc (shrimp paste), me xung (sesame candy), che hat sen (sweet lotus seed pudding), tom chua (pickled shrimp), and thanh tra (a grapefruit variety that was served to the king).
Meticulousness of Hue cuisine comes all the way from ingredients selection to dish decoration, which has always attracted people's attention when visiting the former capital of Vietnam.
During Hue Festival 2018, restaurants within the city were bustling with both domestic and international diners. Many visitors revealed that cuisine is the magnet pulling them into the ancient city.
Myriad activities were being held throughout the event in order to promote the city's one-of-a-kind cuisine, including Hue international food festival, royal gala dinner, and vegetarian food court, among others.
In addition to completing a dossier to recognise Hue as a food capital of Vietnam, Thua Thien-Hue province moves to build a culture and food museum in the imperial city.-VNA