VietNamNet Bridge – The central province of Ha Tinh has come up with an innovative way to reduce moss on its walls and attract tourists.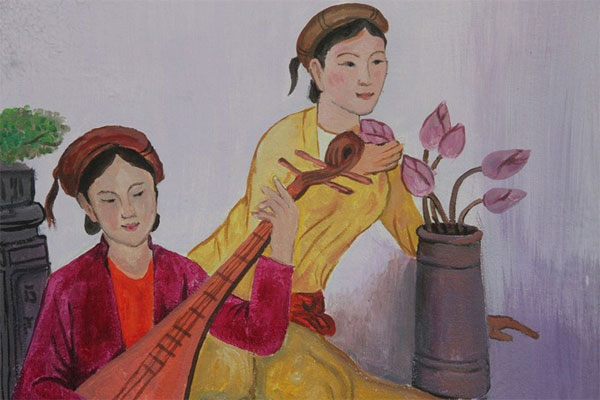 Women on the wall: A mural depicting the two sisters of Kieu. Photo ngoisao.net
Artists from the province are giving its walls a makeover by creating murals depicting figures and landscapes mentioned in the Tale of Kieu (a Vietnamese epic poem), as the poet, Nguyen Du, was a native to this locality.
Painters from the province-based Nguyen Du Art and Culture College have completed 30 murals on the walls surrounding the village. Walls along the roads in Phong Giang Village, which falls in Du's native commune of Tien Dien, got murals earlier this month.
Some murals include the lines of the poem in Vietnamese and English. According to Pham Ngu Binh, the commune's chairman, the bilingual inscription is to encourage foreign visitors to visit the late poet's hometown.
Binh expects the murals to lure more tourists to the village and boost the business of its homestays, run by 14 families in the locality.
The murals have received popular support, as the local residents say they give the village's roads a vibrant look. "We are happy with the colourful walls. No more boring, rusty fences in the village," said Nguyen Thi Tan, a resident.
Cao Tien Hung, one of the painters, said it was more challenging to depict the poem than any other artwork as the description of figures and landscapes mentioned in the poem needed to be accurate.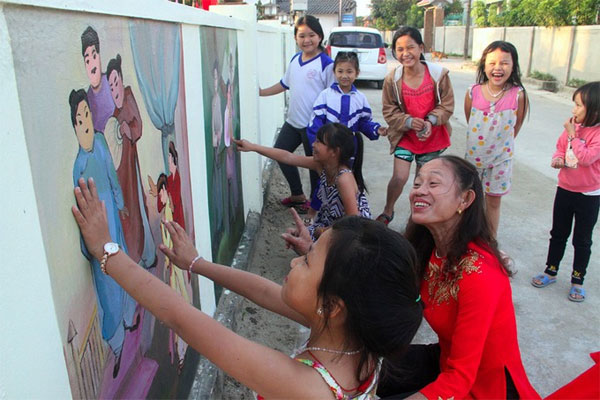 Brighter surroundings: Children in the village enjoy murals. Photo ngoisao.net
The idea of murals was suggested by the province's Department of Culture and Sports, which proposed some 200 murals around the village.
Ha Tinh is the eighth locality in the country to be getting mural streets. Others include Tam Thanh and Tam Hai villages in central Quang Nam Province, Ganh Yen Village in central Quang Ngai Province, Cao Lanh Village in southern Dong Thap Province, a fresco alley in Da Nang, Phung Hung Street in Hanoi and Canh Duong mural village in neighbouring Quang Binh.
Tale of Kieu is recognised as a top literary work in the country. It was written by poet Nguyen Du (1766-1820), who was also a mandarin in the eras of the Nguyen Lords (1558-1777) and Nguyen Dynasty (1802-1945).
Source: VNS