VietNamNet Bridge – People in the capital have made preparations for the upcoming four-day (from April 28 - May 1) holiday celebrating the Reunification Day (April 30) and Labour Day (May 1), and many of them will be traveling. Many tourism companies are reporting a 20 per cent increase in bookings as compared to non-holiday days.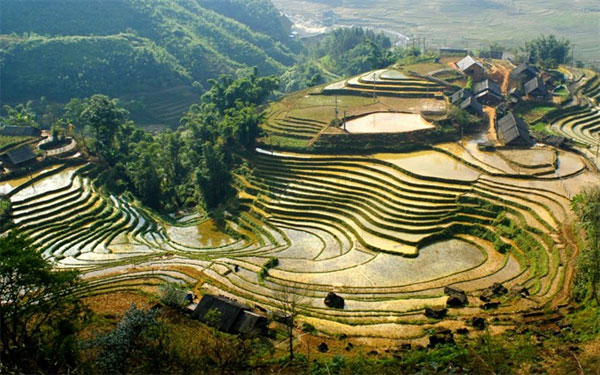 Near and natural: Terraced rice fields in Sa Pa, Lao Cai Province. The destination is suitable for tourists from Hanoi on short holidays. VNA/VNS Photo
Popular destinations near Hanoi include Sa Pa (Lao Cai Province); Ha Long Bay and Cat Ba Island (Quang Ninh Province); Tam Dao Mountain (Vinh Phuc Province) and Ninh Binh Province and those further away, including the central cities of Da Nang, Quy Nhon, Phu Yen, Nha Trang, the coastal town of Mui Ne (Binh Thuan Province) and Phu Quoc Island (Kien Giang Province).
People with more money may choose travel to Southeast Asian countries, East Asia and Europe.
For months before this holiday travel agencies in Hanoi have prepared relevant tours to serve tourists.
The Vietravel Tourism Company has worked to keep tour prices reasonable as compared with low-season prices.
The company will serve around 24,000 tourists, a 20 per cent increase against the same period last year.
Up to now, the number of guests booking the company's domestic has reached 70 per cent and the number of guests booking foreign tours has reached 80 per cent of the company's plan for this point in the year.
Vietravel has also implemented a charter programme in which travelers can book a full plane and "free & easy" programmes (including hotel, flight and booking) to meet tourists' diversified demands.
The Hanoi Red Tours Company since the beginning of the year has negotiated with partners like airlines and hotel systems in and outside the country to book flights for convenient days at the best prices. The company's tours for this occasion have lured thousands of people. Many tours to the US, Dubai and Japan have been fully booked.
New tours include Bangkok-Pataya, Singapore-Malaysia, Seoul-Everland-Nami, and Germany-the Netherlands-Belgium-France.
The number of guests booking the tours of the company has surpassed 90 per cent of the company's available spots. 
Nguyen Tien Dat, deputy director of the Trans-Viet Company, confirmed that the number of guests booking the company's tours increased 20-25 per cent against the same period last year.
Various tours departing on convenient days have been sold out to destinations like Da Nang, Singapore, Thailand and South Korea.
"On this holiday, more guests prefer travelling abroad to various destinations like Europe, Japan, South Korea, Dubai, Turkey, South Africa and the US," he said. "Up to now, the number of guests booking our tours has reached 80 per cent of the plan."
Since the holiday was announced early, tourists have been more active in planning and booking.
The holiday is also the beginning of summer holiday, so many localities have prepared to open summer tourism services to mark the occasion. These include Do Son (Hai Phong Province), Sam Son (Thanh Hoa Province), Cua Lo (Nghe An Province), Nhat Le (Quang Binh Province) and Da Nang City with its annual fire work festival.
On this occasion, the South Korean Tourism Authority's office in Vietnam has introduced Busan tourism services, focusing on luxury tours for Vietnamese guests.
Last year, Busan received 88,000 Vietnamese tourists. The city's authorities have promoted city's tourism potential throughout Vietnam.
"Airlines have increased the number of flights between Vietnam and Busan to facilitate visitors to and from both sides," said Shim Jeong Bo, head of Busan City's Tourism Promotion Department.
For this holiday the Ha Noi Tourism Department has asked tourism service enterprises in the city to enhance safety for tourists.
The department has also examined individuals, enterprises and agencies working in tourism to ensure they follow regulations and laws during the holiday in the city to offer the best tourism environment for tourists visiting the capital. 
Source: VNS