VietNamNet Bridge – As the country's economic hub and tourism magnet with name-brand boutiques and a wide variety of local and foreign goods, HCM City has become a veritable shopping mecca, but experts say that tourist spending remains at a low level.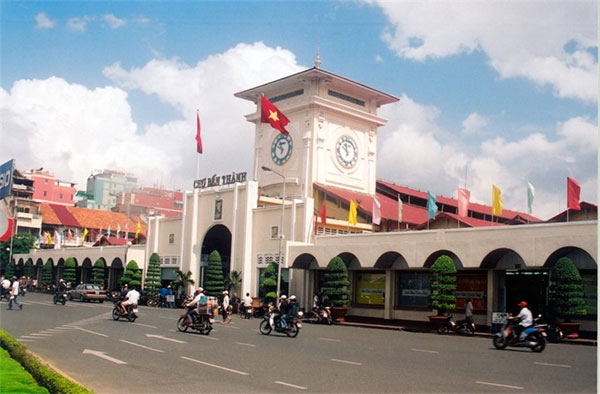 Ben Thanh Market, bustling all day and night, is an interesting destination for tourists and a true reflection of the local lifestyle and people. — VNA/VNS Photo
Traditional markets such as Ben Thanh, Binh Tay, An Dong Plaza and Saigon Square as well as luxury department stores Takashimaya, Vincom Centre, Parkson and Diamond Plaza can be conveniently reached by different means of transport or on foot from the city's centre.
While a wide array of international brands and renowned local designs can be bought at many of these sites, the city also has many streets that specialise in selling paintings, fabric, antiques, jewelry or traditional medicine in or near the downtown area.
Because of the wide variety of Vietnamese-made products and souvenirs, wandering around downtown is a must-do experience, especially for foreign tourists, according to Nguyen The Trung, a tour guide of Transviet Tour Company.
The famous Ben Thanh Market, located in an easily accessible central location, is open all day and night, offering a taste of local lifestyles. It offers clothing, footwear and textiles as well as brocade, jewelry, and special local dishes, among countless other items.
However, prices at Ben Thanh Market and the discount shopping mall called Saigon Square can be inflated and tourists are urged to bargain up to 50 per cent under the ticketed price.
"I visited Ben Thanh Market one time, and bought nothing," said Alexander Markos Kennedy, who has worked in HCM City for five years. "It's exciting to look around inside the market, but it's not a good place for shopping as you have to bargain and the quality of products are not good."
"I just wandered around some streets and visited stores in the city centre. I finally bought two cups with photos of Hanoi, and some T-shirts, paintings and jewelry boxes at different stores to take home," he added.
The items were inexpensive, lightweight and easily portable for his flight back to the US, he said.
Many souvenirs shops and stores providing these kinds of products, however, had failed to satisfy tourists' shopping needs and tastes, Trung said, adding that handmade embroidery, silk fabric, clothes, handicrafts, lacquerware, tea and coffee were all popular tourist purchases.
Tran Van Long, general director of Viet Media Travel Corporation, said that foreign tourists' length of stay in HCM City averaged only 2.6 days but could be longer if shopping was promoted. 
Because of its many shopping centres and premium stores, the city should develop specific plans to promote the city as a shopping destination for tourists, according to Nguyen Quoc Ky, chairman and general director of Vietravel.
Pedestrianised streets such as Bui Vien and Pham Ngu Lao in the popular backpacker and budget area of HCM City's District 1 should have more stores and entertainment services for tourists, he said.
Nighttime activities for tourists, including entertainment shows and leisure activities as well as shopping hours between 6pm and 2am, could result in a huge volume of revenue for the tourism sector, according to Ky.
Most tourism services now operate from 7am to 5pm, even though most tourism revenue is gained by nighttime services and activities. Vietnamese tourists often travel to Thailand not just for beautiful landscapes or historic sites but also for shopping and entertainment services.
Nguyen Dinh Quang, operation supervisor at Indochina Tourist & Trade Co., Ltd, said the city should develop shopping complexes for tourists that would offer a wide range of products at reasonable prices and a guarantee of high quality.
"Overlapping products at different stores and poorly designed souvenirs are among the shortcomings," he said, adding that product price and quality at markets and souvenir stores are not strictly supervised.
"Counterfeit goods also flood the market and stores, causing concern among local and foreign tourists about the availability of genuine, high-quality products."
To prevent fraud, tourism authorities and market supervision agencies should strictly monitor markets and stores that attract many tourists, Quang said.  
Bui Ta Hoang Vu, director of the city's Department of Tourism, said the number of foreign tourists visiting HCM City in 2017 hit a record-high of 6.4 million, up 23 per cent compared to the previous year.
However, tourism receipts increased only 12.6 per cent year-on-year to reach VND116 trillion ($5.11 billion), he said.
"To encourage spending, the department plans to set up a shopping complex with authentic made-in-Viet Nam products with proper fixed prices to meet demand."
Only 60 stores and shopping centres had received certifications for quality standards issued by the Department of Tourism, he said, adding that the department planned to expand the number of certified stores.
This year, the department would organise a contest on designing and producing souvenirs and gifts for tourists, and would work with the Department of Industry and Trade to regularly hold sales programmes for tourists.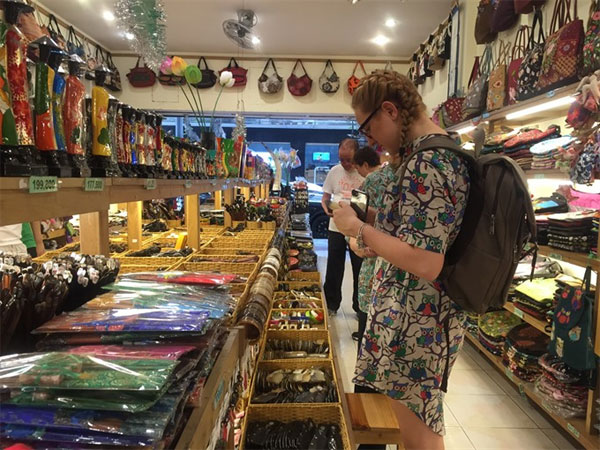 Tourists choose souvenirs at a store on Dong Khoi Street in downtown HCM City. Photo Thu Hang
Tax refunds
Souvenir shopping is an integral component of the travel experience and contributes a significant proportion of overall travel expenditures, according to Pham Trung Luong, deputy chairman of the Viet Nam Tourism Education Association under the Viet Nam Tourism Association.
The country should develop shopping complexes geared toward tourists at popular destinations in the country, which would make it easier to manage prices and the quality of products.
The procedures to receive refunds on value-added tax (VAT) for foreign tourists should also be simplified, he said.
As of the end of last year, only 573 stores of 77 enterprises were taking part in the VAT refund programme, according to the city's Department of Tourism.
Economist Dinh The Hien said that many foreigners were unaware of Vietnam's VAT refund policy. "VAT refunds are more common and more easily secured in Singapore, Hong Kong, Japan among other countries," he said.
Le Tuan Binh, deputy director of the customs department of Tan Son Nhat International Airport, said that VAT refunds processed daily at the airport amounted to only VND100 million ($4,400), reflecting low demand.
Electronic data connection between stores, customs agencies and banks should be improved to facilitate VAT refunds and purchases, Binh said.
Kenneth Atkinson, executive chairman of the accounting and consulting firm Grant Thornton Vietnam, said the low amount of tourist spending was not only an issue in HCM City but also in other destinations in the country.
More visitors are coming from mainland China, Russia and Taiwan and other countries, but they spend  less than $860 (2016 data), while visitors from Europe and North America spend an average $1,400 to $1,600, he said.
Under a new government resolution, the country aims to have by 2020 18.5 million visitors and US$20 billion in spending by international tourists for leisure and business travel, Atkinson added 
These figures would gradually increase average direct visitor spending to $1,080 from the current $860, but it would entail changing the mix of visitors and attracting more tourists from developed countries, he added.
To accomplish these goals, there should be changes in policies on destination marketing, improved visa facilitation, visa exemptions for more countries, and expansion of the e-visa programme, he said.
Extending visa exemptions to 30 days and offering a one-visa policy for the four countries in Indochina (Vietnam, Cambodia, Laos and Myanmar), as well as more targeted marketing of destinations, would all contribute to a higher number of tourists and spending, according to Atkinson.
San Ha
Source: VNS