Vegetarian food lovers or those wishing to detoxify their bodies by vegetarian food should head to Co Noi Vegetarian Restaurant on level 7 of the Bong Sen Hotel in HCMC's District 1.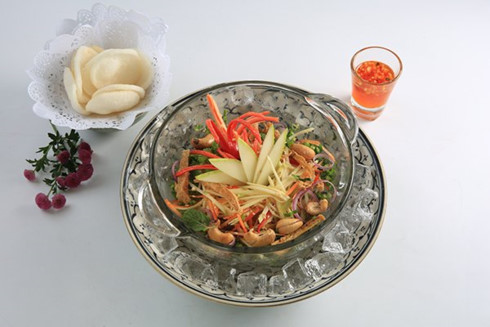 Dishes at the restaurant boast a combination of organic vegetables in which diners can be assured of high nutrition good for health, thanks to the diversity of ingredients and skillful cooking arts from the restaurant's chefs. 
One of the highlights of the restaurant's menu is vegetarian pho (Vietnamese-style noodle soup) cooked from mushrooms from Sapa Town in the northern upland province of Lao Cai, helping to bring tasty flavors and health benefits for diners.
Furthermore, gourmets are recommended to try stir-fried vermicelli with turmeric and mango salad.
On the occasion of its opening on February 24, the restaurants offers a special discount for diners with a set of vegetarian pho at VND99,000.
Saigon Times