The floating flower market at Binh Dong Wharf in District 8, HCMC is entering its peak business season and turns more crowded and bustling than ever as the Lunar New Year (Tet) holiday has around two weeks to go.
This is the busiest time of the year at the market as dozens of boats carrying ornamental trees and flowers from the Mekong Delta region converged in the wharf to answer the rising demand for the Tet buying spree of city inhabitants during the biggest and longest national holiday in Vietnam.
Traders begin to transport ornamental plants to the city one month before Tet and the peak Tet business season usually starts on the 20th of the last lunar month, i.e. right from this week.
Those passing by the market can take a look at hundreds of ornamental trees transported from Ben Tre, Dong Thap and Vinh Long provinces, including yellow apricot, kumquat and orchids. However, yellow apricot account for a majority of ornamental plants there.
A gardener named Tran Van Be from Cho Lach District, Ben Tre Province, who has been selling ornamental plants and flowers at this wharf for nearly 20 years, said every year from the beginning of the 12th lunar month, flowers and bonsai growers in the Mekong Delta ship their products to HCMC for sale.
This is the best business time of year as he and his friends can make big bucks by selling Tet plants and flowers, given the long-established tradition by Vietnamese people to buy fresh flowers and bonsai trees for home decoration during Tet to pray for luck and peace for the new year, Be added.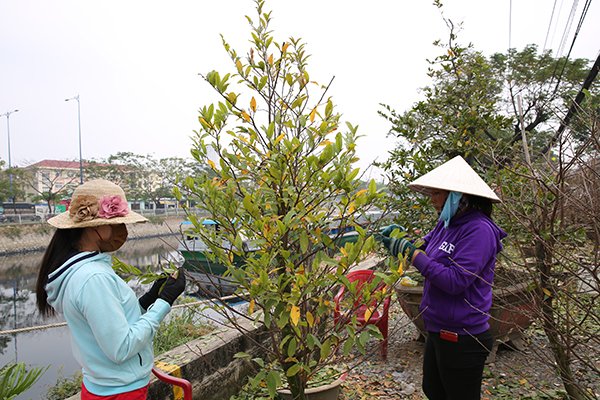 Gardeners are picking leaves of the apricot trees to prepare for their blossom time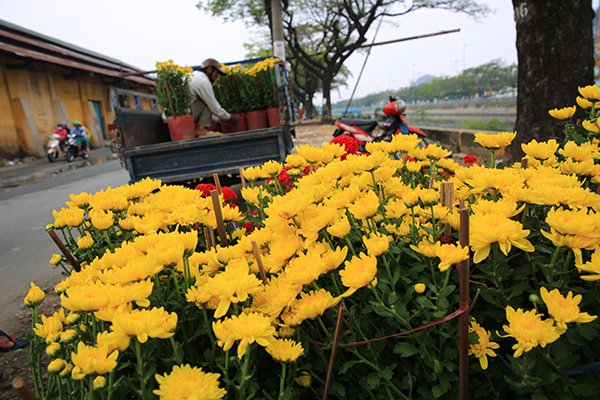 Pots of chrysanthemum fl owers are loaded onto a truck for delivery to customers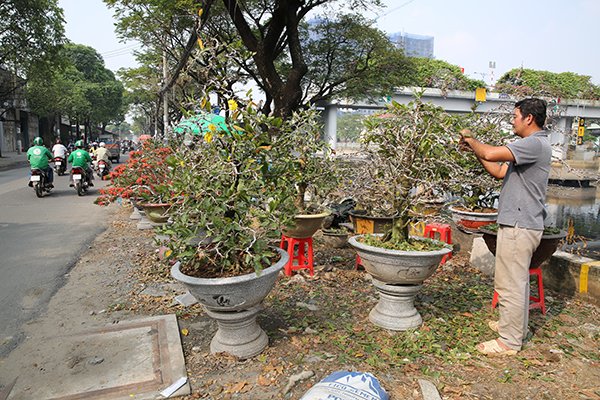 A farmer from Ben Tre Province takes care of his apricot trees 
SGT