Freelance tour guides in HCMC have complained about a requirement that forces them to use smartphones and subsribe to the Viettel mobile network when joining the Vietnam Tour Guides Association.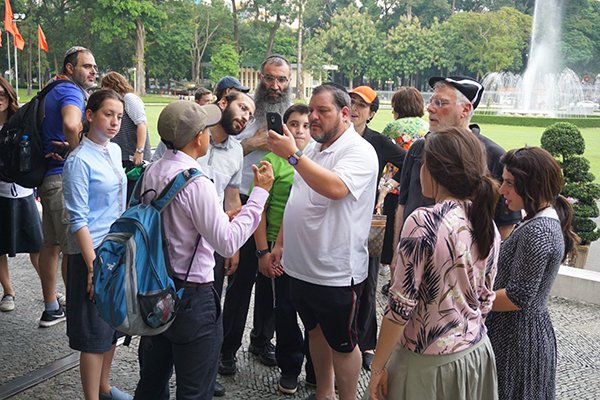 A tour guide (L) takes international tourists to the Reunifi cation Palace in District 1, HCMC 
In a complaint sent to authorities and media outlets last week, tour guides voiced their concern over the mobile carrier requirement. They said such a requirement is not suitable for those tour guides who are neither young nor familiar with smartphones.
In addition, an annual membership fee of VND500,000 and an entry fee of VND500,000, according to the tour guides who filed the complaint, are unreasonable. They want an association for tour guides in HCMC.
The Vietnam Tour Guides Association, under the Vietnam Tourism Association, was founded last month, just before the new tourism law goes into force.
Under the new law, those wanting to cater to tourists are required to possess tour guide ID, have employment contracts with travel firms or tour guide suppliers, or be a member of social or professional organizations, or have contracts to work as tour guides or have written proof of job assignment. 
This rule will greatly impact freelance tour guides, who currently need tour guide ID issued by authorities and contracts with travel firms only.
There are no firms supplying tour guides, whereas travel firms only sign employment contracts with some tour guides and relying mostly on freelancers. As a result, freelance guides need to join the newly established association to be eligible for working as tour guides.
Regarding the complaint of freelance tour guides in HCMC, the Vietnam Tour Guide Association told the Daily that the requirement existed before, but was not compulsory.
In particular, the association needs funding to build a website. This website is expected to work as a platform to connect tour guides, enable them to bid for tours offered by travel firms, and provide information useful for tour guides such as weather, transportation and emergency assistance.
However, due to a funding shortage, the association has signed a strategic cooperation deal with Viettel to get the company's assistance in developing the online platform.
The association previously required its members to use services of mobile carrier Viettel just for convenience and to make use of its extensive coverage. Members did not have to pay for simcards as they were included in the association's entry fee.
According to the association, Viettel has pledged preferential mobile packages such as free calls among members. The website is not yet available, and the association now allows its members to use any mobile network they like.
Commenting on the smartphone requirement, the association said this should not be a big deal as a large number of tour guides already have smartphones. For those who have not got one, owning a smartphone will make their work easier, enable them to get connected to the online platform and seek emergency assistance easily.
There are now more than 20,000 tour guides with ID across the country, but most of them are freelancers.
US$250 million loan disbursed for Hanoi's urban railway
HCMC - The Export-Import Bank of China (China Eximbank) has completed procedures to disburse US$250 million for Hanoi City's Cat Linh-Ha Dong urban railway project that has fallen behind schedule due to the lack of cash, Phap Luat newspaper reports.
At a meeting with Deputy Minister of Transport Nguyen Ngoc Dong late last week, the Management Board of the Cat Linh-Ha Dong urban railway project said the railway is 95% complete.
Before the US$250 million loan agreement became went into force on December 28, only US$10 million had been disbursed for the project between January and September last year, leading to the project lagging behind schedule.
Deputy Minister Dong asked the project management board to work with the contractor to ensure the railway can be put into operation this year. The ministry will report the progress of the project to the Government this month.
According to the Chinese contractor's plan, the trial operation of all 13 cars of the train will begin in September and the project will be officially put into service three to six months later.
At a meeting on December 22 last year, Minister of Transport Nguyen Van The told the Deputy Minister to work with the Embassy of China, the Ministry of Finance and related parties to accelerate capital disbursement and review connectivity between Cat Linh-Ha Dong urban railway with other means of transport.
SGT