Many provinces and cities still permit tour guides who are not yet affiliated to tourism or job placement companies or professional associations to continue working although the 2017 Law on Tourism, which took effect on January 1, bans such freelancers.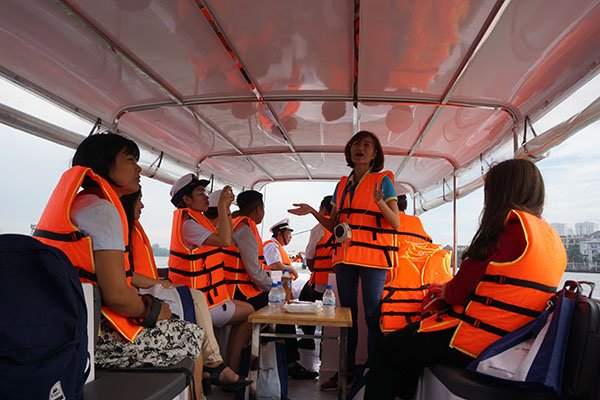 A tour guide (standing) works on board a tourist boat. Many provinces and cities still permit freelance tour guides to continue working
HCMC, for example, will wait for a Government decree or a ministerial circular guiding the implementation of the new law to make a decision, Bui Ta Hoang Vu, director of the HCMC Department of Tourism, told the Daily on January 4.
Meanwhile, Tran Chi Cuong, deputy director of the Department of Tourism of Danang City, said the city would impose sanctions on tour guides violating the new law after warning them for two or three times.
Danang currently has 3,200 tour guides, with 1,000 of them being members of the Danang Tour Guide Association, Cuong noted.
The 2017 Law on Tourism requires tour guides to have professional ID cards, employment contracts with travel or tour guide supply firms, membership cards of professional associations, service contracts with travel firms or documents as proof of their assignments.
Thus, freelance tour guides are forced to join professional associations or become staff members of travel or tour guide supply firms. There are more than 20,000 tour guides nationwide and most of them are freelancers.
SGT