VietNamNet Bridge – A group of trekking enthusiasts, guided by native highlanders, face mental and physical challenges on the way to the top of a mountain, but feel liberated as they stand in a sea of clouds. Cao Huong recounts the experience.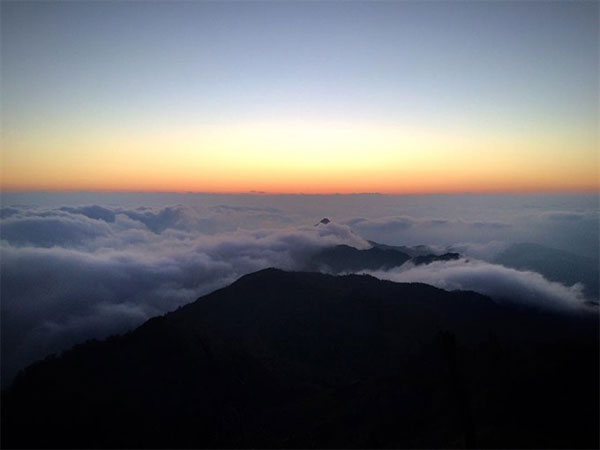 Glowing arrival: Daybreak on the mountaintop. — VNS Photo Dinh Xuan Dai
A De is a porter with the heart of a poet.
"When you get to the top of the mountain, immerse yourself in the sea of white clouds and inhale deeply, and you'll get the scent of the forest," he tells us as we trek to our destination.
"It is fresh and stimulating, very comforting and soothing," he adds.
Our destination is the top of the Nhiu Co San Mountain, and A De, a resident of the eponymous hamlet located at its foot, is helping us get there.
We are a group of people in our late twenties from different places in the lowlands who share a passion for trekking.
When we got together a couple of years ago, we looked to conquer the highest mountains in the country, and we trekked more than once to the top of Fan Si Pan, Puta leng and Bach Moc Luong Tu, the top, 3rd and 4th tallest heights in the country.
Once we got done with challenging heights, our attention turned to an in-depth appreciation and experience of the scenes on top of the mountains. This year, it has been good to focus on cloud hunting, which has been the talk of the town. Many people have written about it on travel forums and blogs, and the names mentioned most often are Ta Xua, Lao Than and Nhiu Co San.
Nhiu Co San stands 2,966m above sea level and is located in the Hoang Lien Son Mountain Range that runs from Lai Chau to Lao Cai Province. The top of the mountains in the range are in Lao Cai's Bat Xat District and Lai Chau's Phong Tho District.  If your departing point is in Lao Cai, you can start trekking to the top from one of three villages: Sang Ma Sao, Den Sang or Y Ty.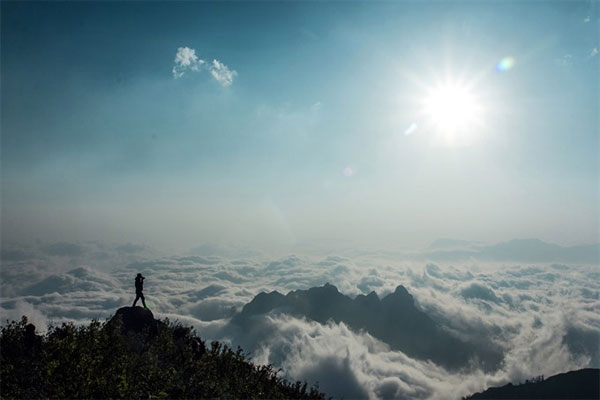 Lo and behold: On top of the Nhiu Co San Mountain. — VNS Photo Dinh Xuan Dai
After an online discussion our group decided to depart on the more difficult trekking route from Tra Pha Hamlet in Den Sang. The time scheduled was two days and a night.
We were well equipped for the trip with trekking gear, including our clothes, sleeping bags, some heat pads, snacks and last but not least, a bag full of ginger candies.
The mercury dropped to under 10 degrees Celsius that weekend, but for us, the harsher weather and bigger challenges only added excitement to the trip.
We'd wanted challenge, and we got it. The trip was tough from the very first leg onwards.
From Muong Hum Village to Den Sang, many slopes and sharp zig-zag turns were not easy to navigate for motorbike riders from the lowland. From Den Sang to Tra Pha Hamlet, things got even more difficult. It was all dirt roads with big stones scattered all over.
We got to Tra Pha in two hours. We had travelled all of seven kilometres! But we were in a very different world. The air in Tra Pha was quite chilly under the shade of rich trees. Further out, houses on stilts stood on beds of yellow flowers.
I asked A Ho, elder brother of A De and also the first ethnic Mong man in Y Ty to offer his home for homestay guests, why the mountain was called Nhiu Co San.
"It means buffalo horns," A Ho said. "On clear days, you can see the mountains tops bends towards each other like a pair of horns. And if you get to the top, the edges of mountain surge up from a sea of clouds, just like horn."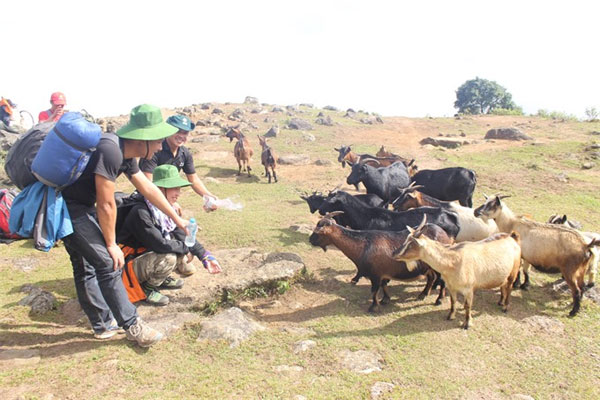 Making friends: Mountain goats on the path. — VNS Photo Cao Huong
We left Tra Pha behind and started walking uphill. The path got more difficult steadily. Getting across many little springs without getting our shoes wet was part of the challenge.
However, it was when we got to the large primary forest that the trek really began. The slopes were steep and tough to tackle. But the higher we got the temperature dropped further, and the air felt fresher.
The primary forest was full of untouched wild flowers and ferns and the view so inviting that we felt like setting up camp there. But we had a long way to go.
There was a surprise in store on this path. We walked under the yellow and red shades of maple trees that I had not known existed in Vietnam.
As we trekked deeper into the jungle, we stepped on a carpet of red maple leaves and all we heard were the soft sounds of our steps. The fog started to get thicker, slowly wrapping the bushes ahead of us. The temperature dropped even further. We felt the cold searing through our warm clothes, biting into our bones.
But our spirits were lifted with stories narrated by A Ho and we learnt more about how hard a porter's job from A De.
A porter's load
Unlike a trekker, who's motivated by the pleasure of climbing, a porter's focus, even as he carries the heavy stuff, is on the roads that he knows best after going back and forth many times, on making sure the visitors get to their destination. The trekkers' achievement and joy is also the happiness of the porter. And he almost never gets to tell his stories.
As the temperature dropped to below 10 degrees, I suggested aloud that trekking in cold weather was less difficult than in hot weather. But it seemed that I had spoken too soon; the higher we went, the chest ached and gasped. As if to pay me for the pains, the soothing sight of beautiful dried flowers adorned by clear, tiny dew drops presented itself.
We all felt that we were lost in a fairytale land, with the old trees, covered with white lichens and green moss cloaked in thick fog. The clinging vines and climbers and dead branches exuded an eerie feel and a cold touch.
After a quick lunch of power bar snacks and some breadsticks, we kept going. As the sun started to go down, we were at 2,400m above sea level. The clouds turned golden. A De found a flat piece of land where we could camp overnight. All of us got busy, erecting the tents, starting a fire and preparing dinner. We'd reached the half-way point in our latest journey.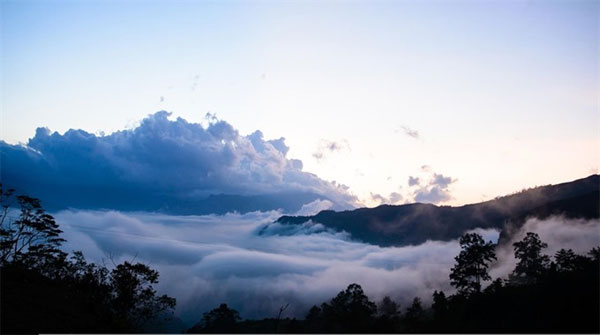 Aerial flow: "Hunting for the sea of clouds" is a new adventure in the northern mountains of Vietnam. — VNS Photo Dinh Cong Dai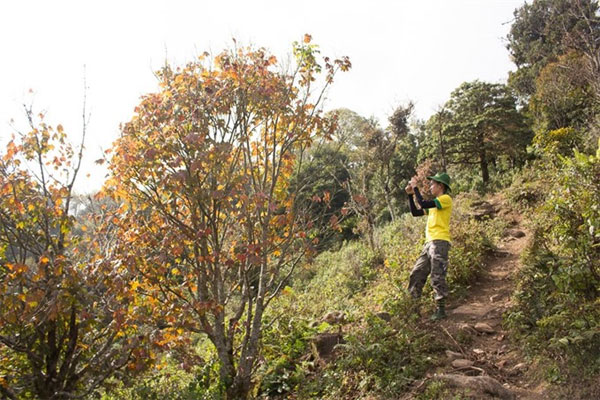 Wayside surprise: Yellow and red leafed maple trees on the path. — VNS Photo Cao Huong
That evening by the fire will be an unforgettable memory for each and everyone. We chatted by the fire over roast pork and chicken, looking back on the day's experience and looking forward to the next day.
It was a cold and peaceful night, the dew was so heavy that it was as though it had rained. We were not bothered by insects or animals, allowing us to chat through the night. No one could sleep, so getting up at 4am was a done deal. We freshened up and put on all the warm clothes we had and started trekking again at 5am.
The harsh morning wind coming up from the deep valley hit us as if it wanted to carry us away. Everyone became quiet, and took careful steps, not wanting to slip and fall down. On every slope, we clung to hanging vines, clinging on to our dear lives. The cold bit into our flesh and bones.
Just as I started feeling I cannot take it any more, I saw the buffalo horns flickering in front. Past a few more rocks and short bamboo bushes, we found ourselves standing amidst a sea of clouds.
As A Hờ advised, we took deep, deep breaths. "This is a chance for you to clean your lungs. The air up here is much cleaner than the smoke-drenched stuff in the cities," he said.
Each of us was lost in thought about the experience of conquering a summit. It was a trip that taught us to overcome fears, avoid danger and find a way to safety, and enjoy that liberating feeling at the end. It is a feeling that cannot be matched.
It is a feeling that we carried with us as we returned, and one that would surely propel us to the top of another mountain. 
Source: VNS