VietNamNet Bridge – After hearing about its discreet charm and tranquility, we were eager to visit Pho Bang old town in Dong Van District in the northern mountainous province of Ha Giang.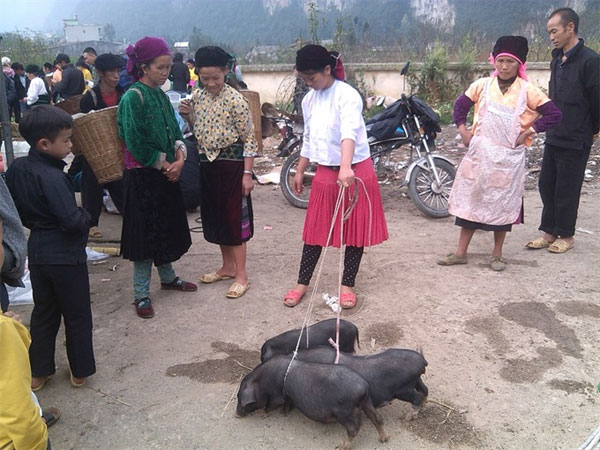 Oink: A woman sells pigs at the Pho Bang market. — VNS Photo Thanh Nga
The border town, which lies 20km away from Dong Van District and 117km away from Ha Giang Township, seems to be long forgotten.
Pho Bang is hidden between the centuries-old limestone mountains, and is remote from the road; so it isn't widely known.
To get into the town, we have to travel nearly 5km more from the Dong Van Karst Plateau to the Vietnam-China border, where there are only rugger rock mountains rising up to the deep blue sky.
Through Sung La, a place, which was chosen to be the background of the Vietnamese famous film, Chuyen cua Pao (The Story of Pao) and after passing a forest, Pho Bang finally appears.
From the distance, we see beautiful houses, the kind we are told about in legends.
We are enchanted with the earthen walls of the houses, painted in unique colours, a little brown mixed with red and light yellow.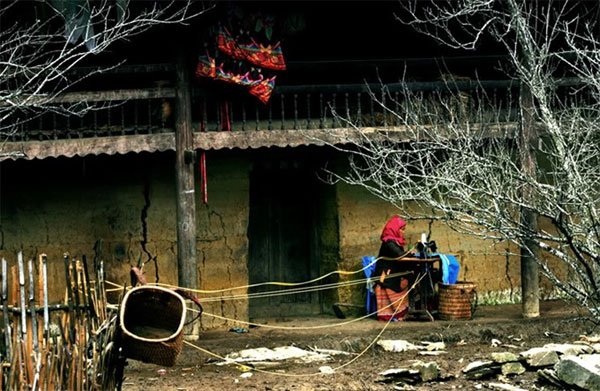 Historic: The typical house in Pho Bang old town. — Photo hagiangonline.net
It is hard to imagine that this tiny town was the administrative centre - the socio-economic hub of Dong Van District.
Here, there are only two main streets with several hundreds of ancient houses. Most people here are Mong and Chinese.
The silent walls are covered with green moss, the cracks in the walls, old doors, double tiles, ancient parallel sentences in Chinese. Everything is marked with the stamp of time, amounting to several hundreds of years.
The road through the town is short. In a short while, it will be time to head back home. So we walk slowly and carefully, in a bid to delay our adventure.
Time seems to pass slowly in this small town, with local women sitting next to a stove, doing housework or cooking. Corns and beans are dried on the road and hung in front of houses.
Suddenly, we are surprised to see a picturesque rose valley under curving slopes.
Pho Bang's roses aren't big but they are very perfumed and radiant.
We ask several locals and find out that most local people are gardeners. Growing roses gives a boost to their income and improves their standard of living.
Our surprise only multiplies when we see a peach blossom in the front of Pho Bang Market. The peach blossoms in Ha Giang often bloom late in February and March, following the Tet (Vietnamese Lunar New Year Festival). So visitors also call Ha Giang a place where peach blossoms bloom late.
It is perhaps telling us that spring is coming early. The beauty of the peach blossoms and roses imbues with the isolated place, located deep in a valley in the rock plateau.
On the day of the market, the whole town comes alive.
People wear beautiful, traditional costumes to the market. Some arrive on horses or ponies and many on motorbikes. They bring all kinds of goods to the market, such as chicken, pigs, vegetables and knives, as well as skirts and scarves to be sold.
Groups of men have a drink, women laugh, bargain or eat in scattered groups.
Children frolic around with pleasure. The shouting and screaming causes a stir in the market, which often opens at 5am and runs until 3-4pm.
We see a boy carrying a 2kg cock. He says he will sell it at a price of VND100,000 (US$4.3). What a pity that we have to return to Hanoi by car; so we can't buy the cock from him.
We get a chance to taste pho bo (noodle soup with beef) made by the Mong people, on the occasion. It is very delicious and cheap, being sold at VND20,000 (nearly $1) a bowl.
Having had a small taste of the area, its people and its view, we vow to return in the near future.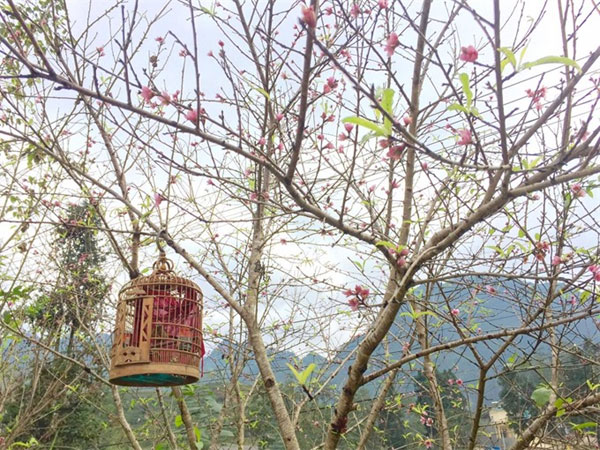 Lovely: The peach blossom blooms early in Pho Bang. — VNS Photo Truong Vi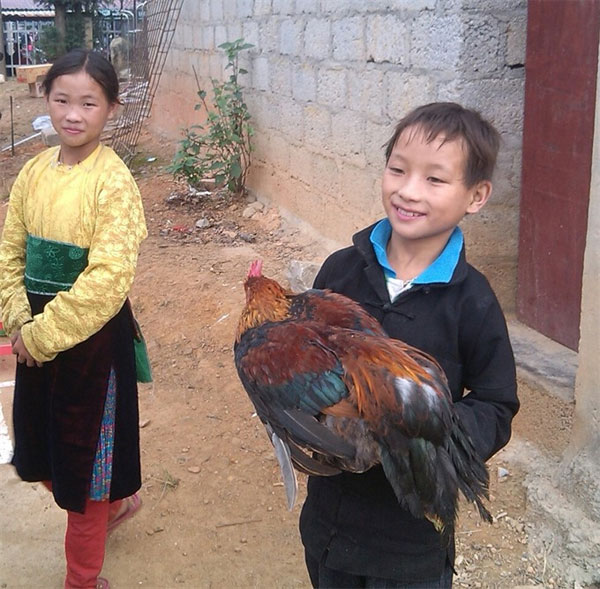 Fancy bird: A boy carries a cock to the Pho Bang Market. — VNS Photo Thanh Nga
by Lam Giang
Source: VNS