Meeting, Incentive, Convention and Exhibition (MICE) tourism should become a staple of Ho Chi Minh City's tourism sector, as the lucrative business brings added value and contributes to the city's sustainable development, experts said.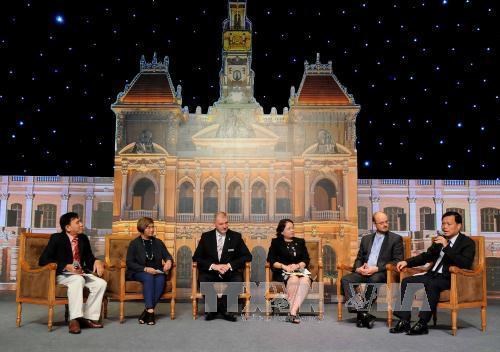 Foreign MICE tourists organise international conference in Ho Chi Minh City.
According to statistics from McKinsey consulting group, 17 percent of visitors to HCM City came for working purposes in 2017, higher than the region's average of 14-15 percent.
Chairman of the Ho Chi Minh City Hotel Association Tao Van Nghe said that in contrast with budget tourism, MICE tourists tend to spend more during their stay, a potential boon for the city.
Ho Chi Minh City also has potential to branch out MICE tourism as it attracts more than 50 percent of international tourists to Vietnam. Thanks to the city's good investment and business climate, it has become a popular spot for many international business forums.
Visitors from Malaysia and India chose Ho Chi Minh City for both vacations and seeking business partners, Nghe added.
However, to make MICE part of the city's strategic tourism products, Ho Chi Minh City should land more investment in infrastructure, especially restaurants, hotels and convention centres as current facilities are below the standards of MICE tourism.
Nghe said that the city has only 20 five-star hotels and 20 four-star hotels, thus, it will face difficulties arranging accommodation and venues for MICE delegations of more than 1,000 people.
Along with top quality and modern facilities, accommodation prices must be competitive so Ho Chi Minh can become a darling with MICE tourists, Ben Wieglus, Head of Sustainability under Informa Group suggested.
Meanwhile, simple visa procedures were recommended by Scott Hodgetts, General Director at Sheraton Saigon Hotels and Towers.
Additional direct flights connecting the city with other large cities should help develop MICE tourism.
Director of the municipal Department of Tourism Bui Ta Hoang Vu said that the city plans to build a 14 hectare convention centre in Thu Thiem urban area and set up a throngs of top-notch hotels to meet demands of MICE tourists.
VNA