VietNamNet Bridge – New adventurous tours in the northern province of Ha Giang will open soon, giving tourists all the more reason to visit.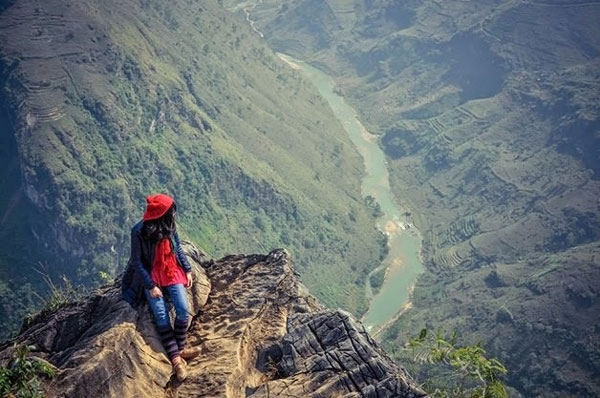 Breathtaking: A tourist looking down Tu San Canyon in Ha Giang Province. — Photo bp.blogspot.com
This was unveiled at a conference to promote provincial tourism attended by local authorities and travel agents yesterday in Ha Noi.
Lung Khuy Cave, Chieu Lau Thi Peak and Tu San Canyon are three attractive destinations to be presented to travellers, according to Dang Quoc Su, director of the Ha Giang Tourist Information and Promotion Centre.
Chieu Lau Thi is the second highest mountain in the province at 2,142m above sea level, Lung Khuy is a newly-discovered cave with impressive stalactites, while Tu San Canyon is 800m deep and 1.8km long.
Some new tours will be offered including climbing, kayaking on the Nho Que River and walking down Ma Pì Leng Pass to Tu San Canyon.
"Ha Giang impresses visitors with its UNESCO Geopark Site – Dong Van Karst Plateau, steep hills, winding roads and the diversified culture of many ethnic groups," Su said.
"Provincial authorities pay special attention to promoting tourism as it is a key factor to develop the local economy sustainably and improve people's living condition."
The provincial Party Chief Trieu Tai Vinh said upgrading service quality and developing new tours is key.
"When I worked as head of Ha Giang's Hoang Su Phì District eight years ago, I rode a motorbike to visit all villages and communes and realised the landscape is spectacular but I didn't know how to get tourists here because the infrastructure wasn't developed, traffic was not convenient and locals didn't know how to receive tourists," said Vinh.
"Eight years later, everything has changed. Ha Giang is a stunning destination for both domestic and foreign tourists. Tourism is a key factor to develop the provincial economy."
However, many attractive tourist areas haven't been developed, he said.
"Through field trips, we acknowledged that tourists like to visit new and primary destinations that few people know about. That's the reason why newly discovered caves and beauty spots are always attractive."
"We prioritise promoting tourism as part of the development strategy of the province," said Vinh.
"Developing tourism will be attached to preserving the local culture and identity, and protecting the environment."
Tran The Dung, vice director of The He Tre Company from HCM City, has brought many tourists to Ha Giang in recent years.
He gave some suggestions to develop tourism such as using social networks, improving traffic to make roads to caves more accessible and opening tours connecting Ha Giang with Tuyen Quang, Cao Bang and Bac Kan provinces to encourage tourists to stay longer.
"I also have some advice for foreign tourists to Ha Giang, they shouldn't give money to the ethnic minority children, instead, I recommend that they organise charity trips."
"To approach and understand the local culture, I advise tourists to adhere to the traditional customs of ethnic minority families when they visit, such as not talking loudly, not standing on the threshold of the house, not sitting with your backs facing the altars and not touching items on the altars or musical instruments inside the house."
Dung pointed out that foreigners need to obtain permits to enter border areas in Ha Giang and the process is time consuming. He suggested the process be done in Ha Noi to make it more convenient for foreign tourists.
During the conference, Ha Giang's Tourism Association signed a memorandum of understanding to work with partners in Ha Noi, Nghe An, Ninh Binh, Hai Phong, Quang Ninh and Thanh Hoa provinces. Accordingly, they will exchange experience and information in promoting tourism and hold training courses on tourism.
On the occasion, the provincial Department of the Culture, Sports and Tourism also introduced the publication Reliable Addresses of Ha Giang Tourism to honour excellent tourism businesses and help visitors find the best products in Ha Giang.
Ha Giang received 469,000 tourists, including 85,000 foreigners, in the first half of this year, 11.2 per cent more than the same period last year. The province aims to welcome 1.5 million tourists in 2020.
Takahashi Ayumi, head of Japan National Tourism Organisation in Viet Nam, said Ha Giang is an attractive destination to Japanese tourists and he expected that Vietnamese and Japanese partners will enhance co-operation in tourism.
VNS