VietNamNet Bridge – Canadians Andrew and Marith Kull had intended to find a good restaurant for their final evening in Ha Noi, but they changed their plans after hearing about a tour to a local house, which they described as "the perfect end to our trip".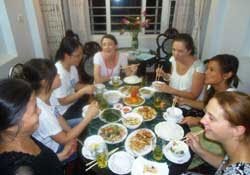 Home cooking: Alexandra Doughty, Louise Cummins, Katherine Maningas and Natalie Tostovrsnik from Australia enjoy traditional Vietnamese food at Pho Minh Thu's house.

The couple and their children were among the first tourists to go on the Ha Noi Home Visit Tour, a project initiated by non-profit organisation Students in Free Enterprise (SiFE) from Ha Noi University. The project provides foreign tourists with a chance to visit ordinary families to see how they live and their traditional features and customs, with the aim of developing and expanding Vietnamese culture. Leader Mai Quang Huy, a junior at the university's Faculty of Business Administration, said: "While travel agencies offer tours to historical and cultural destinations, we want to help foreigners experience a family dinner in Viet Nam."

The students started the tour in May last year with a team of just five, but quickly recruited more students with a good knowledge of Vietnamese culture and the English language to act as tour guides. "Unlike professional guides, they are in charge of interpreting for the hosts and their guests," Huy said.

The guides pick the guests up at dinner time from their hotels in a taxi, and take them to a typical Vietnamese home where they are introduced to their hosts. The hosts welcome the guests and takes them on a tour of the house, explaining the history of the building and the family, and the functions of the rooms, focusing on the ancestral altar and prayer room.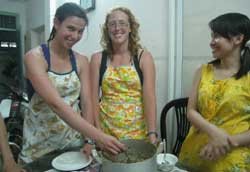 Traditional fare: Andree Anne Poulin and Audrey Portelance from Canada learn to make spring rolls at a typical Vietnamese house.

Marith Kull recalled her trip to a house on Thuy Khue Street last July. "As we were walking through the little alleyways to their house, it reminded me of the homes in Europe. When we arrived at the house, we were greeted by the whole family. The grandparents showed us how to pour traditional tea, then we talked about different lifestyles and later had a tour of each room in the house. After that, we enjoyed a lovely Vietnamese -style dinner with lots of laughs and fun."

Usually, traditional Vietnamese food such as stir-fried morning glory, spring rolls and stir-fried dishes with bean sprouts are on the menu. The remaining dishes depend on the hosts, and sometimes suggestions by guests. When registering for the tour, tourists should list any food allergies they have to avoid any problems. 

Elsebe and Anthony Vetten from South Africa considered their dinner as one of the most unforgettable moments in the capital. "The food was excellent. We asked for the recipe for the spring roll dipping sauce and will make it here on our next trip."

Pho Minh Thu, whose family has lived in Ha Noi for generations, has welcomed many visitors. All her guests get a general view of past and present Ha Noi, and a meal full of traditional dishes cooked by her mother – an original Hanoian, including bun thang (vermicelli with chicken, pork and egg) and bun nem (vermicelli with spring rolls).
Reverent: A US tourist performs a Vietnamese ritual. — Photos courtesy of Ha Noi Home Visit Tour

"I can't remember how many guests have visited my house. Most of them were surprised that members of my family still gather in my parents' room in the evening and talk until bedtime, even though we have our own rooms. An American accountant shared the same opinion as a lot of Vietnamese people, comparing her relationship with her mother-in-law to fire and water. I think that through our conversations, the tourists have learned from US while we learn from them," she said.

Vu Thu Ha, a student at the Faculty of International Studies, has gained a lot of insight into the similarities and differences between Viet Nam and western countries during her three tours. "Some tourists talked to me about the terrible traffic in their countries and the attraction of big cities for immigrants, similar to Ha Noi. A few told me about going to church at the weekends while I shared the meaning of the ancestral altar in Viet Nam," she said.

The tourists also learn about aspects they wouldn't see on a conventional tour. "I learned that a traditional house is made of multiple homes and most houses have a prayer room. I also learned that Vietnamese people do not eat a lot of pho, but they were nice enough to make it for us," Marith Kull said. "I always ask a lot of questions and feel a bit intrusive, but on this tour, they welcomed all of our questions."

Having travelled to 28 countries, the Kulls have come across home stay projects, but never home visits. Marith Kull hopes to take another tour when she returns to Ha Noi, and share the fabulous experience with their friends. "Having Vietnamese food with a traditional family is a better experience than eating in a restaurant. You really get to know the people and their kindness," she said.

With the hope "to make Viet Nam closer worldwide", SiFE has also set up a website at www.hanoihomevisit.wordpress.com. Each tour includes two to eight tourists, with prices based on the number of foreigners. The hosts receive 75 per cent of the tour price to cover costs and insurance, while 25 per cent is used by the group on marketing and to support social and community projects they are involved with.

VietNamNet/Viet Nam News