VietNamNet Bridge – A long-standing skeptic, Hong Van visits the Aummee Restaurant in Ha Noi and admits her bias in favour of non-vegan food could've been a trifle misplaced.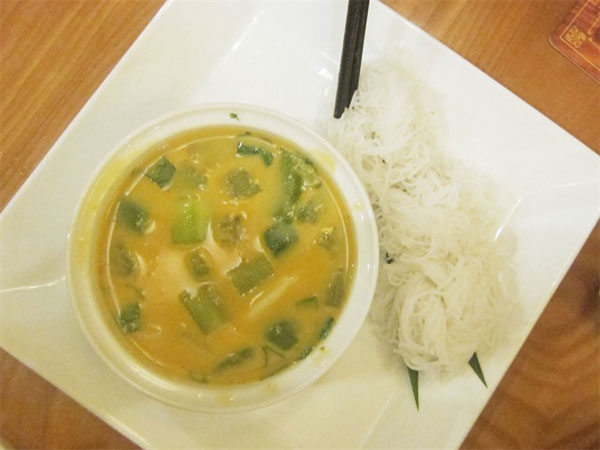 Joint venture: Indian curry with Vietnamese noodles is a hearty, tasty option at the Aummee Restaurant in Ha Noi.
I have maintained this bias for long: Vegan food can never surpass its non-vegan counterpart, in terms of both flavour sand nutrients.
The Aummee Restaurant in Ha Noi has sowed seeds of doubt… I have to admit I may be wrong.
A foreign friend visiting the city last year had recommended that I try Aummee. Not very keen on vegan food, I had put it off until last week.
Aummee is located in a quiet corner of Chau Long Street, but it is not difficult to find it. The very first sighting of the place gave me a good feeling. It resembled an old French-style building.
Unlike restaurants that focus a lot on doing up their frontage or façade as the primary attraction, Aummee remains reservedly inside. One has to pass a staircase and go through narrow 'alley' with a green wall that has bonsai vases hung all over.  
As soon as we push open the restaurant door, the cosy atmosphere with its warm yellow lighting envelops us. The soft, gentle behaviour of the staff enhances the relaxed, peaceful feeling.
The restaurant opens from 10am and offers lunch and dinner with many popular dishes including rice porridge, sizzling pancakes, spring rolls, braised eggplant, tofu and hotpot.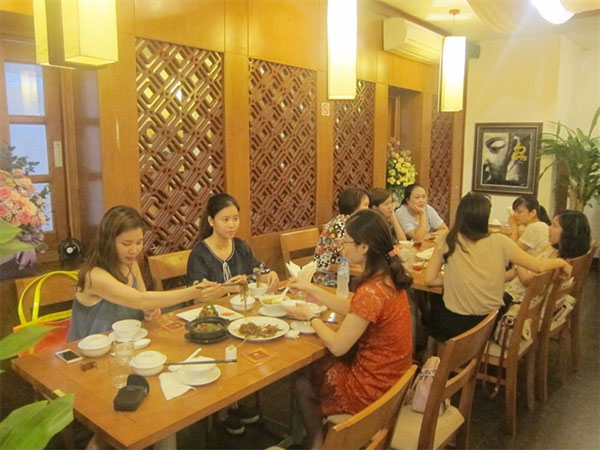 Quiet elegance: The cosy atmosphere of the Aummee Restaurant is highlighted by warm yellow lighting.
The menu reflects the restaurant's philosophy and attention to detail.
Dishes have meaningful names. Diners can enjoy tinh dat (quintessence of earth), tri ki ('lifelong friendship'), sac tim (a hue of purple), hat thuong (loving grain), huong que (nostalgic hometown) and thuyen bac (silver boat). The names are accompanied by meticulous descriptions of the dish.
Another notable factor about the restaurant's approach is that, unlike its peers, it does not offer 'vegan chicken', 'vegan pork' and other faux meat dishes. I like this because I feel naming dishes after meat robs them of their authenticity.
We ordered the Aummee spring roll, braised eggplant, red curry and glass noodle with mushroom.
The spring roll made an impressive entrance. As soon as it was brought to the table, the pleasantly tangy aroma pervaded our nostrils. The dish was nicely garnished with a green long leaf curving over five spring rolls.
The rolls had a crispy, thick cover with a stuffing of sweet potato and taro inside.
Honestly, I had ordered this dish confident that it could never surpass the flavour of a traditional spring roll. I have to confess that my confidence was dented. The sweet, lingering aroma of fried sweet potato, the firm crispiness of the rice paper that it was covered with, and the garlic-flavoured dipping sauce made for a winning combination.
Another aspect of the meal was that the dishes were served one by one, so there was ample time to fully enjoy each dish.
After the spring roll came the braised eggplant, quite a contrast in terms of colour – shiny black with some slices of eggplant, courgette, some slices of mushroom topped with fresh, diced scallions.
This dish may look a bit dicey to some, but the taste was heartily right, and its salty gravy blended perfectly with white rice. Add a few spoons of the gravy and some slices of courgette to the hot rice, and you will smile.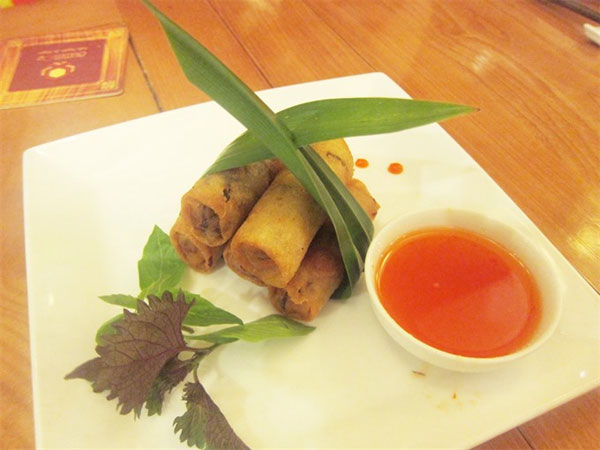 Picture perfect: The spring rolls served at Aummee are a pleasant surprise, in taste, texture and presentation.— Photos: Hong Van/VNS
My vegan encounter was elevated when I tried the curry served with Vietnamese noodles. This combination of Vietnamese and Indian cuisine, fairly simple, was a highlight of the day.
To bring milk (which means this dish is not vegan), coconut milk, Indian curry spices, basil and citrus leaves together takes some daring on its own, and serving it with Vietnamese noodles requires some imagination.
The dish indulged all my senses, and if it were not for what I felt was an extra-strong presence of milk, this dish would have got my 10/10.
We also ordered stir-fried glass noodle with mushrooms. The noodle tasted a bit hard and dry, which was disappointing, but I loved the way the whole dish was seasoned and how the glass noodle combined with mushrooms, carrots, scallions and Vietnamese cilantro.
We finished our meal with green tea and ginger, which was a great way to sum up an enjoyable experience of mostly vegan cuisine.
For those who are interested, the restaurant also offers vegan food cooking classes, occasionally.
Aummee is named after the sound of the bell that is rung in pagodas, announcing both time and call to mindfulness and awareness.
By serving its food with gentle courtesy in a tranquil setting, this predominantly vegan restaurant is going to make many people aware of the benefits of a plant-based diet, not to mention how delicious it can be.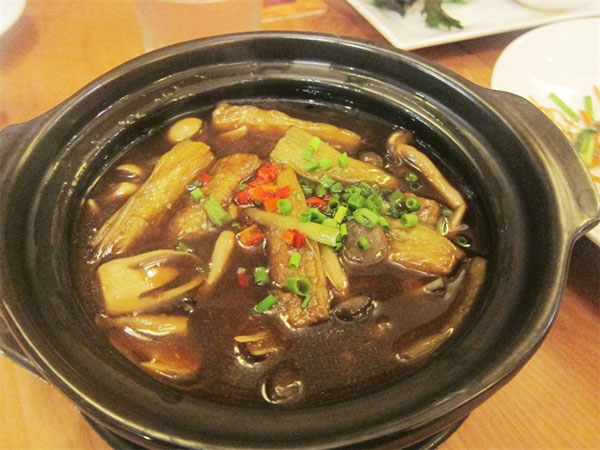 Spicy, salty, yummy: Mixing the braised eggplant with hot white rice makes this dish work at its best.
Aummee Restaurant
Phone: 04 3716 9696
Address: 20 Chau Long Street, Ha Noi
Open: 10am – 9pm
Comment: Authentic delicious vegan food, reasonable price, nice looking space.
Braised eggplant: VND59,000 (US$2.6)
Stir-fried grass noodle with mushroom VND69,000 ($3)
Curry with noodle VND69,000 ($3)
Aummee spring roll VND69,000 ($3)
Ginger tea VND29,000 ($1.3)
White rice VND15,000 ($0.6) per portion
VNS