VietNamNet Bridge – Connoisseurs will have a chance to taste the flavours created by Michelin-starred chef Marc De Passorio in Ha Noi for a series of events hosted by the Sheraton Hanoi Hotel.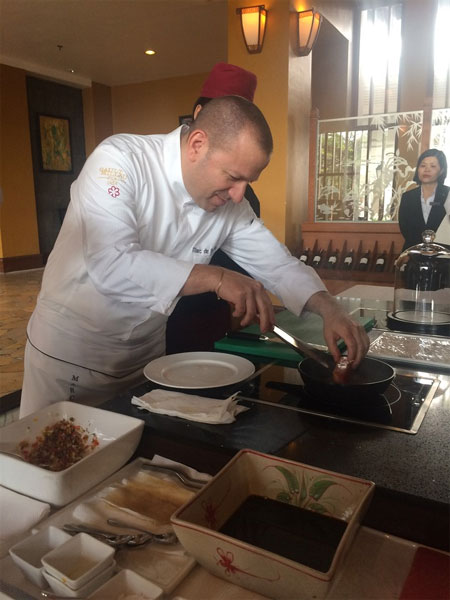 Fusion: Michelin star chef Marc De Passorio gives a cooking demonstration during a press conference in Ha Noi yesterday. The famous guest chef will present a specially designed set menu featuring dishes influenced by French, Japanese and Vietnamese cuisines. – Photos: Thuy Hang/VNS
Described by Michelin as one who "concocts modern, colourful and devilishly creative cuisine, which leads diners from one lovely culinary surprise to the next", chef De Passorio's cooking style is a combination of memories from his travels and culinary experiences.
He is known for his ability to adapt to nature and only uses seasonal ingredients. The famous guest chef, who has more than 20 years of experience in top-class culinary activity, got his Michelin star in 2015 with his restaurant l'Esprit de la Violette in Aix en Provence, France.
For his Ha Noi performance, he has designed a special menu featuring fusion dishes influenced by French, Japanese and Vietnamese cuisines.
The special gastronomy programme starts tonight with the "Michelin Star Wine Dinner with Gerard Bertrand Wines". Tomorrow morning the chef will reveal his new recipes as well as his cooking tricks at a master class that also includes a three-course set lunch.
For dinners on Saturday and Sunday night, De Passorio will present a five-course set menu, featuring oyster served with aged rum jelly, caviar with beetroot cubes marinated in Balsamic vinegar; chilled slice grilled foie gras in wakame leaf and miso broth; grilled seared tuna with seasonal vegetables; Pyrenese presa Iberico [Spanish black-footed pork] with quince jelly and jasmine flowers; and the dessert – Ti punch "caviar", which is caviar-like sago.
Meeting local media before the main events, chef De Passorio said that Vietnamese cuisine somehow has influenced his food creations, including the ones he would present at Sheraton.
"As this is my fifth visit to Viet Nam and the second to Ha Noi, Vietnamese cuisine definitely has brought me inspiration to create new recipes. In my restaurant in Aix en Provence, along with using some ingredients originating in Viet Nam such as star anise, I am also influenced by the Vietnamese cooking style, which uses a lot of vegetables," he said.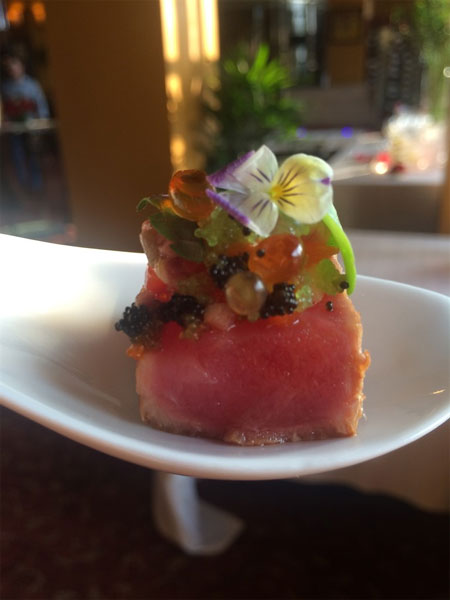 Culinary art: A creation by Michelin-starred chef Marc De Passorio. Chef De Passorio has specially designed a menu featuring fusion dishes, which are influenced by French, Japanese and Vietnamese cuisines, for the Ha Noi's gourmands.
After the visit of chef De Passorio, Ha Noi's food lovers will have good reason to rejoice as another French Michelin-starred chef, Christophe Lerouy, makes an appearance at Hotel Metropole Hanoi for two unique culinary experiences on April 28 and 29 at the hotel's French restaurant, Le Beaulieu.
Part of the Metropole's annual Les Arômes Festival, the dinners will see chef Lerouy bring his eclectic Asian-inspired French fare to Ha Noi for the first time. True epicureans can look forward to a four-course dinner on April 28, which will include such mouthwatering dishes as warm oysters with torched foie gras, apple wasabi puree, and Iberico ham stock.
On April 29, chef Lerouy will team up with Metropole's Chef de Cuisine, Olivier Génique, to cook a five-course feast. Each chef will prepare two courses, featuring such imported delicacies as seared Hokkaido scallops and Argentinian striploin, before joining forces for the final act: a surprise chocolate-infused dessert.
With more than 20 years of experience in various Michelin-starred restaurants around the world, including Amador in Abu Dhabi and Jardin des Sens in Montpellier, chef Lerouy was awarded his first Michelin star at Alma by Juan Amador in Singapore where he was Chef de Cuisine.
After leaving Alma last year, 34-year-old Lerouy launched his own restaurant, DSTLLRY par Christophe Lerouy in Singapore, serving French cuisine with subtle infusions of Asian techniques and ingredients. 
VNS