Vietnam welcomed the 10 millionth foreign visitor in 2016 at the Phu Quoc airport in the island district of Phu Quoc, the Mekong Delta province of Kien Giang on December 25.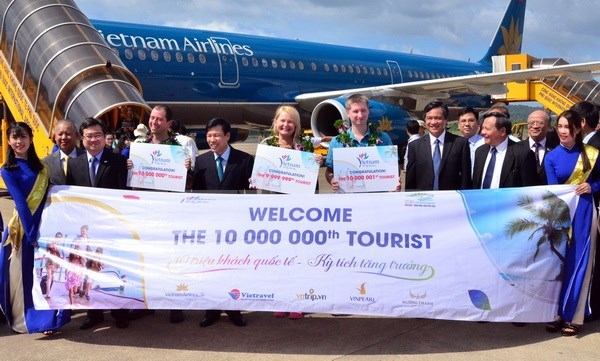 The welcome ceremony for the 10 millionth foreign visitor



Minister of Culture, Sports and Tourism Nguyen Ngoc Thien congratulated the lucky visitor - Michael Tonge, a UK national, along the 9,999,999th and 10,000,001th tourists, wishing them a warm Christmas and New Year holiday in the island. 

This is an important milestone of Vietnamese tourism, marking an impressive growth of the sector in 2016, with an increase of 2 million visitors over 2015. The high number of visitors contributes to affirm that Vietnam is an attractive, friendly and safe destination in Asia-Pacific region. 

According to the Vietnam National Administration of Tourism, the Government's policy of granting visa exemption to tourists from five European countries - the UK, France, Germany, Italy and Spain – has helped increase the number of foreign tourists to Vietnam.

The National Tourism Year 2016 – Phu Quoc – the Mekong Delta also contributed to the good results.

In 2017, the country's tourism sector targets 11.5 million visitors, 66 million domestic tourists and 460 trillion VND in revenue. It is expected to become the spearhead sector of the country in 2020.
VNA