Ba Be National Park in Bac Kan province covers 5 communes in Ba Be district. The park, a beautiful ecological site with magnificent landscape and rich biodiversity, is attracting tourists.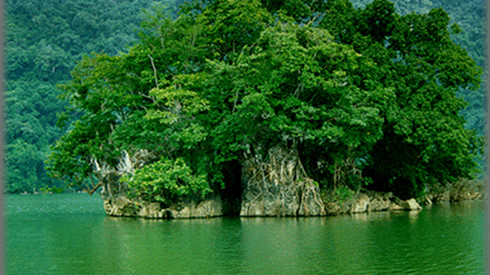 Ba Be National Park is 50 km from the center of Bac Kan province. It covers more than 7,600 ha, nearly half of which is a strictly protected area.
The park embraces ecological features typical of evergreen forests on limestone mountains, a mountain lake, and lowland evergreen forests. 
In 2004, Ba Be National Park was recognized as an ASEAN natural heritage. 
Mr. Pham Van Chi, Deputy Director of the Park, said, "In 2011, the park was recognized as a wetland area of international importance, ranking 3rd in Vietnam and 1938th in the world. Thanks to its special potential, the park has attracted an increasing number of tourists, which have totaled more than 60,000 in recent years. Many incentives and joint venture programs have been implemented to promote the park's tourism".
Motorcycling is the most convenient way to tour the Park. Winding around the mountain roads challenges but excites adventure lovers. Ba Be lake, Vietnam's largest fresh water lake, is in the center of the Park. 
Cao Minh Hai, Chairman of Ba Be district's People's Committee, said, "Our district is blessed by nature. The lake is a special national heritage. Covering about 450 ha, the lake is a tourist attraction. The Ba Be lake complex with its system of grottoes and caves is a great choice for tourists".
Ba Be Lake was recognized as one of 20 fresh water lakes in need of protection at a conference held in the US in 1995. It is home to 106 endemic fresh fish species and has reserves of fresh water for the locals. 
Hiring a local dug-out canoe to go around the lake and admire its beautiful scenery, magnificent cave and upstream waterfalls is a popular choice for tourists. 
In addition, the Park also has several stunning natural sites including Puong Cave and Dau Dang waterfall. 
25 flora species in the park are listed in the Red Book of the World Nature Conservation Association and many others are included in the Vietnam Red Book. 
Scientists said Ba Be National Park is also a center of highest diverse endemic orchids in Vietnam and Southeast Asia. There are 182 species of orchids in the park. 
Pham Van Chi talked about measures to protect the park's biodiversity that "Many solutions have been implemented to protect the park's forest ecology, especially on the limestone mountains and the wetland ecology. We have strengthened environmental protection through various activities including a painting and drawings competition among local schoolchildren."
VOV5