VietNamNet Bridge – Milkbar coffee shop stands out from other cafes along the busy street of Le Quy Don in District 3 as it was built like the "Little House on the Prairie."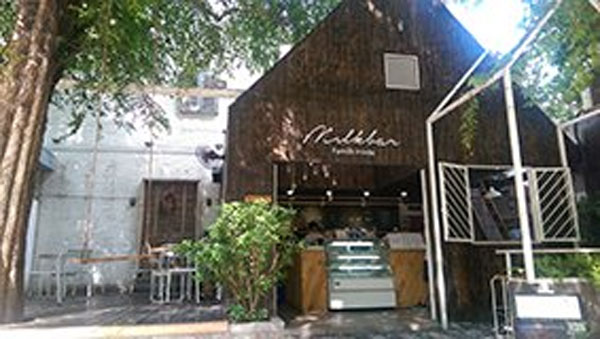 The façade of Milkbar
Inspired by the drama television series of America which tells a story about the life of a family living on a farm in Walnut Grove, Minnesota, in the 1870s and 1880s, the owner of Milkbar wished to create a nice place for people who want to have drinks in a natural environment covered with trees and breezes.
Milkbar features a small wooden bar for guests to order drinks and a
small garden. Besides a line of tamarind trees along the sidewalk, a big tree inside the garden gives guests a shade to enjoy drinks outside on sunny days. A wooden swing tied to a branch of the tree is also one of the highlights of the cafe.
The outdoor space of Milkbar – Photos: Minh Nga
Guests who prefer having drinks indoor can either sit next to the bar or choose a cozy place in the attic of the wooden house to make the most of its big windows to enjoy breezes and view vehicles moving on nearby streets.
Milkbar sells all milk-related products, including skim and plain milk and smoothies, apart from a wide selection of cakes priced from VND30,000 to VND60,000.
Drinks at Milkbar are served in bottles for milk and jars for smoothies.
The coffee shop at 5 Le Quy Don Street in District 3 is also frequented by visitors to the War Remnants Museum of HCMC, which is located at 28 Vo Van Tan Street.
Minh Nga
SGT