VietNamNet Bridge – Besides the lighthouse, the night market and the endless golden sandy beaches, a museum that houses a unique collection of arms from around the world has become an increasingly favourite destination among those visiting the coastal Vung Tau City in southern Viet Nam.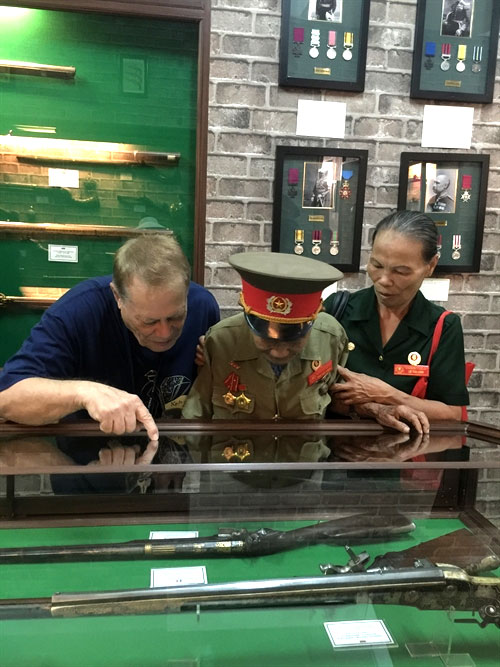 Sharing his passion: Robert Taylor (left) introduces his collection of ancient guns to visitors. — Photo courtesy of Robert Taylor
Located on Tran Hung Dao Street in Precinct 1, the museum features about 2,500 artefacts – the culmination of 70-year-old Robert Taylor's 52 years of collecting arms from around the world as a hobby.
By many accounts, the owner's passion for arms is impressive. His collection includes precious artefacts of all kinds, including military weapons and costumes from West to East, both medieval and modern, like the sophisticated African guns made in 1820-1850 or 19th century swords from Viet Nam's Muong ethnic minority.
"I have always been interested in military parades, especially as a young boy living in London seeing the bright costumes of the Queen's cavalry and guards," said Taylor.
"The very first item I bought was when I was 18 years old. It was a cavalry sword made by a famous English swordmaker, Robert Mole and Sons."
Taylor worked as a mechanical engineer and then worked for a big Thai corporation. The work allowed him to travel around the world, come into contact with other people who share the same hobby and then become a member of a network of collectors, museums and auction houses. Nearly all of his spare money was spent on purchasing his favourite military weapons and costumes, enriching his collection over time.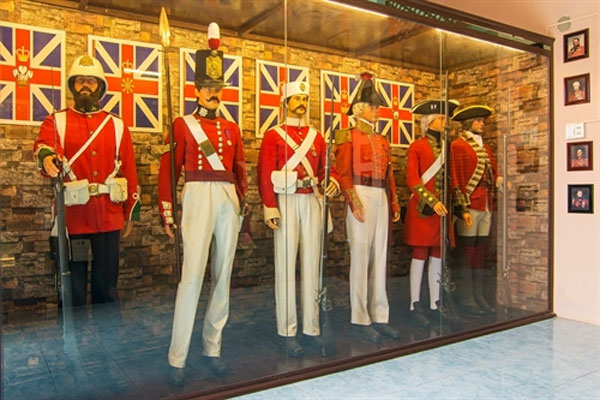 Realistic displays: Uniforms of British soldiers from different historical periods are on display at Taylor's museum. — Photo courtesy of Robert Taylor
Taylor first came to Viet Nam at the request of a company to carry out a small project, but the beautiful beaches, fresh air, great weather and historical places of interest enticed him to settle down and build his own company in the coastal Vung Tau City. He also started to nurture his aspiration to establish his own museum in his second home.
In 2006, the Ba Ria-Vung Tau Province's People Committee appealed for investment in the tourism industry. Taylor made a proposal to bring his artefacts, which were still preserved in England at that time, to Vung Tau, but it was not an easy task at all.
"The difficulty, first and foremost, was that there were no rules or regulations to establish a foreign museum in Việt Nam," he said. "So we had to 'invent the wheel', so to speak, with the local authority. After many meetings, the licence was issued and in 2011, I imported my collection of military artefacts to Viet Nam."
After four years of preparation, Taylor's Worldwide Arms Museum first opened in January 2012 on Hai Dang Street. The museum, which is unique in Southeast Asia, has been recognised as the biggest private arms museum in Viet Nam by the Vietnam Record Book Centre.
It is difficult for him to pick out the most valuable item in his collection.
"There are so many precious items in my collection and to single any one out would be unfair to the others. So I would say all items in my collection are precious," he said.
Informational placards next to each artefact provide context on the arms, like the production year and origin.
To display military costumes, Taylor even had his own mannequins customised according to the height and physical characteristics of the soldiers who would have used those particular arms, like the shape of their faces and colour of their skin and hair.
He also attended a training course on heritage and community at HCM City University of Culture to hone his skills and prepare for his new position as the museum's general director.
However, after only three months, the museum was forced to close due to personal reasons, Taylor said.
But earlier this year, after realising the high potential for Taylor's unique museum to attract tourists, the provincial authority agreed to let him use a Government building, which was formerly a beautiful French colonial building, to exhibit his collection.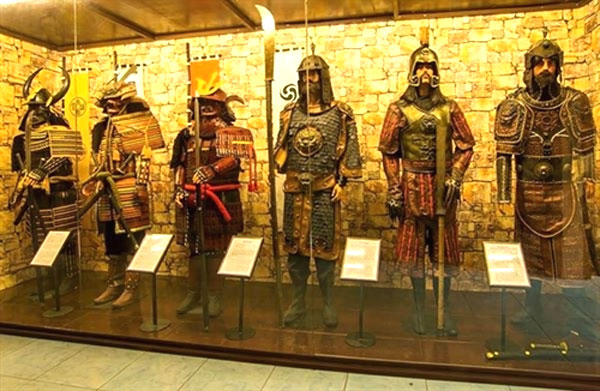 Piece of history: Costumes of ancient Mongolian soldiers are on display at Taylor's museum. — Photo courtesy of Robert Taylor
After re-opening, the museum is expected to meet the demand for historical and cultural displays, and also contribute to preserving the ancient building that was in a state of disrepair.
"We have renovated it and returned it to its original glory," he said. "It is a wonderful piece of history in itself and befitting to house my ancient relics."
Taylor said he is thankful for the local authority's approval, and especially the support he received from the woman who later became his wife, which both helped to achieve his dream of establishing the museum.
Since its re-opening on April 21, the museum has welcomed about 6,000 visitors and received an increasing number of tours booked by travel agencies.
"The collection assembled in this museum would rival any in the world," said visitor Clint G. from Australia. "It not only features some very rare firearms, but an amazing collection of uniforms of all nationalities throughout many centuries. There are many works of art and photos throughout."
Taylor has retired from business and concentrated solely on his worldwide arms museum.
"Now nothing pleases me more than seeing the visitors' expressions of happiness and receiving their kind words after visiting my museum," he said.
VNS
Luong Thu Huong