VietNamNet Bridge – For the fresh-faced expat in Ha Noi the adjustment to Viet Nam's pace of life can be overwhelming at times. The pressures of a heavy schedule, TEFL-based or otherwise, coupled with traffic and noise can lead even the most strong-willed urbanite to seek an escape, even if just for the weekend.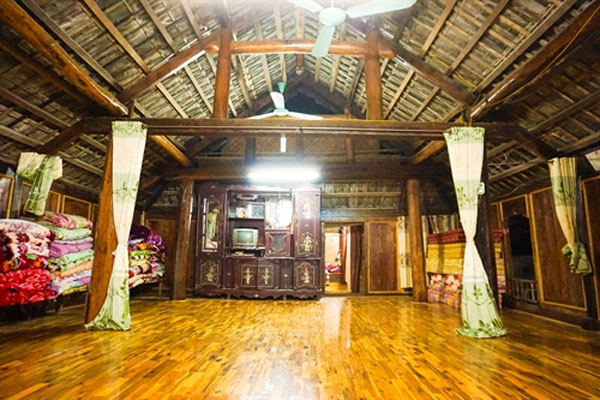 Traditional living: A typical bedroom for rent in a house on stilts.    
For those seeking such an escape, and unwilling to sacrifice a precious day of work, a getaway to Mai Chau might be the perfect remedy. Situated approximately 150km to the southwest of Ha Noi, Mai Chau is a rural and mountainous region populated by the Ban Lac (Lac Village) people, whose Thai ancestors settled there many years ago.
Buses leave from My Dinh Bus Station at 3pm on Fridays, taking around 4 hours to reach Mai Chau and costing just US$20 for a return ticket. Destinations are posted on the bus windows so finding the correct one shouldn't prove too much of an issue. Buses will arrive at the edge of Lac Village in the early evening.
Travellers will be greeted with traditional stilt homesteads and fresh air, as well as spectacular views of paddy fields and mountains. As one soaks in the scenery, it's hard not to anticipate the breathtaking views that morning will bring.
You can expect to pay around VND100,000 for a comfortable night's stay in one of the homes, and to be treated well by the ethnic Thai families in the area. For this reason you may consider avoiding booking anything before your trip.
Lac Village consists of multiple hamlets which can be reached on foot and locals will be more than happy to help point you in the right direction.
Along the road are many homestays, one of which is called Mai Chau Homestay with its sister location Mai Chau Farmstay located slightly further down the same road. The bamboo bungalows are picturesque and very well priced at US$10 a night. Stays here include use of the facilities and a choice of motorbikes and bicycles, invaluable for properly exploring the surrounding countryside.
The valley itself contains many points of interest, including mountain streams traversed by men in bamboo rafts. Charcoal grills dot the villages and it would be impolite to avoid the fresh fish cooking on them, the fragrance alone should be more than enough to convince you.
Early evening arrives far too quickly and the easygoing hosts may wake you from a siesta with an invitation to a barbeque and entertainment at the sister farm-stay. Good food and traditional music should be the perfect prelude to a deep and restful sleep.
The bus will depart at 3pm from this particular location but there are plenty to choose from.
In those precious hours you have remaining, an iced coffee or a cold beer at the picturesque Mai Chau Sunset Bar is a welcome end before the journey back to Ha Noi.
The magnificent views and warmth of the locals may make it difficult to leave, but this simple paradise is sure to remain with you for a long time.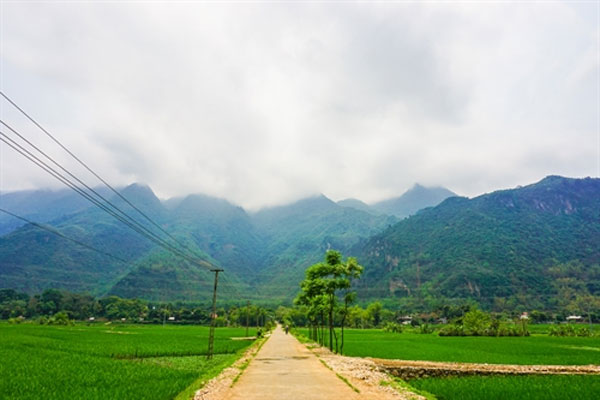 Village in the clouds: A road leading to Lac Village.
Rural comfort: A house under palm trees.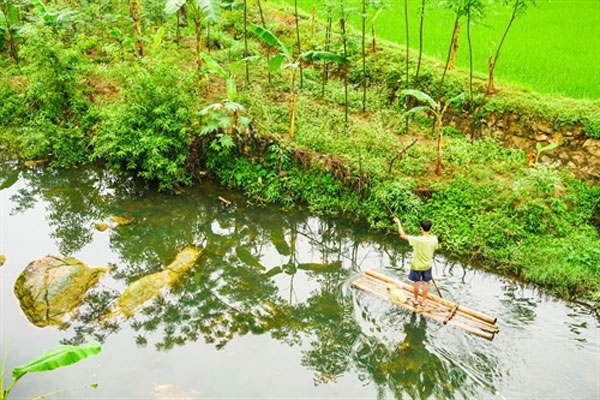 Float on: Bamboo rafts are popular in Mai Chau.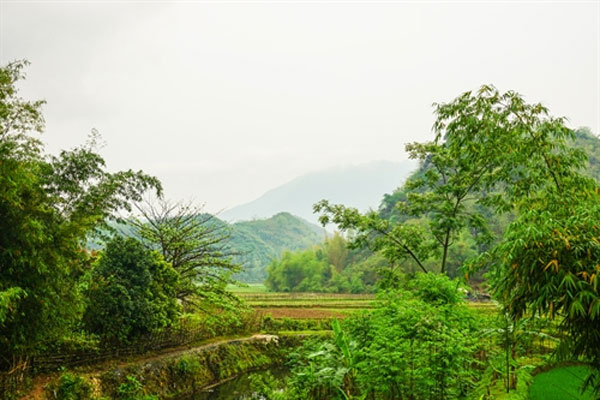 Shades of green: Local agriculture. VNS Photos James Stefanuto 
VNS
by James Stefanuto