VietNamNet Bridge – Anyone who has visited U Minh Ha forest in the southernmost province of Ca Mau will not forget the beauty of the country's border area with Trem, Cai Tau and Doc rivers as well as mangrove shades and immense field of reeds.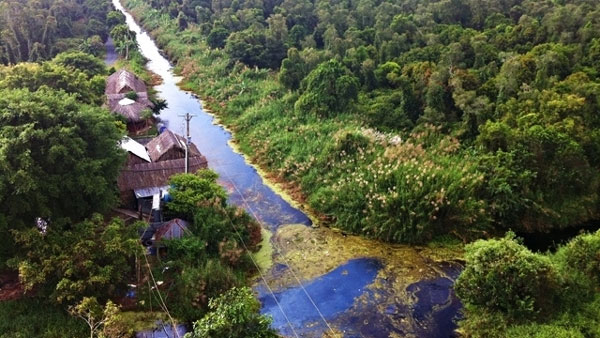 U Minh Ha national park is an attractive destination in the south.
Over recent years, with largely intact natural characteristics, U Minh Ha has become an popular destination, attracting a large number of visitors. U Minh Ha national park has more than 8,000 hectares of indigo blues and 25,000 hectares of buffer zone as well as rich fauna and flora.
Tourists can visit the observatory which is 24 metres high. Standing on the forest observation deck, visitors are surprised at endless forests and vast waterways.
U Minh Ha national park is one of three core zones of the Mui Ca Mau (Ca Mau Cape) World Biosphere Reserve. During the war against the US imperialists, the melaleuca forest was used to protect the revolutionary base, significantly contributing to the national struggle for freedom and independence.
With these specific characteristics, Ca Mau provincial authorities have paid more attention to the conservation and promotion of the value of the U Minh Ha forest, particularly constructing roads and enhancing the forest fire prevention and control systems.
In U Minh Ha, visitors can rent a boat to go along interlacing canals or walk through the forest. The national park is also home to various wildlife species, including deer, wild boars, monkeys, weasels, snakes, turtles and pangolins, many of which were listed in the Red Book.
There are also around 60 kinds of freshwater and brackish water fish. Visitors can fish by themselves or ask local people to help spread the net to catch fish. After the forest travel, visitors together process and enjoy delicious and delicious rustic dishes such as grilled freshwater fish, fried field mouse, grilled snake with water lily and premature lotus leaves.
Coming to this land, visitors have a chance to listen to anecdotes and legends of uncle Ba Phi who was famous around the southern province for his cheerful, free-spoken and brave character, and especially his story telling. Skill hunters and forest workers here are always ready to tell mysterious and sensational stories.
In addition, visitors can lean back in cane chairs in houses on stilts to enjoy the lyrical melodies of Don Ca Tai Tu (traditional musical art form of the south).
The forest is a source of life for local people on this land, producing an abundant and rich resource of produce. The forest not only protects but also help them create revenues to feed their families.
Travelling and discovering mangrove forests in daytime, along with catching voles are expected to be a memorable experience for visitors to the southern forest land.
However, visitors will be limited during the peak seasons in March and April due to the work of forest fire prevention and control.
Nhan Dan