VietNamNet Bridge – Coming to the western upland of Quang Nam Province on the central coast, visitors can experience unique daily activities of Co Tu ethnic minority, and one of them is to catch insects to make dishes.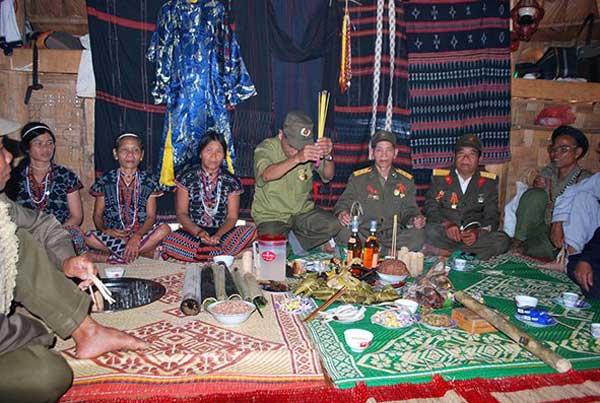 Co Tu people offer dishes made from insects to God before starting their meal
Among the insects that are used to prepare dishes by Co Tu people are grub, flying termite, cicada, ant eggs, pupal bee and worm.
In order to catch grubs, which mostly appear after the flooding season, Co Tu people dig areas where soil is mixed with sand along the banks of rivers and streams. This insect is then grilled or fried. It can also be used to treat joint pain.
Dishes from ant eggs require a lot of effort to make. After finding an ant nest, people use flat bamboo baskets to screen to separate eggs from ants. The process sounds easy but must be done carefully to ensure that the eggs are not broken. Ant eggs are added to cake's stuffing or served with sticky rice and sour soup.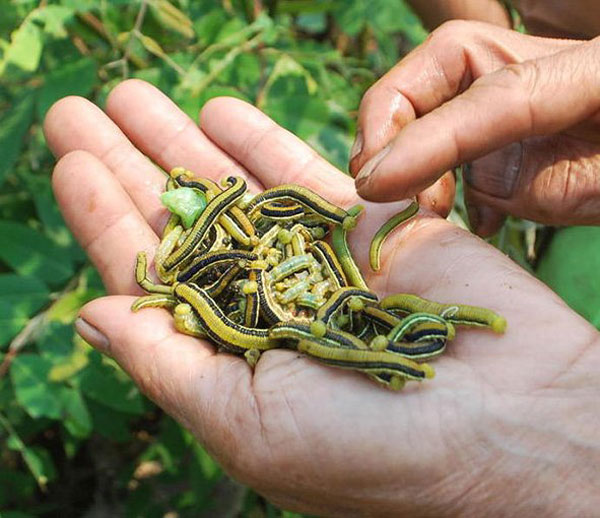 Green worms are used to make a speciality
There are different types of pupal bees. Apart from being an effective drug to treat certain deseases, pupal bees are used to wrap in lolot leaves for grilling, or fried with garlic, served with rice paper, or cooked with rice porridge.
One of the special dishes made from insects by Co Tu people is worm fried with cassava leaves. In spring, kassod trees start having new buds and lure a type of worm that is locally called "green worm". The worm fried with cassava leaves is a specialty of Co Tu people and it is normally served in special occasions.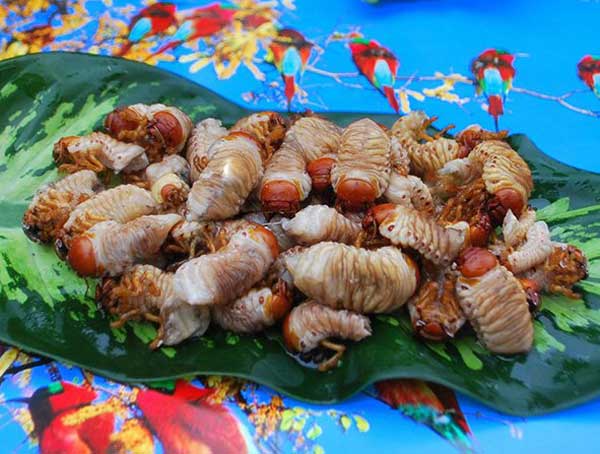 Grubs after being processed for food 
Another unique dish of Co Tu people is made from bamboo borer worm. The worms are found inside bamboo trees during the year before they become butterflies in the ninth and tenth months of the lunar calendar. After the worms are dipped in boiling water, they are mixed with pepper, chilly, salt and scallion heads in a bamboo cylinder before they are served as a special treat in winter.
SGT