VietNamNet Bridge – Founded in 2006 with the slogans 'No tips, no charge' and 'Be more than a tourist', members of English club Hanoikids have provided more than 7,000 tours for over 15,000 international visitors looking to discover the capital city of Hanoi.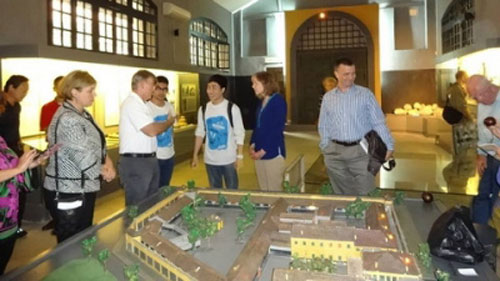 Two Hanoikids' members (in white T-shirts) exchanging talks with US servicemen, including US General Herbert Carlisle, during a tour to Hoa Lo prison (Source: Hanoikids) 
idea for establishing the club first initiated from a topic in the Trai Tim Viet Nam (Vietnam's Hearts) online forum. The topic received an enthusiastic response from its members. Just three days after the idea came out, a group of ten youngsters met in person to map out a plan for setting up an English club providing free tours to foreign visitors.
Eight years after its launch, the club has developed into one of the biggest volunteer clubs in Vietnam. With more than 300 members, it conducts about 170 tours each month, welcoming nearly 400 holidaymakers from around the world.
Prominent among the visitors was a group of US servicemen, including US General Herbert Carlisle, Commander of Pacific Air Forces.
General Carlisle joined the tour thanks to a recommendation from an official at the US Embassy in Hanoi who earlier enjoyed a tour of the capital city with Hanoikids.
During the tour on March 16 this year, Le Son Tung and Quach Quy Ton, two of the club's members, led the US guests to Hoa Lo prison.
"The guests listened with concentration to our stories about the site", Quach Quy Ton said, adding that after the journey, General Herbert expressed his appreciation for Hanoi's conservation of its vestiges.
"He also showed his pleasure to receive an open-hearted and sincere welcome from young Hanoians like us", Ton said.
Hanoikids have also had opportunity to accompany many other US politicians, including President Pro Tempore of the US Senate, Patrick Leahy and the US President's Special Assistant, Evan Medeiros.
According to Nguyen Trung Hieu, during the tour with US Senator Patrick Leahy this April they visited Hoan Kiem (Sword) Lake, Ngoc Son temple and Hanoi's Old Quarter.
"The US Senetor loved to take photos so we stopped many times for him to capture daily moments of Hanoi", Hieu revealed.
The most impressive guests the club members have ever received was a delegation of 16 Malaysians, over half of them being visually impaired. The guests were divided into four groups; each was led by a member of Hanoi kids to explore Hanoi Old Quarter.
Remembering the special journey, Nguyen Dieu Thuy, guide for one of the four groups, said that her team included three guests, two of them being blind and one of them able to see very poorly.
"I tried to describe Hanoi streets amid the noisy sound of hooters. The visitors walked slowly and listened carefully. Sometimes we stopped for a while to listen to a song about Hanoi broadcast from the area's loudspeaker," Thuy recalled.
However, despite Thuy's effort to interact with the guests, the visitors only kept polite smiles on their faces and expressed no intention to communicate with her. This made Thuy, who has years of experience as a tour guide, very confused.
For her last attempt to please the guests, Thuy stopped at a beef Pho (Vietnamese noodle) restaurant at Ly Quoc Su Street so that the delegation could enjoy a meal.
A bowl of pho indeed helped to warm up the gathering and everyone started sharing their first feelings about Hanoi. The guests said the sounds echoing in Hanoi's streets helped them to feel the beauty of a bustling city. Moreover, the enthusiasm of a young female guide and the unique flavour of pho helped them feel the hidden charm of Hanoi despite the darkness in their eyes.
Thuy said that joining the visually-impaired guests helped her realise many things she never noticed even though she has walked around Hanoi's Old Quarter thousands of times.
"I cannot forget the moment when one of the guest held my hands tightly and expressed her thank for accompanying with her across Hanoi. She also told me that none of tourist can feel lonely in this city," Thuy said.
Through their silent contributions to advertising the hospitality of Hanoians in the eyes of international friends, Hanoikids' members have been praised as "cultural ambassadors of Hanoi" by the city's cultural sector and foreign visitors.
The club was nominated for the 'Job prize' category of the 2014 'Bui Xuan Phai – For the Love of Hanoi'.
Nhan Dan/VNN