VietNamNet Bridge – The six world heritage sites recognized by the UNESCO (United Nations Educational, Scientific and Cultural Organization) in the Central Region creates a "heritage road" worthy to explore.
Ho Dynasty Citadel in Thanh Hoa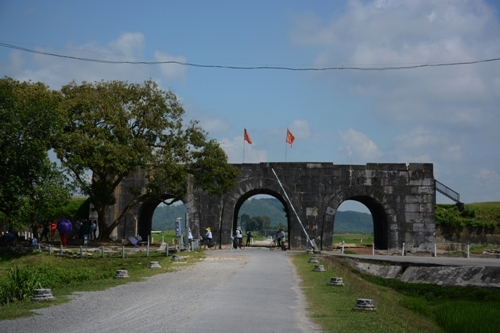 The citadel of the Ho Dynasty is situated in Vinh Loc District, Thanh Hoa Province. It was the capital of Vietnam from 1398 to 1407.
The citadel of the Ho Dynasty was built in 1397 by Ho Quy Ly who was the highest-ranking mandarin of the Tran Dynasty at the time. After the citadel was completed, Ho Quy Ly forced King Tran Thuan Tong to move the capital from the citadel of Thang Long (Hanoi) to Thanh Hoa. In the second month of the year of Dragon (1400), after replacing King Tran, Ho Quy Ly was crowned king and renamed the country Dai Ngu (1400-1407), and the citadel of the Ho Dynasty officially became the capital citadel. The citadel of the Ho Dynasty is also known as An Ton, Tay Do, Tay Kinh, Tay Nhai, and Tay Giai.
The citadel of the Ho Dynasty is considered the only stone citadel remaining in Southeast Asia, and is one of the few remaining in the world.
The citadel was recognized as a World Cultural Heritage by UNESCO at the 35th session of the World Heritage Committee on June 27, 2011 in Paris (France).
Useful information:
 + Admission:
- Adults: VND 10,000/person
- Children from 10 to 15 years old: VND 5,000/person
 + Opening time: Every weekday, and Saturday, Sunday and holidays.
- Summer: from 7:00 to 17:00
- Winter: from 7:30 to 17:30
Phong Nha - Ke Bang National Park in Quang Binh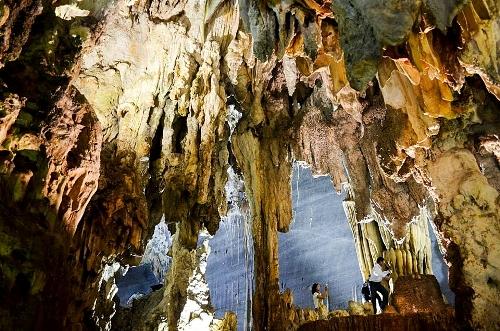 Phong Nha-Ke Bang national park was recognised as a world natural heritage site by UNESCO at its 27th general assembly session held in Paris from June 30-July 5.
The park, located to the north of the majestic Truong Son range in central Quang Binh province, is one of the world's two largest limestone regions.
The 200,000 ha of parkland includes beautiful limestone formations, grottoes and caves, and boasts lush forestland covering 95 percent of the park area.       
The area is considered a paradise for researchers and explorers of grottoes and caves, and Vietnamese and British scientists have so far surveyed 20, with a total length of 70km. Of them, 17 are in the Phong Nha area and three in the Ke Bang area.
The Phong Nha cave itself, which lends its name to the whole system, is probably the most beautiful of all, containing many fascinating rock formations, enchanting visitors with evocative names such as Lion, Fairy Caves, Royal Court and Buddha.
Besides the grotto and cave systems, Phong Nha has the longest underground rivers, the largest caverns and passageways, the widest and prettiest sand banks, and the most astonishing rock formations in the world.
According to initial statistics, the primitive tropical forest in Phong Nha-Ke Bang houses 140 families, 427 branches, and 751 species of high-rated plants, of which 36 species are endangered and listed in the Vietnam Red Book. The forest is also home to 32 sets, 98 families, 256 races and 381 species of four land backboned animals. Sixty-six animal species are listed in the Vietnam Red Book and 23 other species in the World Red Book. In general, Phong Nha-Ke Bang's animals are more diverse than in other natural reserves and national parks.
Phong Nha-Ke Bang also boasts dozens of mountain peaks of over 1,000 metres still unexplored by men and seen as ideal sites for activities like climbing and exploration. Worthy of note are Peak Co Rilata with the height of 1,128 m and Peak Co Preu, 1,213 m. Lying between these peaks are valleys which promise tourists exciting eco-tours.
In addition to diversity in the ecosystem, Phong Nha-Ke Bang is home to archeological and historical relics, such as an ancient hieroglyphic script of the Cham ethnic minority, King Ham Nghi's base built for the resistance war against French colonialists in the late 19th century, and the Xuan Son ferry station, Ho Chi Minh Trail and Road 20 used during the US resistance war.
Hue Citadel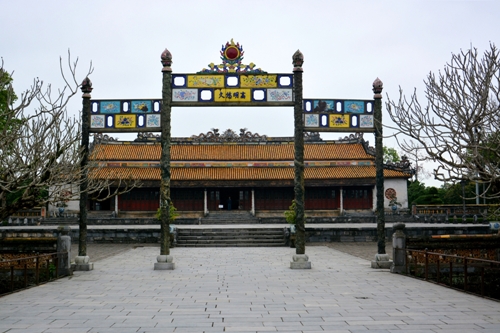 Hue was the capital city of the Southern Kingdom of all of the Nguyen Lords and officially became the capital under Tay Son's reign. For around 400 years, Hue was a great landscape and architectural site. Hue's royal complex was recognized by UNESCO as a World Heritage Site.
Situated on the Northern bank of the Perfume River, with an area of 500ha and a system of three circles of ramparts, namely from outside to inside: the Capital Citadel, the Royal Citadel and the Forbidden Citadel.
The Ngu Binh Mountain in the South is used as a front screening elevation. The Con Hen and Con Da Vien (both are sand dunes) on the Perfume River are chosen as geomancy condition "dragon on the left, tiger on the right" to protect the capital city.
Capital Citadel: The construction of the citadel started in 1805 under the reign of Emperor Gia Long and completed in 1832 under the reign of Emperor Ming Mang, with nearly 140 works. The Citadel, square in shape and almost 10km in circumference, has the walls of 6m high, 2.1m thick and 10 entrances.
Royal Citadel: It is located in the centre of the Citadel where the highest offices of Viet Nam's feudalism were established and sanctums honoring the cult of decreased Emperors. The Citadel also has a nearly square form, with more than 600m long on each side, built of brick 4m high, 1m thick, around which is a protection trench. Access to the Imperial City can be made by four entrance gates. Noon Gate is only used for the King. The Royal Palace consists of more 100 beautiful works divided in many sections.
Forbidden citadel: Located inside the Imperial City, behind the Throne Palace, the Forbidden Purple City is reserved for the Emperor and his family. It was constructed early in Emperor Gia Long's reign in 1804 with brick walls 3.72m high, 0,72 m thick, about 1,230 m in circumference. Its front and back sides are 324 m each, while either left and right side is more than 290 m, including 50 architectural constructions of different sizes and seven gates for facilities of entrance and exit.
Hue is also famous for royal tombs and temples of the Nguyen Kings. Seven tombs with different aspects are not only a wonderful arch but also combine beautiful, imposing nature and poetry of Hue.
Ancient Hue, including Perfume River and Ngu Mountain, palaces and citadels, tombs and temples with hundred of historic years, are embellished and recovered by material contributions of the Vietnamese and International community in order to keep Hue City as cultural heritage of World.
Hue royal court music
Nha Nhac, also called Court Music, is a type of music performance including both dancing and opera singing, used in worshiping ceremonies, royal public courts, national holidays and entertainment events for royal family.
Court music was initiated in the 13th century, yet the peak period when it became the official royal music performance was in 19th century under the Nguyen Dynasty in Hue (1848 – 1883). In the period of 1947 – 1948, Madame Tu Cung (mother of King Bao Dai and wife of King Khai Dinh) collected some court music artists under Bao Bai Dynasty and maintained the music performance during the period.
In the 1980s, the Ministry of Culture and the local authorities paid more attention to the court music and made it alive again in 1990s. Since then, court music has become an important part of Vietnam culture and history and has been promoted internationally.
The different genres of Hue Court Music include worshipping ritual music and court ritual music, royal dance, musical and opera (royal classical opera – tuong).
In the past Hue court music included various range of genres: Giao Nhac used in sacrifice ceremonies, Mieu Nhac used in worshipping ceremonies in temples, Ngu Tu Nhac used in the sacrifice ceremonies of Agriculture Goddess, Thanh Hoang, Xa Tac, Dai Trieu Nhac used in big royal events or greetings of the foreign ambassadors, Yen Nhac used in the big royal parties, and Cung Nhac served inside the royal palaces.
Hue Court Music was created by the process of integrating and adopting Chinese and Champa culture and the influences of Buddhism and Confucianism. It is the synthesis of various art genres, instruments, rhythms, melodies and ensemble forms and environment. Therefore, Court Music can bring audiences a good sense of both aural and visual stimuli, generating different shades of emotions and inspirations.
In November 2003, Hue Court Music was recognized as an oral and intangible heritage of humanity by UNESCO. This recognition marked the great progress of cultural preservation of Vietnam and its importance to humanity's artistic value.
In Hue, visitors can enjoy Hue court music at Duyet Thi Duong, Minh Khiem Duong or on boats on the Huong River.
Hoi An: ancient town in Quang Nam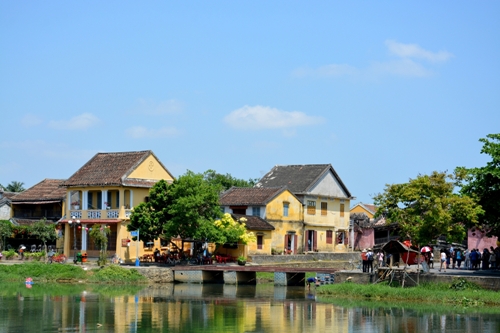 Hoi An is an old town on the Thu Bon River, on the coastal plain of Quang Nam Province, about 30km south of Da Nang. Hoi An was once known in the international market with many different names such as Lam Ap, Faifo, Hoai Pho and Hoi An.
What is so special about Hoi An is that this little port town is in an incredible state of preservation. It offers some of the most densely concentrated sights in Vietnam with its old streets bordered with ancient houses and assembly halls, pagodas, temples, ancient wells and tombs. In total, there are more than a thousand places of interest.
The architecture of Hoi An is characterized by a harmonious blend of Vietnamese, Chinese and Japanese influences. After many centuries, Hoi An is still respectful of its traditions, folk festivals, beliefs and of its sophisticated culinary art. Set in a quiet environment, Hoi An is surrounded by peaceful villages that have crafts such as carpentry, bronze making, ceramics...
The architectural significance of Hoi An was recognized by UNESCO during the 23rd Congress which took place in Marrakech (Morocco) from the 29th of November to the 4th of December 1999, when the town was officially listed as a World Cultural Heritage Site.
Attraction:
In the ancient town:
- Chua Cau (Japanese Bridge)
- Old Houses: Quan Thang Old House (77 Tran Phu); Diep Dong Nguyen Old House (80 Nguyen Thai Hoc) Tan Ky Old House (101 Nguyen Thai Hoc); Phung Hung Old House (4 Nguyen Thi Minh Khai); Tran Family Chapel (21 Le Loi)
- Ancient Wells: Ba Le Well (Kiet Gieng Alley, Minh An Ward)
- Assembly Halls: Quang Dong Assembly Hall (17 Tran Phu); Phuoc Kien Assembly Hall (46 Tran Phu); Trieu Chau Assembly Hall (157 Nguyen Duy Hieu); Hai Nam Assembly Hall (10 Tran Phu)
- Museums: Museum of Trade Ceramics Hoi An (80 Tran Phu), Museum of Sa Huynh Culture (149 Tran Phu); Hoi An Museum of History and Culture (7 Nguyen Hue); Hoi An Museum of Folk Culture (33 Nguyen Thai Hoc)
- Lantern Manufacturers: Ha Linh Lantern Manufacturer (72 Tran Nhan Tong); Huynh Van Ba Lantern Manufacturer (54 Nguyen Thi Minh Khai)
Surroundings:
- Cua Dai Beach;
- Bay Mau Coconut Forest;
- Cu Lao Cham;
- Tra Que Vegetable Village;
- Thanh Ha Pottery Village;
- Kim Bong Carpentry Village;
- Tombs of the Japanese traders
Useful information:
- Ticket price: VND80,000/person (Vietnamese visitors); VND120,000/person (foreign visitors)
- Visitors can enjoy:
  1/ All streets in the Ancient Town, artistic activities, folk games, night market.
  2/ 5 of the 21 sightseeing places:
* Japanese Covered Bridge, Cam Pho  Communal House,  Minh Huong  Communal House, House of Tuy Tien Duong, Quan Cong Temple.
* Museums: History and Culture, Trade Ceramics, Sa Huynh Culture, Folk Culture.
* Old houses: Quan Thang, Duc An, Phung Hung, Tran Family's Chapel, Tan Ky.
* Assembly Halls: Trieu Chau, Quang Dong, Phuc   Kien.
* Handicraft workshop and traditional arts performance, XQ Hoi An.
* Ancient tombs of Japanese traders: Mr Gu Sokukun, Mr Tani Yajirobei, Mr Banjiro.
Note:  - Visitors can buy more than 01 ticket to visit more sightseeing places
          - Every ticket is valid for 24 hours.
          - Free guide fee for a group of over 08 tourists, local guides are available at ticket booths.
Services in Hoi An
Visitors can rent bicycles or motorcycles to visit Hoi An. However, the most interesting thing is walking around the ancient town to feel the ethos of this place. Visitors can only visit the ancient town by motorcycles at periods before 7:00; 11:30 – 14:00, 17:00 – 18:30 and after 21:00.
- Free WiFi Internet access in Hoi An Ancient Town
- Discovering Hoi An Night is interesting with traditional games, folk songs, and local food...
         Time: - Summer (from 16 April to 15 October): from 19:00 to 21:30;
                  - Winter (from 16 October to 15 April): from 18:30 to 21:00.
- Hoi An Legendary Night
Date: 14th day of every lunar month - Time: From 18:30 to 21:30
- Night Market: Open every day from 17:00 - 23:00 on Nguyen Hoang Street (opposite the Japanese Bridge) with 40 stalls selling handicraft products such as ceramics, lanterns and traditional specialties of Hoi An - Quang Nam.
- Program of "Enjoy lifting ro (small square fishing-net) on the river"
Two times per day: from 9:00 to 11:00 and from 15:00 to 21:00 at Hoai River (arc area of the Japanese Bridge).
- Program "Piano performance place": from 19:00 to 21:00 daily at 106 Bach Dang.
- Folk performances: from 19:00 to 21:00 daily at 78 Le Loi.
- Hoi An specialties:
- Foods: cao lau noodles, girdle cake (rice paper – banh trang) mix with oysters, Steamed Bun (banh bao), white rose – Small Shrimp Dumpling (banh vac).
- Gifts: banh in (Moulded Snow-Flaked Cake), banh dau xanh (green bean cake), banh it la gai (Small Sweet Dark Jelly-like Dumplings wrapped in Banana Leaf Pyramid), chili sauce of Hoi An.
My Son Sanctuary in Quang Nam
My Son Sanctuary is set in a small valley belonging to Duy Phu Commune, Duy Xuyen District, Quang Nam Province, about 70km southwest of Danang City and 40km from Hoi An City. Of the 225 Cham vestiges that are founded in Vietnam, My Son possesses 71 monuments and 32 epitaphs, the content of which is still being studied.
The Cham Kingdom had two sanctuaries belonging to two main opposing clans. My Son of the Dua Clan ruled over the north of the kingdom, and was the place for the worship of God Srisana Bhadresvara. The Cau Clan, who reigned over the south had Po Nagar Sanctuary, was dedicated to Goddess Po Nagar. My Son was considered as the sanctuary of the Cham Kingdom.
The first constructions date back to the 4th century under the reign of Bhadravarman for the worship of God Shiva-Bhadresvara. But later on, the temple was destroyed. At the beginning of the 7th century, King Sambhuvarman had it rebuilt and rebaptized Sambhu-Bhadresvara. Each new monarch came to My Son after his accession to the throne, for the ceremony of purification and to present offerings and erect new monuments, which explains why My Son is the only place where Cham art flourished without interruption from the 7th to the 13th century.
The temples in My Son were built into groups that basically followed the same model. Each group was comprised of a main sanctuary (kalan), surrounded by towers and auxiliary monuments. The kalan, which is a symbol of Meru Mountain (centre of the universe, where the gods live) is dedicated to Shiva. The small temples are devoted to the spirits of the eight compass points. In the towers, topped with tiled, curved roofs, were stocked offerings and sacred objects of the pilgrims. Cham temples do not have windows, so they are very dark inside. Windows are only found on the towers.
Cham towers and temples are built of bricks associated with sandstone decorations. It is quite noteworthy that no adhesive can be seen in between the bricks, which is amazing since some of the works have survived thousands of years. The structures were built, and only then did the sculptors carve the decorations of floral patterns, human figures or animals. This technique is unique in Asia.
My Son was rediscovered in 1885 by a group of French soldiers. In 1895, C. Paris, a French scholar, was the first one to clear the My Son Sanctuary. Then, many scientists came to My Son to study Cham epitaph, sculpture and architecture such as Henri Parmentier, C. Carpeaux, P. Stern…
Thanks to Henri Parmentier, the temples of My Son were classified into groups of letters (A, A', B, C, D, E, F, G, H and K), and then numbered according to their functions. It starts with the main sanctuary, the kalan, (number 1), then the gate tower (number 2), and so on. Even though these categories break up the architectural complex of My Son as a whole, they are remarkably efficient for the study and maintenance of the ruins.
In December, 1999, at the 23th meeting of World Heritage Committee of UNESCO in Marrakesh, Morocco, My Son was recognised as a world cultural heritage based on two prominent criteria: criterion (ii) an exceptional example of cultural interchange, with an indigenous society adapting to external cultural influences, notably the Hindu art and architecture of the Indian sub-continent and criterion (iii) the Champa Kingdom was an important phenomenon in the political and cultural history of South East Asia, vividly illustrated by the ruins of My Son.
Useful information:
Ticket Price: (including fees for electric car and cultural performances)
- Vietnamese visitors: VND 60,000/person;
- International visitors: VND 100,000/person;
- No admission charge for children under 16 years old.
Vietnamtourism/VNE