VietNamNet Bridge – Top Vietnamese sprinter Quach Thi Lan qualified for the final round of the women's 200m hurdles at the Asian Games (ASIAD) 2018, held in Indonesia on Tuesday.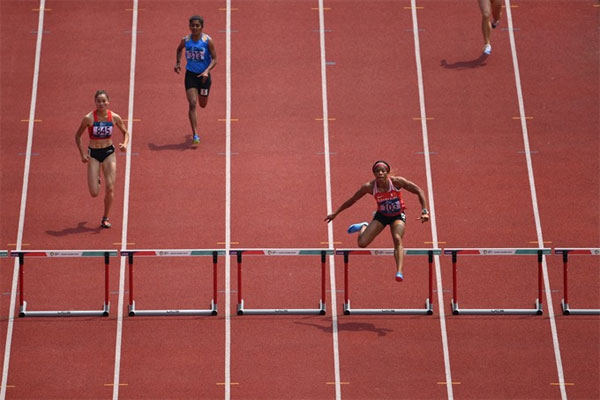 Strong performance: Quach Thi Lan (second from bottom) qualified for the final round of the women's 200m hurdles at the Asian Games (ASIAD) 2018. — VNA/VNS Photo
Another hope for Vietnam Le Tu Chinh, did not perform as well and was disqualified from the final round, leaving Lan as the only Vietnamese sprinter to compete in this event.
Lan put on her best performance as she reached the finish line fourth with a time of 23.76secs.
Lan, from Thanh Hoa Province, had a greater chance to enter the final, while Chinh faced a tougher time.
The first competition at ASIAD is a precious opportunity for the girl from HCM City to gain experience.
Earlier, Lan won the silver medal in the women's 400m hurdles with a time of 55.30secs. She broke her own record in the qualifying round on Sunday night with a time of 55.74secs. Previously, her best result was 56.06secs.
She bagged the silver medal at the 2014 Asian Games for Vietnam.
Lan will compete on Wednesday in the final round in the women's 200m hurdles.
Meanwhile, Chinh finished her second run with total time of 24.13secs. 
Previously, she failed to compete in the final round of the women's 100m dash with a total time of 11.76secs in the second run.
With this result, Lan ranked 8, while Chinh ranked 12.
In the final round of the women's 800m dash, Vu Thi Ly from Ninh Binh Province was also disqualified after falling behind other athletes in the first 300m. Her result was 2'12"41secs, 11 seconds slower than first placed Wang Chun-yu from China.
Meanwhile, in the qualifying round of the kurash event, Nguyen Hai Ba lost to Nurlybek Aldaberganov from Kazakhstan 0-10 in the men's 66kg, while Nguyen Chau Hoang Lan lost 0-10 to Kawaguchi Tatsumi from Japan. Nguyen Ngoc Ngan lost 0-5 to host athlete Susanti RR Terry, and Van Ngoc Tu lost 0-5 to Jadhav Yallappa from India in the women's 52kg.
In the quarter-final of the women's boxing 57kg, Vuong Thi Vy lost 2-3 to Huang Hsiowen from Chinese Taipei, while in sepak takraw men's regu, Vietnam lost to Nepal in the qualifying round.
Tran Van Chien lost to Chen Yushen from Chinese Taipei 0-4, while Le Phuoc Vinh lost 2-4 to Vanasak Somxay from Laos in soft tennis men's singles.
With two gold medals, 11 silvers and 13 bronzes, Vietnam have risen to 20th in the medal table. 
Source: VNS