Athlete Nguyen Ngoc Toan on August 27 won the third silver medal in Pencak Silat for Vietnam at the ongoing Asian Games 2018 (ASIAD) in Indonesia.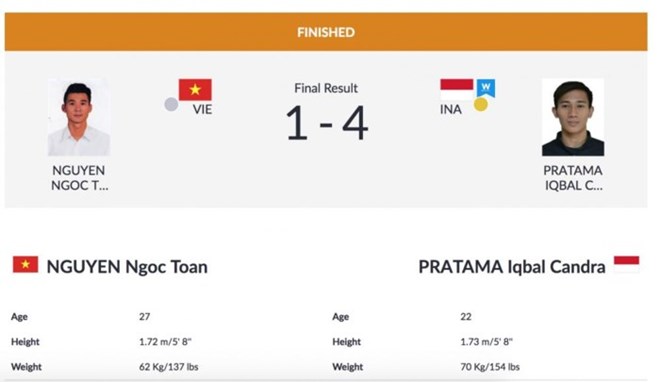 The final result for Nguyen Ngoc Toan and his Indonesian rival Iqbal Candra (Photo: Asian Games 2018)
Toan obtained the medal in the men's 60-65 kg event after losing 1:4 to his Indonesian rival Iqbal Candra. 
Earlier on the same day, Vietnamese Pencak Silat athletes Vu Tien Dung, Nguyen Xuan Thanh and Luu Van Nam won a silver medal in the men's team final. 
The trio scored 450 points for their performance. The gold medal went to the host Indonesia with 465 points.
Meanwhile, other members the Vietnamese Pencak Silat team Le Hong Quan and Tran Duc Danh earned a silver medal in the men's double final with 562 points. The gold medal in this category belonged to the host's duo with 580 points.
On August 26, Pham Tuan Anh, Hoang Thi Loan and Nguyen Duy Tuyen pocketed bronze medals in the men's under 70kg, women's 60-65kg, and men's 85-90kg categories, respectively.
By 19:00 on August 27, Vietnam ranked 24th in the ASIAD medal tally with one gold, 11 silver and 12 bronze medals.-VNA